Nissin Royal Stage Honryu
---
Vacation
I will be away from June 4 through and including June 11. Packages will not get shipped and emails will not get answered while I am away.

---
The Nissin Royal Stage Honryu rods are both an upgrade to and an extension of the Nissin Air Stage Honryu rods. It is an upgrade in that the Royal Stage rods replace the cork grip of the Air Stage with the cypress grip that is used in the Air Stage Fujiryu Tenkara rods. It is an extension in that the the Royal Stage 330 is a new length for the Nissin Fujiryu Honryu rods. The Royal Stage 390 is just two inches longer than the Nissin Air Stage Honryu 380. The Air Stage Honryu also comes in a 450 length.


One might question why a 330 length rod, generally associated with smaller streams, or even headwaters, would be called a honryu rod. Honryu is the word used for larger rivers or at least the main stem of the river rather than the tributaries.
Perhaps there is another way to look at "honryu." It makes sense to me that one could look at honryu as any stream large enough to have a road alongside it. The smaller tributaries wouldn't have roads, at least not in Japan, where the mountains are quite a bit more rugged than most of what we are used to in the US.

Perhaps, though, the reason a 330 length rod is called honryu is because the longer collapsed length fits in cleanly with the Air Stage Honryu rods and with the Nissin Royal Stage Honryu 390.
Royal Stage Honryu 330 and yardstick.
Having fished with the Air Stage Honryu rods (as well as long collapsed length keiryu and carp rods) I can certainly understand why Nissin would make a rod like the Royal Stage Honryu 330 and why anglers would buy one. The use of longer sections yields both a smoother bend profile and also a lower blank weight. That is just as desirable in a 330 length rod as in a 380 or 450. The only disadvantage to the longer collapsed length is if you have to backpack or fly to the stream (or if you have to scramble under low tree branches or vines when following a stream-side trail with the rod attached to your backpack or sling).
In addition to the silky-smooth casting and lower blank weight, the long section length makes the Fuji EZ Keepers extremely efficient for line management.

If you can drive to where you will fish, you get only the advantages of the long collapsed length with none of the disadvantages. In the US, there are plenty of streams you can drive to that are small enough for you to want a 330 length rod. And let me tell you, this is some rod!
Although I never do the moment calculation that Tom Davis does in his rod evaluations, this is a special case. In this context, moment is a rough measure of how tip heavy a rod is. The Nissin Royal Stage Honryu 330 has an extremely low moment.
In an email exchange, Tom told me that any reading under 6 is acceptable and 5.5 is really good. The Nissin Royal Stage Honryu 330 measures just 3.5. I don't know if that is really, really good or off-the-scale good, but it does confirm what you will notice as soon as you pick up the rod. There isn't even a hint of tip heaviness. If anything, it is the opposite - it feels like the rod isn't even there.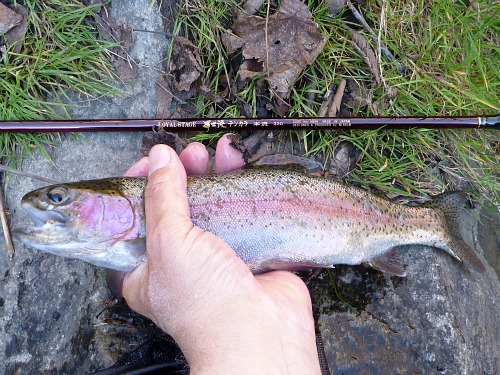 When you first cast it, it feels extremely smooth. It also feels a little soft, as if it would not be able to handle anything beyond pretty modest fish. However, the rod measures 12.5 pennies, the same as the Nissin Air Stage Fujiryu Tenkara 5:5 360. These are not wimpy rods. Do not underestimate the ability of a full flex rod to subdue fish. The rod is rated for tippets up to 3.8X, so it should be good for fish into the mid teens at least.
It's also fun with the little guys, though.
I'd fish the rod with a 2.5 line if fishing wets and not more than a 3 for dries (the additional wind resistance may require a slightly heavier line).
The Nissin Royal Stage Honryu 390 rod is a bit longer at 12'8" and a bit heavier at 2.9 ounces without the tip plug. I believe it is a replacement for the Nissin Air Stage Honryu 380, which is still on their website but is out of stock at Nissin.
In my write up of the Air Stage Honryu 380, I declared that it was the smoothest casting rod I had ever found. The 390 is just as smooth. I no longer have any of the Air Stage Honryu 380 rods to compare with the 390, but I would not be at all surprised if it was the same blank with a different grip. Both measure the same 15.5 pennies. Both feel soft but do not let that fool you, they are still quite capable rods.
I'd fish the 390 with a size 3 line for wets or a 3.5 with dries, which tend to be more wind resistant and thus require a slightly heavier line. With a light bead head, a 2.5 line would work well.

The smallmouth bass shown above was caught with an Air Stage 380, and I am sure the Royal Stage 390 is just as capable. Soft rods tire strong fish. They also protect light tippets. That doesn't make them weak rods, though.  Nissin recommends tippets up to Japanese size 1.2, which is equivalent to 3.8X.

Nissin Royal Stage Honryu Features


The grip is the same as that used for the Nissin Air Stage Fujiryu Tenkara rods. It just seems to fit your hand perfectly. The cypress is naturally rot resistant and provides an excellent nonskid surface. Do not be tempted to put any type of finish on the grip. That would only ruin the nonskid properties of the grip. (Do take the protective plastic wrap off, though.)

The grip screw cap is metal and is aggressively knurled for ease in tightening or loosening. There is a ventilation hole and a rubber insert to keep the rod quiet when collapsed.
The tip plug has the same flared design as on the Air Stage Honryu rods. It fits snugly enough that there is no need to replace it with a Fuji rod cap.
Nissin Royal Stage

Length extended
Length collapsed
Weight (w/o tip plug)
Sections
Tip diameter
Tippet*
Pennies

Honryu 330

10'10"
37 1/8"
2.5 oz
4
.7mm
5X - 3.8X
12.5

Honryu 390
12'8"
44"
2.9 oz
4
.7mm
5X - 3.8X
15.5
If you want a smooth casting rod for small streams you can drive to (and if you prefer rods with grips) look no further. This is your rod. Similarly, if you absolutely love the Air Stage Honryu 380 but wished there was a shorter version, your wish just came true.
If you wanted to get the Air Stage Honryu 380 but missed it, the Royal Stage Honryu 390 is essentially the same rod with a much nicer grip.
They are truly nice rods if you don't need to stash them in a backpack or carry-on bag.
Nissin Royal Stage Honryu 330
$180
Nissin Royal Stage Honryu 390
$190
*Tenkara rods are used in Japan to catch fish that are rarely larger than 9-10". Japanese anglers do not break rods on 10" fish, so I am convinced that tippet ratings are no more than a rough guide, explaining what anglers generally use with the rod. I do not believe they are meant to state the strength of tippet that will break before the rod does. I would not use tippet any stronger than 5X (and that is not an assurance that 5X tippet will break before the rod does).
---
Shipping
Domestic shipping is via USPS Priority Mail (2-3 day delivery). Rates will vary with package weight and destination. Most rates will be between $14.50 and $20.50. You can see the rate in the checkout process before the purchase is finalized.

Please note: All packages are shipped via USPS. If you have a PO Box, please list ONLY the PO Box in your address, not the PO Box and your street address.
If you live in an apartment, please put the apartment number in the same box as the street address (as in 123 Main St. Apt 45).
Please do not put anything in the box for "Company" if it isn't absolutely necessary. Not "self", not "none" not "--". It wastes your time to put it in and it wastes my time to take it back out. Please just leave it blank.

International Shipments

International purchases may be subject to import duties and taxes. I cannot keep track of all import regulations in all countries written in all languages. Understanding and paying import duties and taxes is the responsibility of the buyer.
Russia
TenkaraBum.com no longer ships to Russia.

UK

TenkaraBum.com no longer ships to the UK. The new VAT regulations are too onerous for a one-man shop that rarely ships anything to the UK anyway. I apologize. 

---
TenkaraBum Home - Tenkara Rods - Nissin Royal Stage Honryu

---
"The bitterness of poor quality remains long after the sweetness of low price is forgotten" - Benjamin Franklin
"Be sure in casting, that your fly fall first into the water, for if the line fall first, it scares or frightens the fish..." -
Col. Robert Venables 1662
As age slows my pace, I will become more like the heron.

---
Warning:
The hooks are sharp.
The coffee's hot.
The fish are slippery when wet.
Beware of the Dogma

---