Nissin Red Dragon Carp Rod
The Nissin Red Dragon Carp Rod has been discontinued by Nissin and is no longer available.

---
The Nissin Red Dragon Carp Rod is a beefy fixed line rod actually designed for catching carp. It's not a tenkara rod, it's not a keiryu rod, it's not a hera rod. It's a carp rod.
I got in a few Nissin Red Dragon carp rods a couple years ago. They're big, they're beefy. They're rated for 2X tippets. They come in different lengths, but the first ones I got in were 5.4 meter rods. You'll need two hands to fight the carp anyway so you might as well have a two handed rod to give you more casting distance (and a longer lever for when you try to turn the carp). Nissin is out of stock on the 5.4m rods, but I now have a few 6.3m rods in stock.

The first time I had a chance to fish with one of the rods was in Maine for smallmouth bass. I was actually a bit surprised.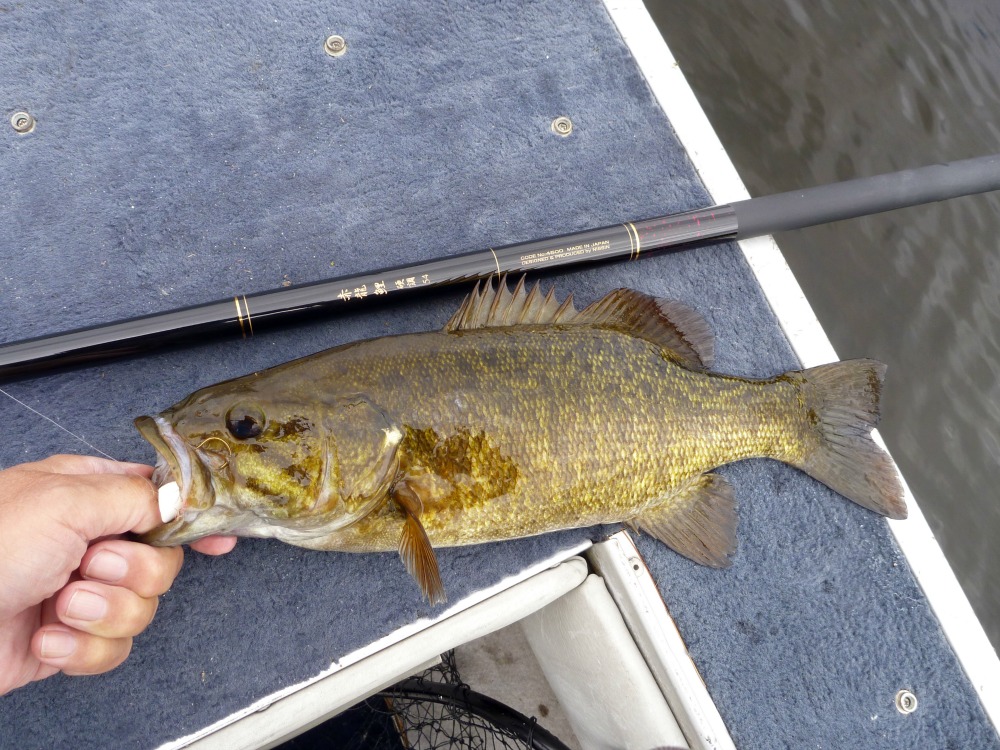 I had expected the rod to be extraordinarily stiff. It's not. It cast quite nicely with a Nissin PALS SP Pro 6 meter line. A smallmouth bass of perhaps a couple pounds still puts a bend in the rod.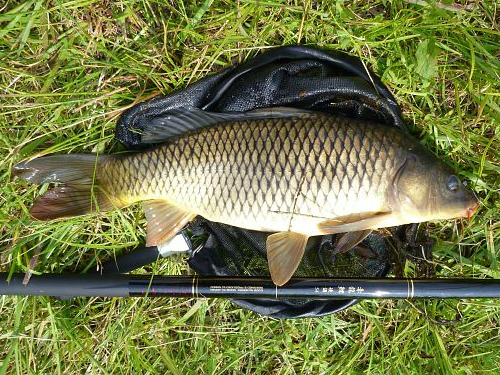 As I found out later, a carp puts a much bigger bend in the rod! A few weeks after I got back from Maine I caught my first carp, and then another and then another. John Vetterli is right - it's just too much fun. Tim Romano is wrong - it's going to take off.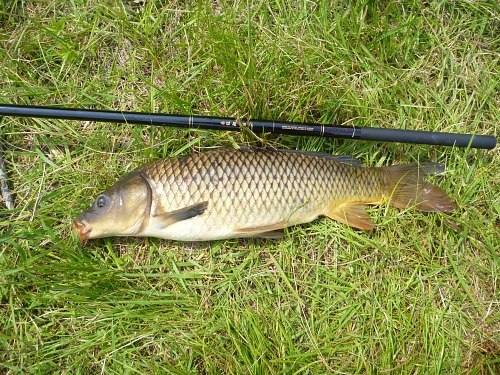 My third fish was the largest of the day. I didn't weigh it but measured against the rod it was 23". It certainly appears to be comparable in size to the carp that ERiK catches and that the guys in the first video caught. From the video, you can't tell how big the carp were that broke their tenkara rods, but the carp above did not overly stress the Nissin Red Dragon carp rod at all. I am confident the rod can handle larger fish.
In addition to being a much better choice than a tenkara rod, I will also say that it's a better choice than the Nissin 2-Way 450ZX stiff keiryu rod, which is ERiK Ostrander's rod of choice for carp. I'm not sure if ERiK agrees. I know he prefers one handed rods and the Red Dragon 5.4 meter rod is very definitely a two hander. ERiK has fished with the rod, though, as the photo at the bottom of the page shows. ERiK looks intense. The carp looks worried.
John Vetterli has invented a new niche in fixed line fishing, as the photo at the upper right shows - Microcarping. Joking aside, he was surprised that a rod as big and beefy as the Red Dragon carp rod was sensitive enough for him to feel the take of a 4" carp.

The Red Dragon is Not Just for Carp!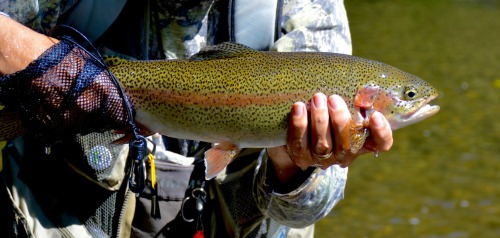 Rainbow Trout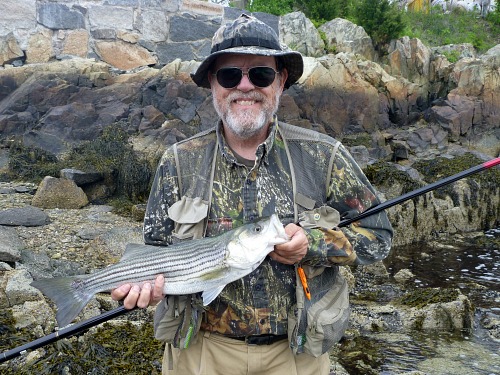 Schoolie striper
---
Nissin Red Dragon Carp Rod Features

The rods look quite a lot like keiryu rods. The grip is a just a very effective nonskid coating on the end of the last section.  The grip screw cap has a split ring attached, though, which can only be to tie the rod to something, so that if you have it in a rod holder (or propped up with  a forked stick) a carp can't swim off with the rod.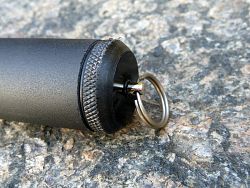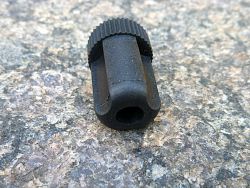 The tip plug is rubber and heavily fluted, so you can keep your line attached when the rod is collapsed. EZ Keepers don't fit on the rod but the Small Tenkara Line Holders do.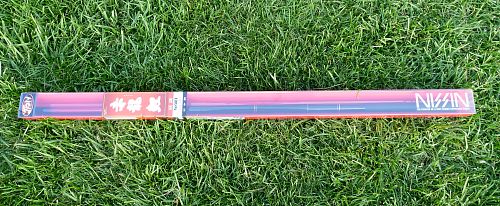 Speaking of collapsed, the rod collapses to 40.5", which is long if you are used to tenkara rods but not terribly long if you fish for carp with a fly rod or spinning rod. I have a number of rods that collapse to anywhere from 40 to 45" and if you are not backpacking with them it just isn't an issue.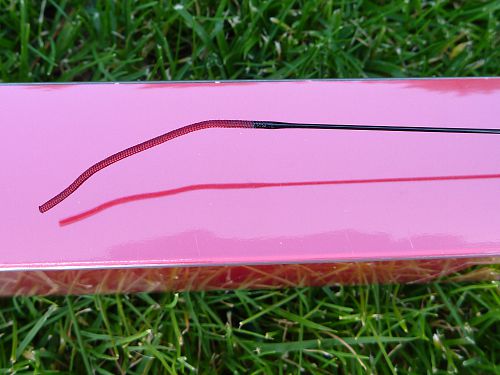 The lillian is thicker than on a tenkara rod, but the line attaches in exactly the same way and the tip section does slide through the second section so you can disassemble the rod for cleaning and drying between uses.


The red theme of the Red Dragon name is carried throughout the box and the rod itself. Instead of just a thin gold ring or a couple inches of color, the Nissin Red Dragon carp rod has a full six inches of bright red accent at the section ends. The red very nearly glows in the sunlight. With the rod elevated, it gives the visual impression of an ascending dragon. It is really quite striking but it didn't seem to scare the fish.
Both rods out of stock. The Kyogi rods are just so much nicer. If I run out of the Kyogi rods and cannot get more (until next year) I will try to get more of the Red Dragon rods.

Nissin Red Dragon Carp Rod
Length extended
Length collapsed
Weight without tip plug
Tip Diameter
Grip Diameter
Sections
Recommended Tippet
Pennies

540
17'7"
40.5"
6.5 oz
.9 mm
22.6 mm
6
5X - 2X
67

630
20'4"
40.5"
8.9 oz
.9 mm
22.9 mm
7
5X - 2X
?

---
Rod made in Japan.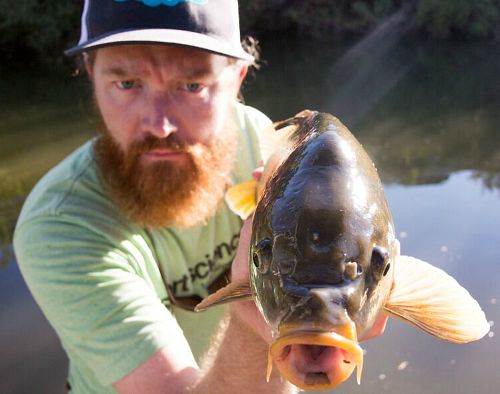 ---
---
TenkaraBum Home > Rods > Nissin Red Dragon Carp Rod

---
"The bitterness of poor quality remains long after the sweetness of low price is forgotten" - Benjamin Franklin
"Be sure in casting, that your fly fall first into the water, for if the line fall first, it scares or frightens the fish..." -
Col. Robert Venables 1662
As age slows my pace, I will become more like the heron.

---
Warning:
The hooks are sharp.
The coffee's hot.
The fish are slippery when wet.
Beware of the Dogma

---