Fujino Tenkara Line
The Fujino Tenkara Line is a hi-vis knotless tapered nylon line. It is similar to the knotless tapered leaders used in fly fishing and very similar to the Fujino Tenkara Midi and Soft Tenkara lines.
When I mentioned it to Jason Klass of TenkaraTalk, he asked what it was called. I said "Tenkara Line." He said "That's what it is, but what's its name?" I said "Tenkara Line." He said, "I know it's a tenkara line, but what is the product name?" It was rapidly turning into the classic Abbott and Costello "Who's on first?" skit when I let him off the hook and explained that the actual product name really is just "Tenkara Line."

Fujino has other lines for tenkara, but the other products are not named simply "Tenkara Line." There is the Tenkara Midi, the Soft Tenkara, one that translates roughly as Complete Tenkara, and one that translates even more roughly as Mirage and a new "Long Type" Soft Tenkara that Tenkara no Oni had at the Oni School in Salt Lake City.
At first glance, the Fujino Tenkara Line appears to be essentially the same as the Fujino Midi and Soft Tenkara lines. I think the Tenkara Line is made from a harder nylon, though. Back in the old days, not as far back as gut leaders but before knotless leaders became popular, fishermen tied their own leaders using different diameters of nylon leader material to create the taper. The butt and mid sections were tied with a hard nylon and the tippet section was tied with soft nylon.
The theory was that the hard nylon would turn over more easily and would be better at transferring the energy of the cast to the light tippet and fly. These days, most people do not tie their own leaders, but the same principle still does apply. The laws of physics haven't changed and a line that doesn't bend as easily (hard nylon) does transfer the energy of the cast better than a limp line.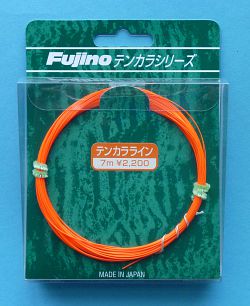 The Fujino Tenkara Line is really quite easy to cast for a nylon line. I have often pointed to nylon's lack of density relative to fluorocarbon, which does make it harder to cast, particularly into any breeze at all. The Fujino line, though, does seem to be considerably easier to cast than any nylon level line I have tried, and is also easier than the MIDI and Soft Tenkara Lines. That is evidenced by the fact that the Tenkara Line is available in a 7m length while the Midi and Soft lines only come in lengths to 4.5 and 5m, respectively.  I think the hard nylon really makes a difference.
One downside of the hard nylon, though, is that it was much harder to stretch out the coil memory, particularly on a cold day. Those two characteristics, beautiful turnover but persistent memory describe the Fujino Tenkara Line pretty accurately.
Aside from the coil memory, which a good stretching minimizes, the only thing I don't like about the Fujino Tenkara Line is the long tag end where the loop for the girth hitch is attached. I would cut it short and apply a drop of superglue, which will hold the girth hitch loop but eliminate the tendency for the long tag end to get caught on everything.
One side note that may interest those who film their fishing adventures is that the Fujino Tenkara lines are much more visible to the camera than ordinary tenkara lines. One of the biggest complaints I have always had with respect to tenkara videos has been that you couldn't see the line. Seeing the line in tenkara is critical. In the TenkaraBum video that Roamads shot, the Soft Tenkara and Midi lines were quite visible on camera. I am sure the bright orange Tenkara Line will be even more visible.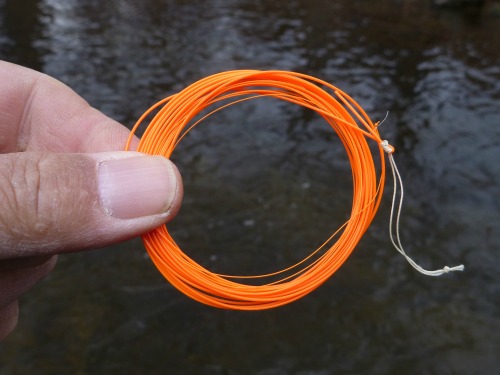 The line is extremely visible and would be an excellent choice for people who fish into the twilight, when even the hi-vis fluorocarbon lines are hard to see. It is also a good choices for the people who prefer a tapered line or who want to fish with a line that doesn't sink as readily as fluorocarbon. It casts well and lands softly.
Fujino Tenkara Line (Orange) 7.0m - $25
TenkaraBum Home > Tenkara Lines > Fujino Tenkara Line

---
---
Shipping
Standard shipping is via USPS First Class mail.
A shipping/handling charge of $4 will be added to all orders.
If you live outside the US, you must add more postage unless the items on this page are mailed with a rod!
TenkaraBum.com does not ship to the European Union or the European Economic Area.

---
Where do you live?


---

USA


Add this amount for shipping.


---

No additional postage required for First Class mail.
(Total charge $4)

---

Canada or Mexico


---

Additional $6 postage required. (Total charge $10)

---

Other Country


---

Additional $10 postage required. (Total charge $14)
---
---
Priority Mail Upgrade - U.S. Only

2-3 day shipping (U.S. only)
First Class should be just as fast for people living east of the Mississippi.
Do Not click if your order includes a rod, wader gaiters, 3x5 Photo Tank or Daiwa Keiryu Damo. They already go via Priority Mail.
Domestic Priority Mail Upgrade - Additional $3
---
---
Payment
Payment is processed by PayPal but you don't need to have a PayPal account. You can use your credit card.
---
---
"The bitterness of poor quality remains long after the sweetness of low price is forgotten" – Benjamin Franklin
"Study to be quiet." - Izaak Walton 1653

"Be sure in casting, that your fly fall first into the water, for if the line fall first, it scares or frightens the fish..." Col. Robert Venables 1662

---
Warning:
The hooks are sharp.
The coffee's hot.
The fish are slippery when wet.
Beware of the Dogma

---