I have gotten emails from several customers concerned that their packages have been lost because they are late and/or tracking data shows them to have been in the Jersey City sorting facility for days.
Those packages are now moving. Most have been delivered already.

Please understand that shopping online this year has been unprecedented, and the USPS, UPS and FedEx are trying to run beyond their capacity. In the 10 years I have been shipping packages, (thousands and thousands of packages), the USPS has NEVER lost a Priority Mail package, and has lost only two or three First Class packages. Please be patient. Your packages will arrive.
---
Fujino Soft Tenkara Long Type
The Fujino Soft Tenkara Long Type is a hi-vis tapered nylon tenkara line that comes in 7, 8, 9, and 10m lengths. Even if you don't fish with long lines, it is excellent for casting practice.
I prefer fishing with a short line, and I generally fish with fluorocarbon rather than nylon. I find fluorocarbon easier to cast and it's still light enough to hold off the water's surface. That said, nylon does have a couple advantages. Nylon is easier to dye a very bright color and since nylon is less dense than fluorocarbon it can be made to float if greased with a paste floatant. The lower density of nylon also makes it a great training and practice line.

My first exposure to casting a long nylon line came at an Oni School organized by the Tenkara Guides in Salt Lake City, UT. At the school, Masami Sakakibara (Tenkara no Oni) demonstrated his long line ability with a 10 meter nylon line.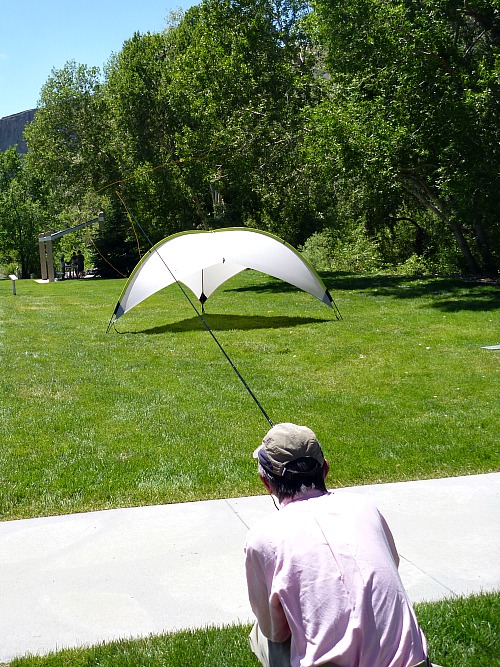 Using a 3.6m Nissin Royal Stage Tenkara rod he was casting a 10m line into the opening of a suntent. It was hard to photograph but very impressive to watch.
The students then tried do cast the long line. No one could do it until he gave the student specific guidance. With his coaching, though, we were able to cast the 10m line.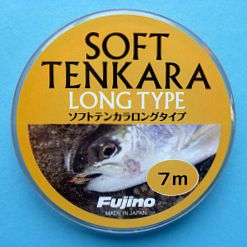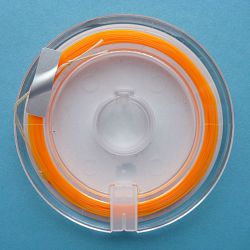 The bright orange color makes the line quite visible even at a distance.

The extremely long nylon line is a valuable tool for evaluating your casting form. If your form isn't good, you won't be able to cast it. By watching your back cast and modifying your speed, rod angle, timing and amount of power applied to the forward cast, etc, you should be able to gradually improve your performance. As a training tool, the lower density is a positive attribute. Your really do need good form to cast the line well.

I suspect most people who purchase the lines will do so for practice. However, the 7m line in particular would be a good introductory line to pair with a 4.4 or 4.5m tenkara rod to explore honryu tenkara. There are lots of rivers in the US that are difficult to fish effectively with even a 4m rod and 4 or 5m tenkara line.
A 4.5m rod and 7m line will allow you to reach spots that you could never reach with a shorter rod and line, and which fly fishermen could never fish because the intervening current would sweep their line away faster than they could possibly mend. If the "other" side of the river is inaccessible, there are fish in the bank eddies that probably have never seen an artificial fly.

Fujino Soft Tenkara Long Type, 7m - $17.00
---
Fujino Soft Tenkara Long Type, 8m - $17.00
---
Fujino Soft Tenkara Long Type, 9m - $19.00
---
Shipping
Domestic shipping is $4, via USPS First Class Mail (unless ordered with an item that must go via Priority Mail, and which has a higher shipping charge). The charge is added to your order automatically.
Please note: All packages are shipped via USPS. If you have a PO Box, please list ONLY the PO Box in your address, not the PO Box and your street address.
If you live in an apartment, please put the apartment number on the same line in the order form as the your street address, for example
John Doe
123 Main St Apt 4
Yourtown, XX 12345
Just leave the second line blank! Please! It takes you more time to put something in it and it takes me more time to take it back out. If you need it for a business name, use it. Otherwise, please leave it blank. No dashes, no nothing.
The charge for international shipping depends on the destination country, the weight of the package, the overall length of the package and the value of the package.
Import Duties and Taxes

International purchases may be subject to import duties and taxes. I cannot keep track of all import regulations in all countries written in all languages. Understanding and paying import duties and taxes is the responsibility of the buyer.
TenkaraBum Home > Tenkara Line > Fujino Soft Tenkara Long Type

---
"The bitterness of poor quality remains long after the sweetness of low price is forgotten" - Benjamin Franklin
"Be sure in casting, that your fly fall first into the water, for if the line fall first, it scares or frightens the fish..." -
Col. Robert Venables 1662
As age slows my pace, I will become more like the heron.

---
Warning:
The hooks are sharp.
The coffee's hot.
The fish are slippery when wet.
Beware of the Dogma

---