Daiwa Master Tenkara L LL36

Summer Sale - 10% Off
The Daiwa Master Tenkara rods are the latest in a line of truly great rods. The first rods I imported from Japan were Daiwa Enshou tenkara rods. I thought they were wonderful. The LL rods, designed for level lines, had smooth, full-flex actions.
The Enshou rods were replaced by the Expert series. The Expert L LL ("long" level line) rods, named for their longer collapsed length, were even smoother and had even better damping.
The Master series raises the bar another notch. They are just wonderful rods. They might be the most technologically advanced tenkara rods available anywhere. You do not have to be a master to cast this rod, but if you can master the cast, this rod is phenomenal.
I keep telling people "I'm a merchant, not a master." It took me a little while to dial it in, to get just the right amount of force at just the right time, plus just the right amount of "elbow chop" as Rob Worthing puts it, and just the right amount of wrist flex.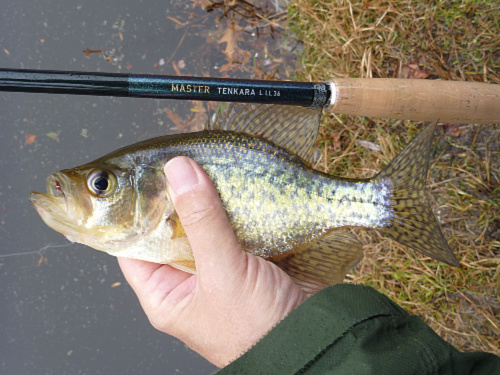 The first time I took the Master Tenkara L LL36 out it was just to a pond in Central Park (if you have only a couple hours to fish, you fish close to home). I started with a size 3 line and thought "meh." I switched to a size 4 and thought, "My word, this thing is a cannon!"
The second time I took it out was to a stream that is just small enough that a 12 foot rod is about perfect. I started with a size 3.5 line. It took a while to get used to the rod, but before long, the 3.5 was casting as well as the 4 did the first time out. Then I switched to a size 3 line, and the initial "meh" was transformed into "wow." Actually, I didn't say "wow." This is a family website, so I can't write what I really said, out loud, but distilled down to decency, it comes out as WOW!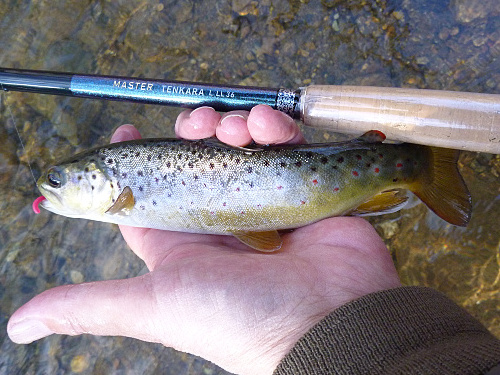 I don't know exactly how to describe the rod's action. It is clearly a level line rod, but it does not feel like either the Daiwa Enshou LL36 or the Daiwa Expert L LL36 (or any other rod). The Expert rod improved the damping of the Enshou. The Daiwa Master Tenkara L LL36 feels firmer than the Expert - not stiff by any means, but just enough firmer that the cast feels different.
The Daiwa Master Tenkara L LL36 is a penny firmer than the Expert L LL36, and a penny and a half firmer than the Expert LL36. That's not the only difference, though. The Master L LL36 is just slightly more full flex. People want to equate full flex with soft, but that is not always the case. The Master is more full flex, but it is also just a little bit stiffer. If you were to cast both rods side by side you could feel it. It feels like a very efficient transfer of the energy from your arm and hand to the rod and line.

To people who say better equipment won't make you a better fisherman, I say "You're wrong!" Getting an accurate, fly-first cast will make you a better tenkara fisherman. Having a rod that is more capable of producing a precise, accurate, fly-first cast will make you a better tenkara fisherman. Sure, good casting is not the only thing that makes a good fisherman, but if you cannot put your fly where it needs to be, without spooking the fish that might be there, no amount of water reading or understanding trout behavior will make up for it.
This rod, by itself, won't make you a master, but it won't limit you, like some other rods can and do. Also, the rod clearly rewards better form. That's why my first cast with the size 3 line wasn't so great. I was sloppy. My casting got better (quickly) as soon as I realized that if I did what I was supposed to do, the rod would do what it was supposed to do and the line would do what it was supposed to do. (Right now, you're probably thinking, "Yeah, right. All rods are like that." To which I would reply, "No, they're not. Some rods don't reward you - they stay sloppy (or unresponsive)."

Daiwa Master Tenkara Features

The first thing you will notice is the long collapsed length. The Daiwa Master Tenkara L LL36 is 39 3/4" long when collapsed.* That's not as long as the Nissin Royal Stage Honryu 380, but it is long enough to not want to carry it strapped to your backpack if you have to duck under low branches on the streamside trail. It's really only a problem if you have two rods with you and you're fishing with the other one. Silly me, that won't happen. If you have the Daiwa Master Tenkara L LL36 with you, you won't want to fish with the other one!
*The rod fits in the Long Rod Case, but only just.


The grip is the familiar two humped "camel" cork grip. It is 12 1/2" long, giving you plenty of opportunity to choke up when using the rod on slightly tighter streams.
For wider streams, just use a longer line. Although I am a fan of long rod, short line tenkara, this rod will make you want to try longer lines and fish the eddies on the far bank. Tenkara no Oni often fishes quartering downstream or even directly downstream. You can keep a lot of line off the water if you use the pressure of the current against the fly to keep the line tight. In an eddy, gently pulsing the fly will also keep the line above the intervening current. With the Daiwa Master Tenkara L LL36, you can cast a longer line than you are used to.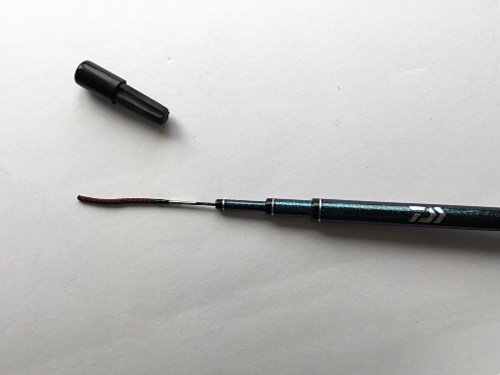 The rod has just four sections. For each of the three larger sections, the tip end has blue sparkles. A little bit of rod just above the grip also has bright blue sparkles (visible in the fish pictures above). The rest of rod initially appears black but in fact is a deep green - at least, we would call it green. It may fall within the part of the color spectrum that the Japanese call aoi (青い), which generally gets translated as blue, but which includes the dark green of our interstate highway signs and even the green of our traffic lights, which to us is clearly green. While driving, I've been told more than once, "Go, the light's blue."

The tip plug is fluted, so you can insert it when the line is still attached. It is a very tight fit!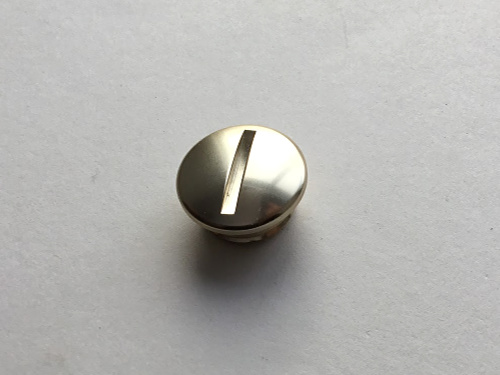 The grip screw cap is silvery metal and has a coin slot. There is no knurling, and you pretty much need a coin to either remove it or tighten it. (Masters always carry coins.) I would suggest checking to make sure it is tight before putting on your waders. It tightens up against the cork grip and if you tighten it, it will stay tight. If you hear any rattle when casting, check the grip screw cap. If it is loose, it will rattle.

The cap does not have a ventilation hole. The ventilation hole in tenkara grip screw caps is not to ventilate the rod between uses. It is to equalize air pressure, making it easier to collapse the rod. Because of the rings machined into the ends of the sections, the Daiwa Master Tenkara rods can be collapsed without the aid of a ventilation hole. Please disassemble the rod so that it can dry thoroughly between uses.

Daiwa Master Tenkara Technology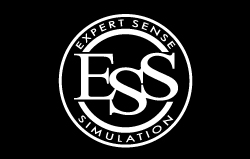 ■ ESS [Expert Sense Simulation]
When bending, tension builds up on the side of the rod that is on the outside of the bend. Together with the compression that occurs on the inside of the bend, this is the "strain energy" that tries to return the distorted blank to its original shape. This is an extremely important factor affecting the performance of a rod. Daiwa has developed a system to analyze and design this "strain energy." By understanding "what is better" and "what is worse" and by analyzing the numerical data, it is possible to to simulate what an expert would sense. This Expert Sense Simulation "ESS" is an innovative design process that allows Daiwa to create a rod that goes beyond any that have been available up until now.

---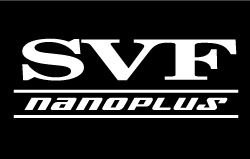 ■ SVF NANOPLUS
Daiwa combines Toray Industries' nanoalloy technology with Daiwa's proprietary manufacturing method to create carbon sheet "SVF," which makes it possible to use more carbon fiber and less resin, making the blank both stronger and lighter.
---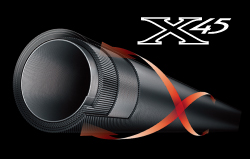 ■ X45
This is the optimum structure for preventing twisting. DAIWA's unique bias cloth, carbon fiber skewed 45 degrees to the conventional structure of 0 degrees and 90 degrees, prevents twisting, increases power and improves sensitivity.

---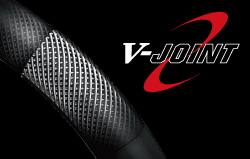 ■ V - JOINT
DAIWA's unique bias structure is adopted for the joints. It allows the joint to bend smoothly, improving power, response and sensitivity.
---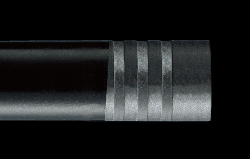 ■ V - JOINT
The rings machined into the section ends help to allow the joint to bend smoothly, while also dramatically reducing the likelihood of stuck joints. Only Daiwa rods have these.

---
There is no other rod quite like this rod.
Personally, I think this is a great rod. It would be nice if it collapsed to a shorter length, but if it did it wouldn't be as good as it is. Whether it is worth the slight inconvenience of a longer collapsed length and the not so slight increase in the purchase price is something you'd have to decide for yourself. For me, the answer is a definite, "Oh, yeah!"
12-29-2018 Update

The Daiwa Master Tenkara L LL36 casts a size 2 fluorocarbon line just fine. Put it this way, the rod casts better than I do. I am confident that this rod will not limit your progress.

---
Daiwa Master Tenkara L LL36 Stats

Model
Lenth Extended
Length Collapsed
Weight (w/o plug)
Sections
Tip Diameter
Pennies
Regular Price
Summer Sale


Master L LL36
11'9"
39.75"
2.8 oz
4
1.0mm
14
$445
$400

Made in Japan.

Sale price limited to the one rod that is in stock.

---
Shipping
Domestic shipping is $20 via USPS Priority Mail (2-3 day delivery).
International shipping is via USPS Priority Mail International. The rate is based on destination country and package weight. The shipping charge will be calculated at checkout.
International purchases may be subject to import duties and taxes. I cannot keep track of all import regulations in all countries written in all languages. Understanding and paying import duties and taxes are the responsibility of the buyer.
---
TenkaraBum Home > Rods >  Daiwa Master Tenkara L LL36

---
"The bitterness of poor quality remains long after the sweetness of low price is forgotten" - Benjamin Franklin
"Be sure in casting, that your fly fall first into the water, for if the line fall first, it scares or frightens the fish..." -
Col. Robert Venables 1662
As age slows my pace, I will become more like the heron.

---
Warning:
The hooks are sharp.
The coffee's hot.
The fish are slippery when wet.
Beware of the Dogma

---