Covid-19 Announcement
TenkaraBum.com is located in New York City, which is essentially locked down.
Package pickup has been suspended. My neighborhood post office is closed. I go outside as little as possible because I am in an "at risk" group.
TenkaraBum.com is still open, for now. Next shipments tentatively scheduled for Wednesday, April 8 (rain in the forecast).
Most international flights have been cancelled, so there is no ETA for out-of-stock items that come from Japan.
---
Daiwa Expert Tenkara

The Daiwa Expert Tenkara rods are well named. You don't have to be an expert to use one, but if you are an expert tenkara angler you will very definitely notice and appreciate the quality of the design and the quality of the workmanship. These are seriously nice rods!
The Daiwa Expert rods are made in two styles, one designed specifically for level lines (LL) and one designed for either level or tapered lines (LT).
Daiwa Expert LL Rods

There are three Daiwa Expert Tenkara rods designed for level lines, the LL36, the L LL36 and the L LL45M. The LL36 is a 3.6 meter (11'11"), full flex, relatively soft (12.5 penny) rod that is just a joy to cast. The L LL rods are also full flex, not quite as soft, and even smoother casting.


Daiwa Expert Tenkara L LL36 (top) and Expert Tenkara L LL45M (bottom).
For the L LL rods, I believe the first L stands for "long" because the rods are about 4" longer when collapsed. That extra collapsed length makes the rods too long to fit in a carry-on bag, but it also makes the rods wonderfully smooth casting rods. Fewer joints and longer sections produce a smoother bend. The 28 1/4" collapsed length is a pretty good compromise. You don't give up much in convenience and portability, but you get a lot in improved casting feel.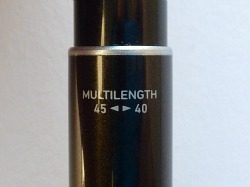 The "M" in the Expert L LL45M stands for "multi" because the rod is a multi-length (zoom) rod that can be fished at 4m or 4.5m. The 4m length is very nice for slightly larger streams, and the 4.5m length gets into honryu tenkara territory.
Long Rods for Long Lines
The Daiwa Expert Tenkara L LL45M at the longer length will cast the Fujino 7m Soft Tenkara Long Type line very nicely indeed. I haven't tried the 8m or 9m lines, but I am certain that the rod will handle them well. You may need to improve your form to cast a 9m line, but the rod will be ready when you are!

Besides the longer collapsed length, I suspect the the layup is different as well. The damping was improved from the Enshou rods, which the Expert series replaced. That suggests to me that the graphite or the weave or the resin (or all three) have been changed.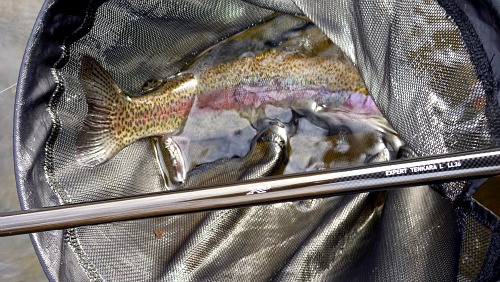 Daiwa Expert Tenkara L LL36
The Daiwa Expert Tenkara LL rods have hollow tips, which may take a little getting used to. Once you do get used to the feel of casting a hollow tipped rod, though, you might never want to go back to fishing a rod with a solid tip. Hollow tips are not quite as flexible and not quite as forgiving but they will give you effortless tight loop casts.

Daiwa Expert LT Rods

The Daiwa Expert LT rods include the LT 33, LT 36 and LT 39.  The LT stands for "Level or Tapered," indicating the rods are designed for use with either level or tapered lines, and also with Daiwa's floating tenkara lines.

Daiwa calls their floating lines "Tenkara Fly Line" and suggests that the use of long floating lines fuses the good points of Western fly fishing and Japanese tenkara. The Daiwa Tenkara Fly Line comes in 4m, 5m, and 7m lengths.
The LT rods will also cast the Nissin PALS SP Pro lines well. For level lines, I would choose a 3.5 or 4 most of the time. Particularly wind resistant flies or particularly windy days will require heavier lines. The rods will easily handle size 4.5 lines for those conditions. At the Oni School a couple years ago, when the gusty winds were so strong that even Oni himself went to a size 4.5 line, I didn't have the Daiwa Expert LT 39 with me, but it would have been the perfect rod. Long enough for the Provo River, and beefy enough to cast a 4.5 line in the wind.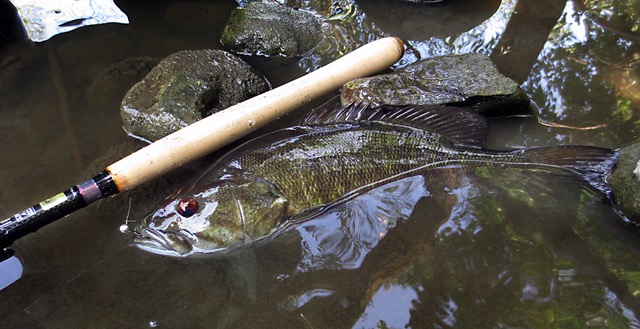 Daiwa LT H44 and Smallmouth Bass - Robert L photo
Additionally, there are two LT H rods, the LT H36 and LT H44 in which the H stands for "Hard." These rods are stiffer and are designed for fishing with longer lines, including Daiwa's 7m floating line. If you want to fish a floating line, this rod is designed to do just that. If you would prefer a level line for the LT H44, I would suggest size 4, although a 4.5 would not overburden the rod a bit.

The World's Best "Big Fish" Tenkara Rod
For years, I have felt that the Daiwa Enshou LT44SF was the world's best "big fish" tenkara rod. Well, the world's best "big fish" tenkara rod just got better. The Daiwa Expert LT H44, which replaced the LT44SF, is a more capable rod than the Enshou was. I truly believe it is the world's best tenkara rod for big trout and big bass.
The Daiwa Expert LT39 is also quite capable (and is the world's second best tenkara rod for bass). Most people will probably use it for trout, and it is a great rod for big trout. The video above was shot by Erik Ostrander of the Tenkara Guides in Salt Lake City. The angler is Rob Worthing, also of the Tenkara Guides. The rod he used was the Daiwa Enshou LT39SF, which was the predecessor of the Expert LT39.

One of Robert L's many smallies with his Expert LT39.
Robert L, who fishes almost exclusively for smallmouth bass in rivers, says the Daiwa Expert LT rods are "exceptional." He says (and he speaks from experience) that most people who fish for smallies in rivers are doing it wrong. Of course, they can fish any way they want, but if they want to actually catch smallmouth bass they are doing it wrong. He has taken a lot of people fishing, and nearly all start out fishing for smallies as if they were trout - casting upstream, trying for a drag-free dead drift. Smallmouth bass are not trout!
Robert fishes downstream and presents them with a MEAL, not just an hors d'oeuvre! He catches lots and lots and lots of very nice smallies. He needs a big beefy rod and the Daiwa Expert Tenkara LT 39 does the trick.

The Daiwa designers did not have smallmouth bass in mind when they designed the Expert LT rods, but they designed a rod that an expert smallmouth bass angler uses, and swears by. If you want a tenkara rod for bass, you will not find a better one anywhere.
The Expert LT 33 and LT 36 are shorter but very nearly as capable. Both collapse to 18" making them more convenient for backpackers. In Japan, tenkara anglers who fish smaller, headwaters streams tend to prefer firmer rods and fish with heavier lines. The shorter, stiffer rod and heavier line produce greater casting accuracy, which is at a premium in smaller streams.
Despite being stiffer rods, the action is still very pleasant and the casting is intuitive. Craig T writes that his Expert LT 33 "is the first rod ever that just clicked when I got it in hand."
Regular readers know that I am a level line guy first and foremost, but I recognize that many people like furled lines, and more than a few prefer floating lines. If you prefer furled lines or floating lines, or even just a size 4 fluorocarbon, the Daiwa Expert Tenkara LT rods will spoil you. Whatever rods you fished before will either gather dust or go on eBay.

Daiwa Expert Tenkara Features

The grip shape is the familiar "camel" two humped grip that most tenkara rods now feature. The grips on the Daiwa Expert Tenkara rods are longer than most, though, providing a wide range of gripping locations. Holding the rod at the extreme front end of the grip, with your index finger up on the blank, or holding the rod with the extreme back end of the grip cradled in your palm gives the rod a very different feel and also changes the effective length of the rod by almost a foot.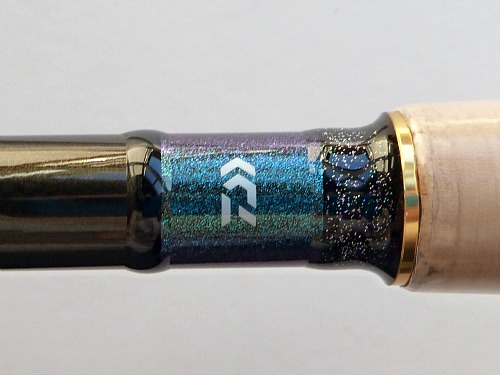 The Enshou rods were almost spartan in their appearance. The new Daiwa Expert Tenkara rods still have very little "bling" but the winding check and logo are a nice touch without losing the understated elegance.

The model name is printed where the clear coat shows the graphite weave.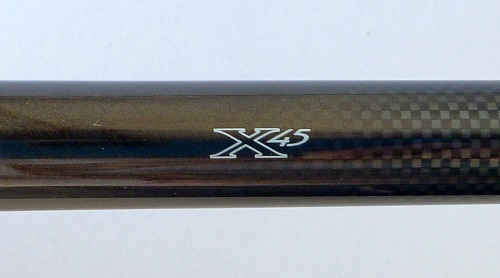 A little further up the blank, the clear coat fades to black. The X45 is a 45 degree weave in the layup, which reduces twisting and produces more accurate casts.

The grip screw cap is metal, with a coin slot for removal or tightening. The screw cap for the L LL45M has a ventilation hole. The screw caps for the LL36 and the LT rods do not. For any of the rods, I would still recommend complete disassembly between uses to allow the rod to dry thoroughly.
The lillian is surprisingly short but it is long enough to tie a knot in it if you wish. The lillian is attached with a swivel that will easily slide through the #2 section. The tips of the LL rods are hollow, which gives you the ability to throw tighter loops, but they are less forgiving than solid tips (and more expensive to replace). If you are careful putting on and taking off the line, and careful around low tree branches, you should experience only the benefits.

---
Model
Length Extended
Length Collapsed
Weight (w/o plug)
Sections
Tip Diameter
Pennies

LL36
11'11"
24.125"
2.6 oz
7
1.1mm
12.5
L LL36
11'10"
28.25"
2.8 oz
6
1.1mm
13

L LL45M
13'2" - 14'9.5"
28.25"
3.4 oz
8
1.1mm
14.5 - 14.5

Expert Tenkara LL36
$285 Made in China


Expert Tenkara L LL36
$305 Made in Thailand
Expert Tenkara L LL45M
$375 Made in Thailand.
---
Model
Length Extended
Length Collapsed
Weight (w/o plug)
Sections
Tip Diameter
Pennies
LT 33
10'8"
18"
2.7 oz
9
.8mm
23

LT 36
11'10"
18"
3.0 oz
10
.8mm
26
LT 39
12'11"
23.5"
3.1 oz
8
.8mm
27

LT H44
14'5"
23.5"
3.7 oz
9
.8mm
35

Expert Tenkara LT 33 - $260


Expert Tenkara LT 36 - $280
---
Expert Tenkara LT 39 - $310


---
Expert Tenkara LT H44 - $350
LT rods made in China.
---
Shipping
Domestic shipping is $10 via USPS Priority Mail (2-3 day delivery).
The charge for international shipping depends on the destination country, the weight of the package, the overall length of the package and the value of the package. Packages under 24" long and under $400 in value will go via USPS First Class International. Packages over 24" or over $400 will go via USPS Priority Mail International. The international shipping charge will be calculated at checkout.
International purchases may be subject to import duties and taxes. I cannot keep track of all import regulations in all countries written in all languages. Understanding and paying import duties and taxes are the responsibility of the buyer.

---
TenkaraBum Home > Tenkara Rods > Daiwa Expert Tenkara

---
"The bitterness of poor quality remains long after the sweetness of low price is forgotten" – Benjamin Franklin
"Be sure in casting, that your fly fall first into the water, for if the line fall first, it scares or frightens the fish..." Col. Robert Venables 1662
As age slows my pace, I will become more like the heron.

---
Warning:
The hooks are sharp.
The coffee's hot.
The fish are slippery when wet.
Beware of the Dogma

---