Some shipments are still delayed. If you are planning a trip, please order well in advance.
---
Tanago Rods
These rods really are TANAGO rods, not all-purpose rods like the Soyokaze or Kiyotaki (both of which have been discontinued). There seems to be a misconception in the West about what tanago fishing really is. Tanago fishing is NOT fly fishing for trout with 7 or 8' telescopic rods on small streams. It is fishing for tanago (a type of fish). In Japan it is done with bait and with rods that could be as short as 20 or 30" although most are a bit longer. 
The tanago rods I have had in stock are well suited for micro fishing for species that are not skittish and where you can fish almost right under your rod tip. You can cast, but with a fixed line on a very short rod you are not going to cast very far.
But please, call it micro fishing, not tanago fishing. There are no tanago here. Tanago fishing in the US would be like shark fishing in Kansas - there aren't any there to catch.
Photos show alternate grips (rods are collapsed - they're short but not that short)

Tanago rods are truly lilliputian. Some collapse to just 10 1/4 inches. When you pick one up - once you get over how light and how small it is - and give it a test wiggle, it seems surprisingly stiff. However, that feeling is illusory. When you wiggle a rod (a normal rod, that is) you set up a harmonic wave that is caused by the rod's own inertia.
These rods weigh so little, and much of what they do weigh is in the grip rather than in the blank, that they have virtually no inertia. You cannot set up that harmonic wave. Suspend just one US penny (2.5 grams) in a little plastic bag tied to the lillian and the rod bends. If you move the rod at all, the rod tip bounces and wiggles like something alive.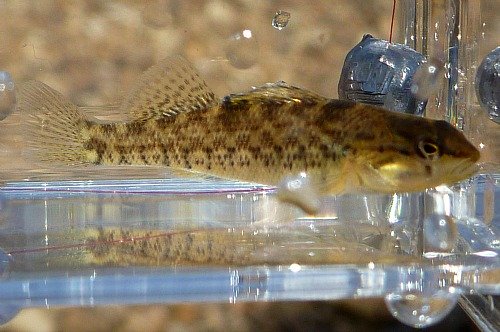 Strawberry Darter
I have commented in the past that a micro fishing rod should be able to handle a 9" brookie when fishing for dace, or a 10" largemouth when fishing for 3" sunnies.
Not these rods. These are diminutive rods for diminutive fish. They'll be fine with the dace, darters and baby bluegills, but large bluegills would be too much for the little rods, let alone a bass. The brookie below is maybe a 6 or 7 incher, hooked in quiet water. The Shimotsuke Miyako bent more than I had thought the rod could bend without breaking. I would not want to hook a 9 incher with one. For that matter, I don't want to hook another 6 incher!

Don't try this at home!
A guy I fish with a lot says I always underestimate the capability of rods, but that is not the case with these. These are wonderful little rods, but they really are for little fish. I've had a customer break two of the Shimotsuke tanago rods (which I no longer carry). One was when he hooked a large sunfish. The other was when the micro he caught was eaten by a 10" bullhead. If there's a good chance you might catch larger than expected fish, the Air Stage Hakubai 240 would be a better choice.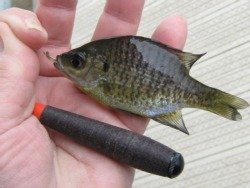 Bluegill caught with Daiwa Hinata
For micro fishing, though, particularly close in sight fishing, tanago rods are a tremendous kick. For sitting on a dock and catching the little bluegills that live under it, these rods could be a tremendous amount of fun. If big bluegills or small bass live under the dock, though, use a different rod.

Part of the fun, of course, is that the rods are just so insanely small - and that they are specialty rods, specially designed for fish to which most anglers wouldn't give a second thought. They will definitely bring a smile to your face. Sure, you could use an old spinning rod, but it won't put a smile on your face like these will. Fishing with these rods is like fishing with Harry Potter's wand.
Nissin Tanago Koro


Nissin Tanago Koro Tanago Rod
The Nissin Tanago Koro tanago rod is a sweet little rod that is just for small fish. Don't even try to catch small trout or small bass with it (unless they'll fit in one of the Micro Photo Boxes!) The tip is extremely thin and extremely sensitive. 5' extended, 10 1/4" collapsed.

Nissin Tanago Koro 5' - $150
---
Daiwa Hinata


Daiwa Hinata Tanago Rod
The Daiwa Hinata tanago rod that is in stock is only 3' long. Fishing with it is like fishing with Harry Potter's wand. As with the Nissin Tanago Koro, the tip section is almost unbelievably thin. This is a rod for true micros. 3' extended, 10 1/4" collapsed.

Daiwa Hinata 3' - $95
---
Nissin Mon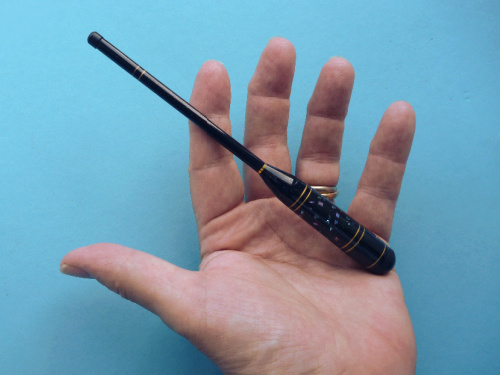 The Nissin Mon tanago rods are only 6.75" when collapsed! They are a bit stiffer than the Tanago Koro and the Hinata, but one of the larger micros will still put a bend in the rod. They only come in short lengths: 2.6, 3.0 and 3.3 shaku (which translates to 32, 36 and 40 inches).

| | | |
| --- | --- | --- |
| Nissin Mon 2.6 - $175 | Nissin Mon 3.0 - $185 | Nissin Mon 3.3 - $195 |
---
Shipping
Domestic shipping is $10 via USPS Priority Mail (2-3 day delivery).
Please note: All packages are shipped via USPS. If you have a PO Box, please list ONLY the PO Box in your address, not the PO Box and your street address.
If you live in an apartment, please put the apartment number in the same box as the street address (as in 123 Main St. Apt 45).

The charge for international shipping depends on the destination country, the weight of the package, the overall length of the package and the value of the package. Packages under 24" long and under $400 in value will go via USPS First Class International. Packages over 24" or over $400 will go via USPS Priority Mail International. The international shipping charge will be calculated at checkout.
International purchases may be subject to import duties and taxes. I cannot keep track of all import regulations in all countries written in all languages. Understanding and paying import duties and taxes are the responsibility of the buyer.

TenkaraBum Home > Micro Fishing > Tanago Rods
---
"The bitterness of poor quality remains long after the sweetness of low price is forgotten" - Benjamin Franklin
"Be sure in casting, that your fly fall first into the water, for if the line fall first, it scares or frightens the fish..." -
Col. Robert Venables 1662
As age slows my pace, I will become more like the heron.

---
Warning:
The hooks are sharp.
The coffee's hot.
The fish are slippery when wet.
Beware of the Dogma

---