Covid-19 Announcement
Most international flights have been cancelled.
There is no ETA for out-of-stock items that come from Japan.
Shipments to overseas buyers will take longer than normal - possibly much longer. Patience is a virtue - especially in fishing.

---
Sanyo Valcan Level Line

Lo-Vis Fluorocarbon
Sanyo Valcan level line is a lo-vis fluorocarbon that is considerably stealthier than brightly colored, fluorescent, hi-vis fluorocarbon tenkara lines. For a long time, I believed that hi-vis fluorocarbon tenkara lines did not alert the fish. I did recognize that my catch rate was better if I made sure to keep the colored line off the water, but I caught fish - lots of fish - with bright, fluorescent orange line.

Recently, though, Rob Worthing has convinced me that just keeping the line off the water might not be sufficient - at least if you are fishing for highly pressured fish in relatively clear water - particularly on a bright sunny day. He tested bright lines and stealthy lines and says there are fish (very large, very wary fish) that you just cannot catch if you use a brightly colored line.
For a while now, I have offered clear fluorocarbon tippet material in diameters equivalent to Japanese tenkara line sizes as a stealthy alternative to bright, fluorescent tenkara line. If you use a clear line you definitely need to use a sighter to detect strikes, though, and the TenkaraBum Tactical Nymphing Sighter was introduced for just that purpose.
There is another option, however.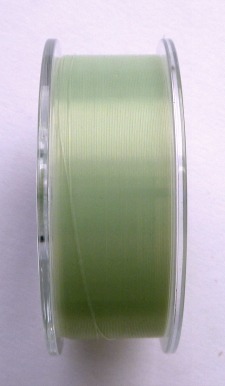 Sanyo Valcan Level Line
I have been quite happy with the Fujino White Tenkara Line, which is a translucent, milky-white nylon. It is quite stealthy, you can see strikes without a sighter, and it casts pretty well - for a nylon line. Ever since it came out, though, I wished there was a similar milky-white fluorocarbon. Unfortunately, there isn't a white fluorocarbon.
However, there is a milky-green fluorocarbon! The Sanyo Valcan tenkara line doesn't get much press, but that has to be because it is a lo-vis line and for years now, nearly all the emphasis has been on hi-vis lines. I had known of it years ago - but back then the lines  I wanted were the brightest ones I could find so that I could still see them in deep shade and late evening.
That's all well and good, and in deep shade or late evening you might really need a very bright line to see strikes. On a bright day, though, you don't need a bright line! The Sanyo Valcan line is definitely not bright, but in good light it is quite easy for you to see against dark water or a dark riverbank. It is hard for the fish to see against the sky, though.
It may even be stealthier than the clear 0X or 1X fluorocarbon tippet material. The reason a light green line could be more stealthy than an absolutely clear line is that the clear tippet material is shiny and will glisten in the sunlight. The Sanyo Valcan line does not glisten!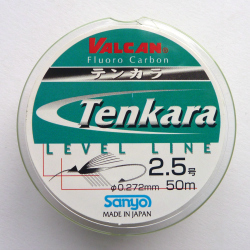 The line is made in the following sizes: 2.5, 3.5, 4.5 and 5.5. At least for now, I will carry the 2.5 and 3.5 lines. Very few rods are stiff enough to require a 4.5 line, and I know of no rods for which I would use a 5.5!
For Tactical Nymphing, a fishing style for which the preferred line is the thinnest you can cast effectively, I would definitely choose the 2.5. Most 7:3 rods will perform better with the 3.5, though.
I had fished with the 3.5 previously, and it was the 3.5 that Chris Hendriks of Norway had at the Oni School - which not only reminded me of the line but also made me realize how effective the stealthy milky-green line would be for Tactical Nymphing.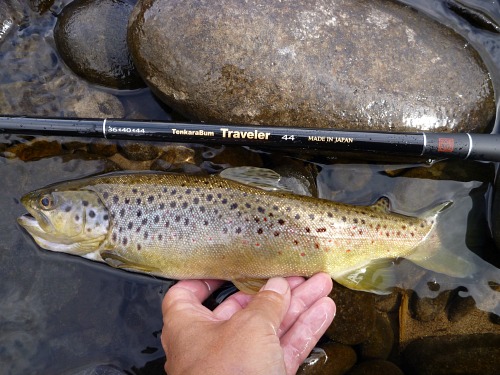 The first time I fished with the size 2.5 Sanyo Valcan line was on a recent trip to the Beaverkill River in the Catskills. It wasn't a "many" day but the 2.5 line was plenty visible enough to register the strike from the modest brownie above and from a smaller one caught later on the Willowemoc. The line seems to be a bit stiffer than the size 2.5 Oni line, but that may be a good thing. Stiffer lines cast more easily. If found the line quite easy to cast with the TenkaraBum Traveler 44.

Almost from the very beginning of tenkara in the US, there has been discussion of the "one fly" concept - using only one fly no matter where or when you fish. I think it is an interesting exercise, but I do believe you will catch more fish if you choose different flies for different conditions. Similarly, I think you will catch more fish if you match your rod to the width of the stream. You could use just one rod for all your fishing, but it is pretty clear that shorter rods will work better in narrower streams, and longer rods will be more productive in wider rivers.
The same holds true with tenkara lines. You could use one line for all your fishing. However, you will probably catch more fish if you match your line to the conditions. That may be a new concept, but I truly believe it is valid. In deep shade or in the evening (or when there is blinding glare on the water), I am sure that a more visible line will help you detect strikes. In bright conditions or when you are fishing for highly pressured fish, you may need a stealthier line, and in those conditions the Sanyo Valcan line could help you to catch more fish.
Sanyo Valcan Level Line size 2.5 - $25
---
Sanyo Valcan Level Line size 3.5 - $25
---
Shipping
Domestic shipping is $4, via USPS First Class Mail (unless ordered with an item that must go via Priority Mail, and which has a higher shipping charge). The charge is added to your order automatically.

The charge for international shipping depends on the destination country, the weight of the package, the overall length of the package and the value of the package.
International purchases may be subject to import duties and taxes. I cannot keep track of all import regulations in all countries written in all languages. Understanding and paying import duties and taxes are the responsibility of the buyer.
---
TenkaraBum Home > Level Line > Sanyo Valcan Level Line

---
"The bitterness of poor quality remains long after the sweetness of low price is forgotten" – Benjamin Franklin
"Be sure in casting, that your fly fall first into the water, for if the line fall first, it scares or frightens the fish..." Col. Robert Venables 1662
As age slows my pace, I will become more like the heron.

---
Warning:
The hooks are sharp.
The coffee's hot.
The fish are slippery when wet.
Beware of the Dogma

---