Nissin Pocket Mini

---
TenkaraBum no longer carries the Nissin Pocket Mini. I would suggest contacting Tenkara-ya. Google can find it for you.

---
I think the Nissin Pocket Mini will prove to be the ultimate backpacking rod, especially for ultralight backpackers. The Pocket Mini 270 weighs exactly one ounce. It collapses to just 9 5/8". I don't think you will find a lighter, more compact rod anywhere (other than a true tanago rod). This is no tanago rod, though. It is a surprisingly capable keiru rod.

For backpackers who are not gram counters, I also have the rod in a 360 length, which weighs 1.7 ounces and a 390 length, which weighs 2.2 ounces. If you are not fishing the headwaters, where the streams are not only very small, but also very brushy, the benefit of the longer rod may overcome the extra .7 ounce (but that little 270 is such a sweet rod). If you will be fishing slightly wider or more open streams, you will definitely think the extra 1.2 ounces of the 390 is worth it.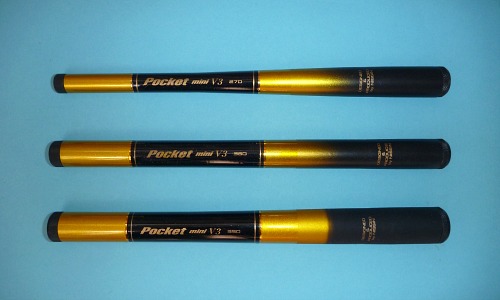 Nissin Pocket Mini 270 (top), 360 (middle) and 390 (bottom).
This is the ideal rod for people who are planning outdoor activities, perhaps hiking, biking, climbing, picnicking, etc., and would like to have a rod along, either "just in case" or when fishing is planned but isn't the main reason for the outing. Taking a one ounce rod that's less than 10" long makes a lot more sense than taking a rod that weighs more than twice as much and takes more than twice as much space. I wouldn't call it tenkara plus other activities nearly as much as other activities plus a little fishing - very convenient fishing!
For that matter, it might also be the perfect travel rod. It will easily fit in any carry-on bag or briefcase. (You might have to extend it, attach a line and make a few false casts to convince the TSA agents it's not an expandable SWAT team baton, though!)
I know people will want to just keep one in the glove compartment of their car. It will fit. It's not a good idea, though. The inside of a car on a hot sunny day gets too hot. I don't know what it does to a rod, but all the Japanese manufacturers warn against it.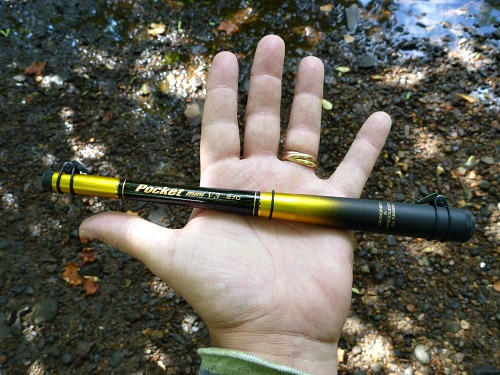 Fuji EZ Keepers recommended but not included
On the first day I used the Nissin Pocket Mini, I went for a walk and did a little fishing along the way. Just north of New York City, one of the commuter rail lines essentially follows the Bronx River. It isn't a very big river but at least it's moving water (at least in spots). For much of its length there is a bike path that pretty closely follows the stream. I took the train to the Bronxville station and walked up the bike path, fishing here and there, wherever there was access between the trees, the shrubs and the poison ivy. I caught the train back to the city from Crestwood, two stations up the line, three hours and twenty minutes later. It proved to be a very nice walk on a summer's afternoon.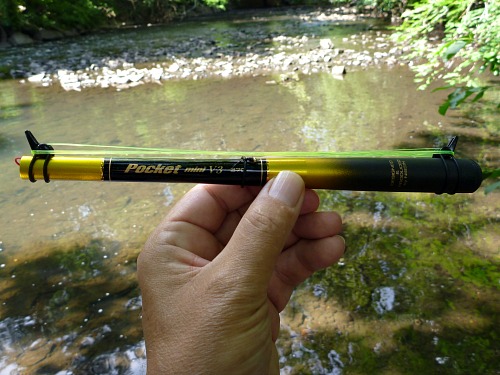 Fuji EZ Keepers not included
For something like this the Nissin Pocket Mini is very convenient. It really does fit in your pocket. When I came to a spot where I could make a cast, it took no time at all to free the line from the EZ Keepers and extend the rod. Could I have done that with a "normal" rod that collapses to about 20 inches? Sure I could have - in fact I did, as I wanted to compare the Pocket Mini 270 with the Fine Mode Kosansui 270. The Pocket Mini was more convenient, without question. When I was walking, or casting the Kosansui, I literally put the Pocket Mini in my pocket.
How do you use EZ Keepers on a rod that short? I put the rear EZ Keeper almost at the very end of the grip. When casting, the rear EZ Keeper fit in the small gap between my finger tips and the heel of my hand. It actually worked very nicely. I've fished with the rod for several days and by now the EZ Keepers just seem like they're part of the rod.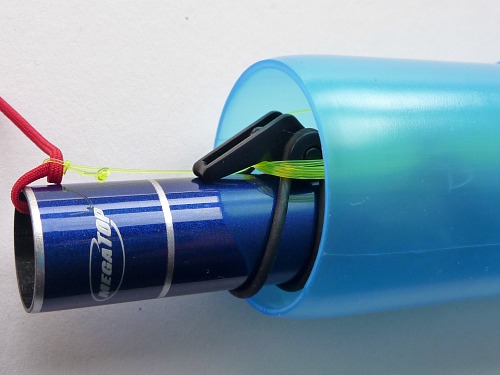 I need to do a new series of photos, but I would recommend attaching the EZ Keepers differently than shown in the second and third photos above. I would still have them spread apart that far, but they should be reversed, so that they hold the line when in the down position rather than in the up position. The photo directly above shows a different rod, but does show the proper positioning of the EZ Keepers. Attaching them this way yields two advantages: 1) they are much less likely to release the line by accident, and 2) they will fit in the Small Rod Case this way, but will not fit if attached as shown in the second and third photos. Please note: Fuji EZ Keepers do not fit easily on the Pocket Mini 390, and the Pocket Mini 390 will not fit in the Small Rod Case with EZ Keepers attached.

One of the biggest advantages of the Pocket Mini for backpackers is that it can be stowed so easily in the pack. Keeping it in a Small Rod Case allows you to keep the line and fly attached in a manner that will not cause a mess of loose line (and fly) inside the pack.
And if you're just out for an afternoon stroll with the Pocket Mini in your pocket, attaching the EZ Keepers so they hold the line when in the down position makes it a lot less likely that they will release the line and hook inside your pocket!

Redbreast Sunfish (color by nature, not Photoshop)
Part of the distance between the two train stations consists of two lakes, where I figured I'd be able to catch some bluegills and if I was lucky, a few small bass. As it turned out, most of the fish I caught, and I caught enough for the day to qualify as a "many" day, were redbreast sunfish. They were the most colorful redbreast sunfish I think I have ever caught. I did catch a couple bluegills, and quite a few small largemouth bass.

The Nissin Pocket Mini's soft tip makes the rod a lot of fun with even pretty small fish. It firms up rapidly, though, and is a more capable rod than you would expect from the weight and the soft tip alone. The rainbow trout below was about 13" and the Pocket Mini 270 handled it with no problem whatsoever. The Pocket Mini 360 and 390 are even more capable.

Fuji EZ Keepers and rainbow trout not included
It's not often that you catch a fish that is longer than your rod (collapsed, of course), but that could be a common occurrence with the Nissin Pocket Mini. The 270 measures 14 pennies, which puts it halfway between the Nissin Zerosum 320 6:4 and the Zerosum 320 7:3, and a penny shy of the Kiyotaki 24. Catching fish into the mid teens is certainly possible with any of those rods, and I believe it will be for the Pocket Mini 270 as well. The Pocket Mini 360 measures 17 pennies, just one less than the Zerosum 360 7:3. That doesn't make it a big fish rod, but it certainly does make it a rod capable of handling the fish you are likely to catch when backpacking. The Pocket Mini 390 measures 21.5 pennies, a half penny more than the Shimano LLS36NX and a half penny less than the Nissin Air Stage Fujiryu 360 6:4.

The limitation on what you can catch is going to be the tippet strength, and I, for one, am going to heed Nissin's recommendation on tippet. With care, landing 15" fish should be possible (maybe not every one, but certainly some of them). If fish larger than that are regular catches where you backpack, then I would suggest a Daiwa Keiryu-X or Tenryu TF39TA instead.

On the day I caught these two trout, I hooked another that was substantially larger. I don't know how big it was, but let me tell you, it was a very exciting two seconds. The 7X tippet snapped, saving the rod.
Nissin recommends tippet no stronger than 6.5X. If you don't have 6.5X use 7X tippet. If you get a snag at the extreme end of your cast (or a missed strike sends your fly to a treetop) and you cannot reach the line to break off the snag, pulling straight back on the rod could jam the sections if you use 6X or stronger tippet.
As you can imagine, with 15  or 20 sections in a package this thin, the section walls are quite thin and the tip itself is extremely thin. Collapsing this rod demands careful handling. Not to say it requires a surgeon's touch, but if you are ham fisted this is not the rod for you. Being aware and being careful should be sufficient (but you do need to be careful).
To collapse the rod, PULL each section in from the bottom, right next to grip section, don't push in from further away!
The tip section and the #2 section in particular are very delicate. When collapsing them, brace the butt of the rod against your chest or stomach and wrap your fingers around the tip end of the rod. With the thumb and forefinger of each hand, just barely past the end of the grip, hold the tip section tightly. From the starting position shown above, push the tip section in. You only have to push about 1/4" to free it. Make absolutely sure you are not bending the tip as you initially grip it or as you push it into the grip section. Replacement parts are available but with care they shouldn't be necessary.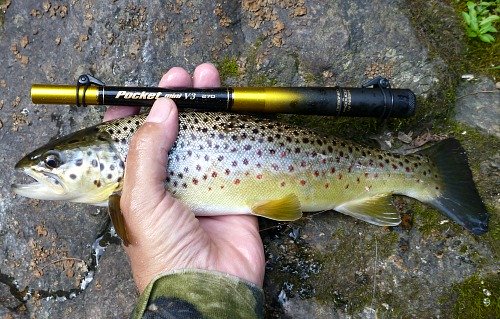 Brown trout - longer than the rod ;-) caught with a small bead head Bugger
Although the tip is delicate, you can still fish bead head nymphs if they are small. The brown trout above was caught with a size 18 tungsten bead head Black Killer Bugger. The soft tip also allows you to fish a light line. Size 3 line works very well with the rods.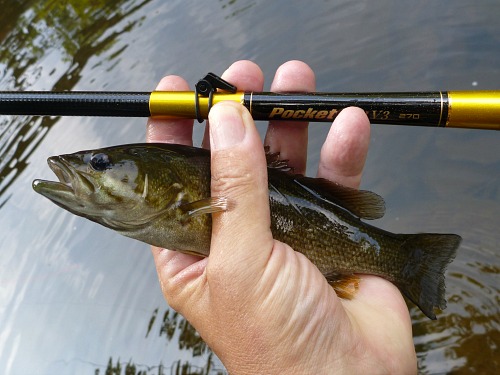 As you can imagine, green sunfish, modest smallmouth bass and bluegills are also a lot of fun with this rod. Basically, this is just a fun little rod, and oh so convenient. Don't leave home without it.

Nissin Pocket Mini Features

Typical for a keiryu rod, the grip on the Nissin Pocket Mini is just the last section of the blank, flared to make it wide enough for comfortable holding. The surface has a very effective nonskid coating.


The grip screw cap is plastic, and is beveled for comfort and knurled for easy removal. There is also a ventilation hole, but I would still disassemble the rod to allow it to dry thoroughly between uses. I would do this at home, but not on a backpacking trip. There are lots of sections, some are unbelievably thin and you would want to lay them out carefully, in order, and in a secure location to make sure nothing gets broken.

The tip plug is also plastic and has slits that allow a snug fit. It is snug enough and the slits are thin enough that I would not attempt to insert the plug with the line attached.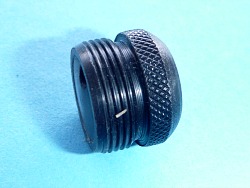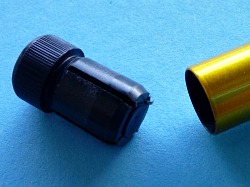 The lillian is attached with an extremely thin micro swivel. As with all the rods made in Japan, the tip section will slide through the second section for complete disassembly or replacement if necessary.
All in all, these are wonderful little rods. They are not nearly as stiff as the Daiwa Keiryu-X, another rod that collapses to short lengths, making them attractive to backpackers. The softer actions make the Pocket Mini rods better choices for people wanting to fish dry flies, unweighted wet flies and lightly weighted nymphs. The softer action, much lighter weight and much more compact collapsed length make these rods the nicest you'll find for backpacking, or for other outdoor activities (plus a little fishing).
Please note: these rods have many sections and they still are very light weight. The section walls are very thin. These are light, convenient, specialty rods, but they are not robust. They require more care than the average Chinese rod. If you have a habit of trying to free a snag by whipping the rod, these rods (or rather the bill for the replacement parts) will cure you of that habit rather quickly. Be careful with your back casts.
If you are hard on equipment, get the Daiwa Keiryu-X instead. If you treat fine equipment with care, you will love these little rods.
Not long ago, there was a splashy Kickstarter compaign introducing a couple Chinese knockoffs. This is the original. Made in Japan by a company that's been making quality rods for decades. To make a rod with this many sections (15) as light as it is (1 ounce) and still strong enough to handle 12" fish takes both premium materials and extensive experience in rod design and manufacture. It is a bit more expensive, but you get what you pay for. Read Tom Davis' reviews (upper right sidebar) before you buy.
Please remember: Nissin recommends tippet no stronger than 6.5X. If you don't have 6.5X, use 7X, not 6X. Seriously, do not use stronger tippet with these rods.

---
TenkaraBum Home > Tenkara Rods > Nissin Pocket Mini

---
---
"The bitterness of poor quality remains long after the sweetness of low price is forgotten" - Benjamin Franklin
"Be sure in casting, that your fly fall first into the water, for if the line fall first, it scares or frightens the fish..." -
Col. Robert Venables 1662
As age slows my pace, I will become more like the heron.

---
Warning:
The hooks are sharp.
The coffee's hot.
The fish are slippery when wet.
Beware of the Dogma

---