Nissin Air Stage Honryu 450

Please note: The Nissin Air Stage Honryu is NOT the Nissin Oni Honryu or the Royal Stage Honryu. I no longer have the the Nissin Air Stage Honryu 380. It is a nice rod, but I think the Royal Stage Honryu 390 is nicer.

The Nissin Air Stage Honryu 450 is a remarkably smooth casting, light, well balanced tenkara rod with sufficient backbone for nice fish.
The rod is full of surprises. The first surprise is how long the rod is collapsed. It does not fit your mental image of what a tenkara rod should be. The second surprise, when you extend the rod, is how light and well balanced it is. You won't believe that a 450cm rod can be that light and well balanced. The third surprise will have to wait until you can get out on the water and start casting the rod. It is the smoothest casting tenkara rod I've ever found. The fourth surprise is that for a rod that light, it has a surprising amount of backbone and can handle very nice fish without a problem.


The photo above shows the Nissin Air Stage Honryu 450 (top), the Honryu 380 (middle) and a yardstick (bottom). If you already have a tenkara rod or two, or even a preconceived notion of what a tenkara rod should be, these two rods will seem very "out of the box." When I first saw them I was shocked at the length and immediately felt it was a deal breaker.
It wasn't until quite a while later when I realized that the problem isn't that they're too long. My "box" was too short. For years (probably decades, actually) I used a two-piece ultralight spinning rod and never, not once, did it ever cross my mind that the broken down spinning rod was too long.


The photo above is the longer of the two Honryu rods (the 380) and the two-piece spinning rod that I used for decades (before discovering how nice JDM spinning rods are). The Nissin Air Stage Honryu 450, when fitted with a Fuji KTC-12 rod cap, which I prefer to the standard tip plug, is exactly 3/8" longer than that two-piece spinning rod. If you have any two-piece fly rods, they are almost certainly longer when broken down than the Honryu rods are when collapsed. These might not be the rods to take when hiking in several miles (or several days) but for rivers you can drive to, the rods actually make a lot of sense.

One unexpected benefit of the long collapsed length is that a pair of Fuji EZ Keepers is an ideal way to manage your line. It doesn't take many wraps when the keepers are that far apart!

As for the second surprise, the rod is really are quite light for its length, with the 450 tipping the scales at only 2.9 ounces - which is really remarkable for a 4.5 meter rod. That's more than a full ounce less than an Ito. The lightness in hand when casting is even more remarkable. (Third surprise, in case you're counting.)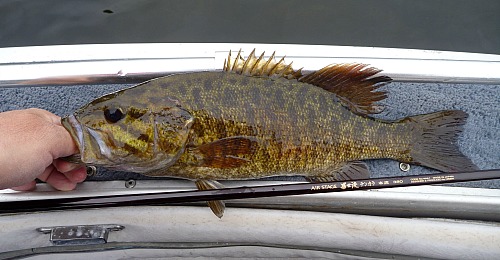 Despite the rods being very light and very smooth casting, they have the backbone you need to catch nice fish. I haven't caught any big trout yet but I will say they do nicely for smallmouth bass (and inch for inch a smallie would outfight a trout any day). The bass above was caught with the 380. The 450 is quite a bit more capable.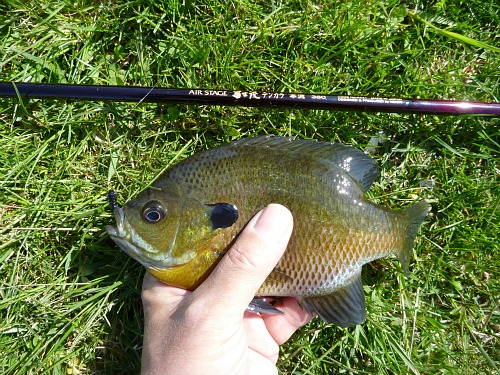 Despite having the backbone to land nice fish, the Nissin Air Stage Honryu is still an awful lot of fun with smaller fish. For those of you without easy access to trout, there are always bluegills (or is it the other way around?). In any event, these are very nice rods for a range of sizes and species.

The rod will cast a number of line weights. The 450 will cast a size 3 but may be a bit happier when paired with a 3.5. For windy conditions, either a 4 or a 4.5 line would work nicely. If you prefer tapered lines, the 450 can handle them.

The grip screw cap on the Nissin Air Stage Honryu  is the same as on the Nissin Pro Square rods - metal, aggressively knurled for a good grip with wet or cold hands, ventilated and with a rubber insert to keep the rod quiet when collapsed.

I'd still take the rod apart to dry thoroughly between uses.


The tip plug has a unique shape (380 plug shown). I would definitely replace it with a Fuji KTC-12 rod cap. It is just that much more secure and you really don't want rod sections this long to slide out unexpectedly if the rod is bouncing around in your trunk or back seat as you are driving the back roads.


Nissin Air Stage Honryu 450
Length extended - 14' 9"
Length collapsed - 40 3/4"
Weight 2.9 oz
Sections - 5
Pennies - 20.5
Echoing John V's sentiments, these rods may not be for everyone but I sure like them. If you want an incredibly smooth casting rod with the delicacy for smaller fish but the backbone for the bigger ones, and if you don't need a tenkara rod to break down any shorter than your fly rods, these rods may be ideal. You just need to fish outside the box!
Nissin Air Stage Honryu 450 - $205
---
Shipping
Domestic shipping is via USPS Priority Mail (2-3 day delivery). Rates will vary with package weight and destination. Most rates will be between $14.50 and $20.50. You can see the rate in the checkout process before the purchase is finalized.

Please note: All packages are shipped via USPS. If you have a PO Box, please list ONLY the PO Box in your address, not the PO Box and your street address.
If you live in an apartment, please put the apartment number in the same box as the street address (as in 123 Main St. Apt 45).
Please do not put anything in the box for "Company" if it isn't absolutely necessary. Not "self", not "none" not "--". It wastes your time to put it in and it wastes my time to take it back out. Please just leave it blank.

International Shipments

International purchases may be subject to import duties and taxes. I cannot keep track of all import regulations in all countries written in all languages. Understanding and paying import duties and taxes is the responsibility of the buyer.
Russia
TenkaraBum.com no longer ships to Russia.

UK

TenkaraBum.com no longer ships to the UK. The new VAT regulations are too onerous for a one-man shop that rarely ships anything to the UK anyway. I apologize. 

---
TenkaraBum Home > Tenkara Rods > Nissin Air Stage Honryu

---
"The bitterness of poor quality remains long after the sweetness of low price is forgotten" - Benjamin Franklin
"Be sure in casting, that your fly fall first into the water, for if the line fall first, it scares or frightens the fish..." -
Col. Robert Venables 1662
As age slows my pace, I will become more like the heron.

---
Warning:
The hooks are sharp.
The coffee's hot.
The fish are slippery when wet.
Beware of the Dogma

---