Why I Sell Rods That Aren't "Tenkara" Rods
If you have been keeping a close watch on the various tenkara related websites and Facebook pages, you have probably realized that I have ruffled some feathers by selling rods that are not "tenkara rods." My explanation to date has been fairly simple and straightforward: they work. The Soyokaze is a wonderful little rod - very light, very sensitive, and it casts a size 3 tenkara line like it was designed for it (even though it wasn't). The Kiyose is also a nice little rod, well suited for backpackers and nymph fishermen, and I truly believe it is a better rod than the discontinued Hane. (It must have been enough of a threat that announcing it's availability on Facebook led to me being banned from the Tenkara USA forum.) And the Sagiri? Ah, the Sagiri is just a joy to cast and will spoil you for any other tenkara rod. It will. Really. You have been warned.
However, I can now show you something that will make the reason a bit more clear.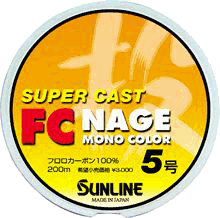 Now that I have bought every spool I could find, and there is no more left to be found, I'll openly share the source of the TenkaraBum Hi-Vis fluorescent orange tenkara line.
As soon as I tried it, I knew it was better than anything I had fished with before, including the Sansui line that Dr. Ishigaki uses. I still believe it is the best tenkara line available anywhere.
But here's the thing - it's not technically a tenkara line at all. It's a saltwater fishing line. If I had felt constrained to sell only those things that had "tenkara" written on them at the factory, all the people that really love the TenkaraBum Hi-Vis fluorescent orange fluorocarbon tenkara line would never have known it existed.
And now it is discontinued. But guess what? It's back. And this time as a tenkara line. That's right. It says "tenkara" right on the label. I'm pretty sure it is the exact same line with a different label. Does that all of a sudden make it OK to sell? Well, gee, I s'pose it does.
The point is this: I sold the line as a tenkara line because it worked as a tenkara line (which the manufacturer now realizes). I thought it filled a need in the marketplace. It is exactly the same with the rods. EXACTLY. I sell them because I think they fill an unmet need in the marketplace and I think they do it very, very well. Read the testimonials - the people who have bought them and are out fishing with them seem to agree with me.
I do not feel bound to preserve "tradition" that has been continuously changing anyway. Traditional rods are bamboo and traditional lines are horsehair. The Japanese masters fish carbon rods and fluorocarbon lines. So what, exactly, is the tradition I am supposed to uphold?
The Japanese tradition of continuous improvement? I'm right there.
---
TenkaraBum Home > Tenkara Rods > Why I Sell Rods that Aren't "Tenkara" Rods
---
"The bitterness of poor quality remains long after the sweetness of low price is forgotten" - Benjamin Franklin
"Be sure in casting, that your fly fall first into the water, for if the line fall first, it scares or frightens the fish..." -
Col. Robert Venables 1662
As age slows my pace, I will become more like the heron.

---
Warning:
The hooks are sharp.
The coffee's hot.
The fish are slippery when wet.
Beware of the Dogma

---