Covid-19 Announcement
Most international flights have been cancelled.
There is no ETA for out-of-stock items that come from Japan.
Shipments to overseas buyers will take longer than normal - possibly much longer. Patience is a virtue - especially in fishing.

---
Warm Weather Warm-Up
by John Evans
(San Antonio, TX)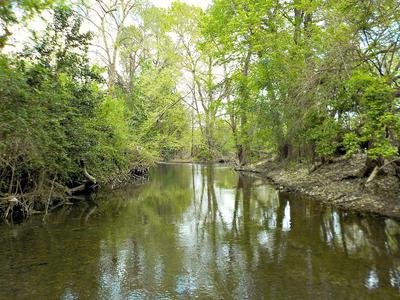 Urban Creek Near San Antonio, Texas
The temperature has been pushing 80 degrees the past few days in San Antonio, which means that the stocker rainbows are playing out and the warm-water fish are stirring. On my day off, I decided to visit a nearby urban creek to try my luck.

The morning turned out to be one of those special outings where every other cast triggered a strike. My rod of choice was the ultralight Nissin Air Stage 240 equipped with a standard Gold Ribbed Hare's Ear Nymph. The fish wouldn't stop, and by lunchtime, I'd had about all the fun I could stand.

Trips such as these make up for those other excursions where the fish just won't cooperate. Springtime in Texas is a fine time to be tenkara angling. I was able to use the same nymph all morning long; but, by the time I headed to the truck, it was just a bit of rabbit fuzz and tinsel on a hook. Who says that flies have to be pretty to work?

I've said it before: If you enjoy pursuing small fish on skinny water—or you enjoy micro fishing at all—you have to consider the 240 Air Stage. For its intended purpose, Nissin really nailed its design and execution. A bass the size of the one in the second photo will really put a deep bend in the rod. You'll feel every twitch, head shake, and hook-up.

Are the fish stirring in your local waters? If so, get to it! Spring only lasts so long.

---
"The bitterness of poor quality remains long after the sweetness of low price is forgotten" – Benjamin Franklin
"Be sure in casting, that your fly fall first into the water, for if the line fall first, it scares or frightens the fish..." Col. Robert Venables 1662
As age slows my pace, I will become more like the heron.

---
Warning:
The hooks are sharp.
The coffee's hot.
The fish are slippery when wet.
Beware of the Dogma

---