Covid-19 Announcement
Most international flights have been cancelled.
There is no ETA for out-of-stock items that come from Japan.
Shipments to overseas buyers will take longer than normal - possibly much longer. Patience is a virtue - especially in fishing.

---
warm water tankara in the fall of the year
by mike w
(elk grove, ca)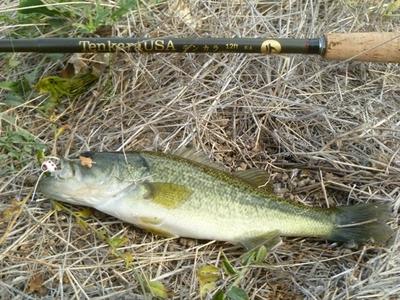 On Veteran's Day I woke up later than I usually do. My girl had to work and the kids all had their own things going on. As I lay there in bed, I said to myself, "I should go fishing." The next question that comes to mind is always, "where?" For us here in northern California, the "where" can be a tough question. This is especially true for someone like myself who has a hard time with making up his mind when there are too many choices. Rather than think too much about it, I decided against my creek-down-the-way, which wasn't looking so fit this late in the year, and headed to a local park pond to see what might take a kebari or popper.

I fished the pond for a couple hours with no sight of a fish. Frustrated, I reckoned I'd at least check out some of the sections of my creek that might have fish. When I got there, it was very low. In fact, it wasn't really a creek, but rather a series of small ponds. As I stepped to the first one, I watched as a number of fish ran for deeper water. "Trout tactics!" I said to myself, "I'm game." Having spooked the first pond thoroughly, I moved to the next very slowly. I hid behind a bush, flicked my Yamame just right for once and when the popper hit the water, the largemouth pictured hit back. To say the least, I was stoked. It had been months since I'd felt the wonderful shake of a tenkara rod.

Having spooked another pond, I moved on. The next one had fish rising, but none for me. At the last and largest pond, I fish around it for a bit for no strikes, then both suddenly and surprisingly, a black crappie smashed my popper. I knew there were crappie in the creek because I'd found one once before using a worm, but this guy was hangin' out with friends and I spent the next hour or so in a ten yard section of the pond throwing them poppers and killer bugs and the like. All in all I landed 10, with four redear gills thrown in for good measure.

At the end of the day, I reflected on whether or not the fishing could have been as fun had I chosen another "where." The answer was and is, "who the heck cares! That was a great day of fishing."

---
"The bitterness of poor quality remains long after the sweetness of low price is forgotten" – Benjamin Franklin
"Be sure in casting, that your fly fall first into the water, for if the line fall first, it scares or frightens the fish..." Col. Robert Venables 1662
As age slows my pace, I will become more like the heron.

---
Warning:
The hooks are sharp.
The coffee's hot.
The fish are slippery when wet.
Beware of the Dogma

---