Covid-19 Announcement
Most international flights have been cancelled.
There is no ETA for out-of-stock items that come from Japan.
Shipments to overseas buyers will take longer than normal - possibly much longer. Patience is a virtue - especially in fishing.

---
Very Tiny Spoons, Who Knew
by Alan Luecke
(Kansas City, MO)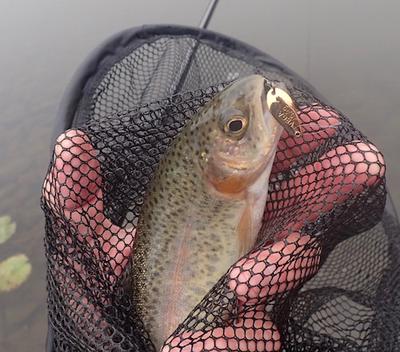 First Flyspoon Trout
When Chris described the .4gram Vega spoons as too small to cast on most American spinning rigs I had to buy some if only as a curiosity. They're way more than that.

This last weekend was the opening of the winter stocked trout season at the James A. Reed Conservation Area near Kansas City. The weather was grey and cold and the trout were not active. My go to stocker fly is a medium black Killer Bugger with a red bead and wire. I got nothing.

I had the spoons with me and trout like spoons. I tied one on the Tenkarabum 40 with a nonslip loop knot and cast not knowing what to expect. As I should have expected the TB40 cast it just fine. In fact it was less clunky than some bead head flies. The retrieve is whatever you want it to be. A very slow steady pull produces perfect spoon action. The solid connection allows pulsing and fluttering the spoon at will. With fluorocarbon line simply sink the whole rig for a deep retrieve along the bottom.

The fishing was still slow but fish were caught. First trout of the winter and two big surprise hits from largemouth bass. For many people I'm sure this is very wrong in so many ways. In reality it's just fishing, not that different from a shiny fly with crystal flash and flexing marabou.

The very traditional Heart of America Flyfishers Club has an outing in December, this is going to be so much fun.
---
"The bitterness of poor quality remains long after the sweetness of low price is forgotten" – Benjamin Franklin
"Be sure in casting, that your fly fall first into the water, for if the line fall first, it scares or frightens the fish..." Col. Robert Venables 1662
As age slows my pace, I will become more like the heron.

---
Warning:
The hooks are sharp.
The coffee's hot.
The fish are slippery when wet.
Beware of the Dogma

---