Covid-19 Announcement
Most international flights have been cancelled.
There is no ETA for out-of-stock items that come from Japan.
Shipments to overseas buyers will take longer than normal - possibly much longer. Patience is a virtue - especially in fishing.

---
Urban Tenkara Fishing
by John Evans
(San Antonio, TX)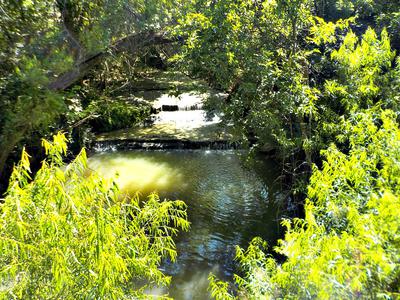 One of my favorite tenkara creeks runs beneath a foot bridge in an urban park.
Lately I've been giving "urban tenkara fishing" some thought and was wondering about others' experiences. While I don't suppose there's a universally-accepted definition, I usually think of urban fishing as "city fishing"—wetting a line and fly within thirty minutes of a major population center. As cities become larger, and wilderness shrinks, I think urban fishing will occupy a bigger slice of the outdoor pie.

Frankly, my experiences have been mixed. I regularly fish at the Cibolo Nature Center near Boerne, TX, and that spot is a real joy. Yes, there's quite a bit of foot traffic in the area, but Cibolo Creek always has an abundance of sunfish ready to strike, with a nice mixture of bass, catfish, and cichlids thrown in. It's located within a half hour's drive from San Antonio but still has a nice country flavor with plenty of good wading and walking trails. The area is generally well-kept, and most visitors are respectful. The fishing is often outstanding, and my seiryu rods allow me to work productive waters that conventional anglers bypass.

On the other hand, I've visited some urban fishing spots in and near the big city that are no longer on my list. Frankly, a couple of spots didn't feel safe, or all the traffic and trash spoiled the experience. Sometimes the water quality was poor. I have no intention of fishing a spot where I have to glance over my shoulder to see who's sneaking up on me or watch my feet so that I don't impale myself on broken glass. The posted regulations may say that fishing is allowed, but I'm not returning because it wasn't any fun.

So, what does it take to make a good urban fishing spot? It has to be close enough for the city folks to visit, clean enough to enjoy, and safe enough to relax. There has to be a decent population of catchable fish, but you don't want to stand shoulder-to-shoulder with the next fisherman. On the plus side, urban fishing can allow you to introduce tenkara and keiryu fishing to others. More than once, children with their parents have approached me with wonder in their eyes about the beauty of tenkara casting. "Mister, can I touch that fish you just caught?"

At other times, however, I've had to dodge rocks from teenagers who were chunking stones over a cliff but didn't see me standing below! I've met kids skipping school, honeymooners, photographers, joggers, bird watchers, illegal campers, and lots of folks walking their dogs. Most people are friendly and encouraging, but not everyone. The most common problem I encounter is owners running their dogs off the leash in areas where it's not allowed. Usually the pets are fine but not always. "He won't bite," doesn't offer much solace when the animal is baring its teeth and growling. You end up taking the good with the bad.

I've learned to lower my expectations when I first visit an urban tenkara spot. That way, I'm often pleasantly surprised but seldom disappointed. By far, my best times have been when I've gone in the middle of the week during "off hours." Indeed, there have been a few days when I didn't see a single other person except in the parking area, and the angling was excellent. I treasure those memories.

Sometimes you have only a couple of hours to fish, or you just can't get away to a more secluded spot. Still, you have to scratch that "fishing itch," and urban fishing offers an outlet. For folks with limited transportation or mobility, urban fishing may be their only option. There are some tradeoffs between solitude and convenience.

I always encourage folks to make sure that they have their fishing license and identification with them, plus make certain that you have the clear, legal right and access to fish. Always remain aware of your surroundings. Most of the "horror stories" I hear about occur when people mistakenly think they don't need a license, or they attempt to fish in areas where angling isn't allowed. Don't guess about whether urban streams are private, semi-private, or public access. The last thing you want when you head out the door with your tenkara outfit is to have a confrontation. Also, leave a place cleaner than you found it.
What has been your experience, and what tips would you offer?

---
"The bitterness of poor quality remains long after the sweetness of low price is forgotten" – Benjamin Franklin
"Be sure in casting, that your fly fall first into the water, for if the line fall first, it scares or frightens the fish..." Col. Robert Venables 1662
As age slows my pace, I will become more like the heron.

---
Warning:
The hooks are sharp.
The coffee's hot.
The fish are slippery when wet.
Beware of the Dogma

---