Covid-19 Announcement
Most international flights have been cancelled.
There is no ETA for out-of-stock items that come from Japan.
Shipments to overseas buyers will take longer than normal - possibly much longer. Patience is a virtue - especially in fishing.

---
Two Types of Lightweight Tenkara Trips
by John Evans
(San Antonio, TX)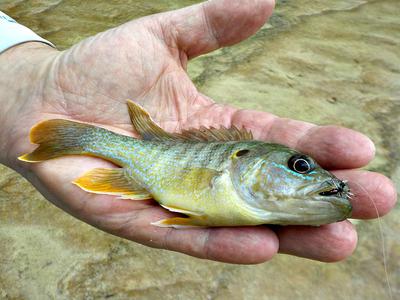 Beautiful Green Sunfish on the Sabinal River
Recently I've been enjoying two kinds of ultralight tenkara trips that I would like to share with readers. I'm fortunate to live in South Central Texas, which gives me at least half a dozen state parks and natural areas within two hours of my house. Like most folks, I have limited time away from work, so all trips are short—often just overnight.

One kind of tenkara trip I've enjoyed is an "all-day outing," using my Zimmerbuilt Guide Sling for my pack. The Guide Sling, available from Chris Stewart at Tenkarabum, is big enough to hold food, water, ultralight rain gear, and tenkara gear for a single day. It's a beautiful pack, super-tough and light for a sunrise to sunset outing. Mine is now four years old, and it still looks and works as good as the day I bought it. If you don't have a Guide Sling, you need to get one. It's that good.

So, I'll pick a small stream course and fish as much of it as I can from morning till evening, with a noon-day break. If you live near the Texas Hill Country, a trip to Lost Maples State Natural Area is just right for this kind of jaunt.

The second kind of ultralight trip is the single overnighter. Hey, I'm coming up on 62, and I'm not going to be hiking the Appalachian Trail. But being gone for one night, carrying an ultralight tent and sleeping bag? This I can manage! Depending on the time of year, I can leave work one afternoon and return the next day without rushing things. These trips are among my favorites.

I remember when backpacking meant carrying 60 pounds of gear in a framed pack to show how tough you were. Those days—at least for me—are gone. We're blessed to live in a time when ultralight backpacking gear has come a long, LONG way. Design and materials have improved dramatically. My pack, food for two meals, water and water filter, sleeping bag and pad, rain gear, tent, fly fishing lanyard, first aid kit, fly box, and two tenkara rods come in at 15 pounds, 4 oz., weighed honestly on a postal scale. In backpacker talk, the "base weight" (without consumables) is 10 pounds. Yes, that includes a fully-screened tent, rain fly, and poles. Even I can manage that for one day and night. And what fun! I carry a custom Zimmerbuilt pack for those overnighters, complete with tenkara rod sleeves added by Chris Zimmer.

Again, if you live close to my area, Lost Maples State Natural Area, Colorado Bend State Park, and South Llano River State Park are naturals for these kinds of trips. I bet there are similar places near where you live.

Ultralight trips and tenkara go together. Give it a try and see if you don't agree.

---
"The bitterness of poor quality remains long after the sweetness of low price is forgotten" – Benjamin Franklin
"Be sure in casting, that your fly fall first into the water, for if the line fall first, it scares or frightens the fish..." Col. Robert Venables 1662
As age slows my pace, I will become more like the heron.

---
Warning:
The hooks are sharp.
The coffee's hot.
The fish are slippery when wet.
Beware of the Dogma

---