Tune up
by Kris Franqui
(Montana)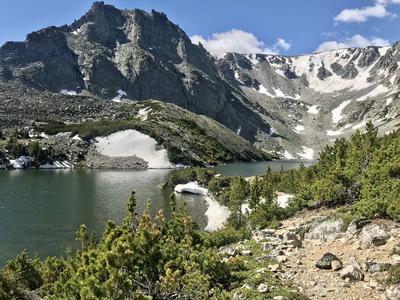 One of the highlights for me each summer is a trip to the best golden trout fishery in the state. It's a brutal hike, but it calls me back every time. After catching the fish of a lifetime 2 years ago, I went back last year to catch a nice golden on my bamboo rod. This year, I need to see if I can catch a big one on a fixed line rod.

Today I hiked into an "easy" golden trout lake to catch some small fish with a couple of rods that I hadn't used yet: Kurenai HM45R and Fine Power NP66. The steady slog up the 6.5 miles and 3200' elevation gain was a good workout, as usual. I was able to get a couple hours of fishing in, although the wind was not kind and I wanted to get back to the car before the storm rolled in.

During the hike out, I soaked in the sights and sounds of the wilderness, thinking about what I had learned. I missed quite a few fish, particularly with the longer Fine Power. No fault of the rod, but I was unfamiliar with it. The wind created havoc on the 22' rod, the indicator, and the line. I was also slow on the set as I was getting used to the inertia. I should have circled around to the other side of the lake to put the wind in a more favorable direction. I could have put on my floating line, but I thought I had forgot it. It wasn't until I put the level line away that I saw the floater in my leader wallet.

All said, it was a successful trip. I got a solid workout. I caught some pretty little fish on each of the rods, and now I'm beginning to formulate a plan for the real trip. I will need to refine my gear choices and tactics, as well as get some practice with the Flying Dragon (did I mention the lake has BIG fish).

This turned out to be a nice dress rehearsal, but it only served to whet my appetite.


---
"The bitterness of poor quality remains long after the sweetness of low price is forgotten" - Benjamin Franklin
"Be sure in casting, that your fly fall first into the water, for if the line fall first, it scares or frightens the fish..." -
Col. Robert Venables 1662
As age slows my pace, I will become more like the heron.

---
Warning:
The hooks are sharp.
The coffee's hot.
The fish are slippery when wet.
Beware of the Dogma

---