Covid-19 Announcement
Most international flights have been cancelled.
There is no ETA for out-of-stock items that come from Japan.
Shipments to overseas buyers will take longer than normal - possibly much longer. Patience is a virtue - especially in fishing.

---
Titanium line
by Mike
(Boulder, CO)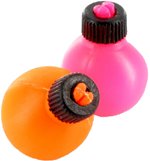 SOS Indicator
Discussions about "drag" usually relate to "drag" from water current. However, I feel that drag from the wind blowing from upstream is equally problematic. With tenkara, drag from water currents is nearly absent, but a wind can sometimes pick up a flouro line out of the water (yeah, yeah, I should just sit it out, but I don't). With a Ti line, that problem is solved.

I live in Colorado where the winds are often strong enough to be a problem. Recently, I have been using a 14'6" Daiwa 43MF that I use with a 1/2" thingamabobber to fish Deckers and Blue River -- tail waters. In that kind of water, I am not casting straight ahead. It is drift sideways, drift, drift, quick set, flip back upstream.

Most of the time, I use Chris's orange tenkara line because it is so easy to manage. A couple of casts and the kinks are out. But when the wind blows hard enough, i use the Ti line. The only resistance I feel is the thingamabobber being blown by the wind as I cast it. However, once the cast is completed, the thingamabobber does "anchor" the line, otherwise, with 14' 6" out there, a strong wind can blow hard enough to move the rod around!

Chris mentioned using a Ti line for Czech nymphing because the Ti lines sinks quickly and doesn't drag in the water. I like his idea. However, there are times when I still like using floats and adjust it based on the depth of the water. Sometimes I want to remove the float. Floats such as a thingamabobber and some yarn indicators would kink a titanium line and ruin it. I found a float called an SOS indicator that looks and floats as a thingamabobber, but does not kink it. The SOS indicator can be easily installed or removed as well, on a Ti line or any kind of line. It also has the advantage of not slipping. I enclose a photo of what it looks like.

I will write about using that combination when I have a chance to try it out on the river.
---
"The bitterness of poor quality remains long after the sweetness of low price is forgotten" – Benjamin Franklin
"Be sure in casting, that your fly fall first into the water, for if the line fall first, it scares or frightens the fish..." Col. Robert Venables 1662
As age slows my pace, I will become more like the heron.

---
Warning:
The hooks are sharp.
The coffee's hot.
The fish are slippery when wet.
Beware of the Dogma

---