Covid-19 Announcement
Most international flights have been cancelled.
There is no ETA for out-of-stock items that come from Japan.
Shipments to overseas buyers will take longer than normal - possibly much longer. Patience is a virtue - especially in fishing.

---
Three Advantages of Tenkara Angling
by John Evans
(San Antonio, TX)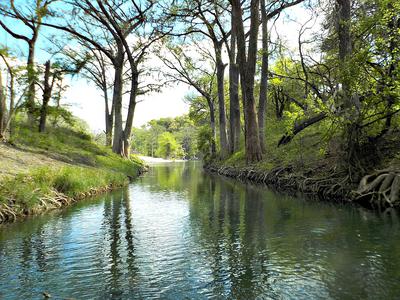 Creeks and Tenkara Angling are a Natural Combination
Like many anglers, I come from a traditional spin casting and bait casting western background. Born and raised in Texas, I saw few fishermen who practiced fly fishing in any form. I did try western fly fishing for a few months, but it never stuck. It was one notch too complicated for me, plus, I just didn't catch many fish that way.

Then, one day, while web surfing, I stumbled on a YouTube video of tenkara angling and also found Chris Stewart's Tenkarabum website. I was intrigued enough to dip my toe in the water, and within a few months, I had almost completely switched to tenkara fishing. That was four years ago, and, the more I use my tenkara and keiryu gear, the more I like it.

I sat down the other day and tried to figure out what the appeal is, at least for me. Three advantages stick in my mind, though others may practice tenkara for different reasons. See what you think.

First, tenkara is unencumbered fishing at its best. Often, I hear the word "simple" applied to tenkara, but I don't know if that's exactly right. I don't guess that a precisely engineered carbon fiber rod that weighs less than two ounces is simple. I do enjoy the fact, however, that I can take that extremely lightweight rod, a small mint tin of flies, a few feet of line, and fish all day. Plus, when I hook a fish, because the line is attached to the tip of the rod, the connection with the fish is direct. The rod comes alive when I hook a bluegill or a bass. There's something very appealing about sliding my Zimmerbuilt sling pack over my back and wading into a local creek with a finely crafted tenkara rod in my hand. I feel a part of nature in an unencumbered way. Tenkara is angling in one of its purest forms.

Second, tenkara allows me to fish water that was previously inaccessible. Using a slingshot or bow-and-arrow cast, plus a short tenkara rod, I can fish shallow, brush-choked water that just wouldn't work with my traditional western gear. You know, that little stream just down the road, the one other anglers bypass? I've been fishing there all summer, fall, and winter. Often, I'm the only one on the water, and I can place bait or lure in pockets that other fishermen can't get to. Tenkara anglers are the masters of the thin blue lines on the map.

Third, I catch more fish. Most of us go fishing to catch fish. Yes, I know that being outside, enjoying the breeze, and wading is all fun; but, you brought that rod along for a reason. Tenkara allows you to delicately present a fly, with a perfect drift, in water that you know holds fish. When I started fishing with my tenkara rods, my catch immediately went way up. Done right, tenkara angling is the softest of whispers, a butterfly's wing on the water, a natural presentation that is nearly irresistible to fish. Whatever you lose because of the short line, you more than gain back with the tenkara cast and drift. Doesn't this explain why tenkara developed in the mountain streams of Japan, where anglers had to catch fish to live? It works here, too.

Unencumbered fishing, new water, and more fish are all reasons why I started and stuck with tenkara.

---
"The bitterness of poor quality remains long after the sweetness of low price is forgotten" – Benjamin Franklin
"Be sure in casting, that your fly fall first into the water, for if the line fall first, it scares or frightens the fish..." Col. Robert Venables 1662
As age slows my pace, I will become more like the heron.

---
Warning:
The hooks are sharp.
The coffee's hot.
The fish are slippery when wet.
Beware of the Dogma

---