Covid-19 Announcement
Most international flights have been cancelled.
There is no ETA for out-of-stock items that come from Japan.
Shipments to overseas buyers will take longer than normal - possibly much longer. Patience is a virtue - especially in fishing.

---
Those Carbon Fiber Tubes
by John Evans
(San Antonio, TX)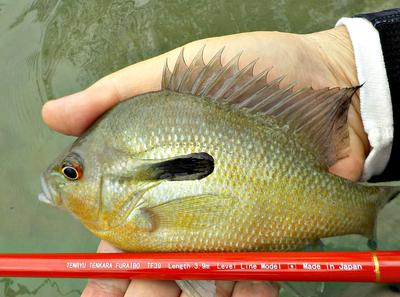 The sections on the Tenryu Furaibo TF39 slide together smoothly and precisely.
Like many tenkara anglers, I started with a couple of "brand X" rods of modest price and eventually caught quite a few fish with them. I still have these first rods and sometimes lend them to beginners. They serve their purpose, and I appreciate their reasonable value.

Along the way, I was able to save up and buy other, nicer poles, including the higher-end Nissin and Suntech rods, plus a Tenryu Furaibo TF39. I really enjoy them and have managed to catch lots of stocker rainbows, panfish, catfish, largemouth and Guadalupe bass over the past 4 years. It's been a wonderful, enjoyable experience, and I've treasured just about every trip on the water. I'm always learning something new.

Recently, I decided to re-visit one of my cheaper poles and see if the intervening years offered any insights into the manufacture of tenkara rods. What are the differences between a $50 rod and one that may cost five times as much? Are the more expensive tenkara rods worth the extra price?

Frankly, when I first started, my inexperience would have prevented me from telling the differences. My casting technique was poor, I didn't know how to control the rod, or even how to extend and collapse it properly. My hand wasn't tuned to slight variations in design, balance, and play.

So, my handling of the less-expensive pole after years' of absence was a real eye-opener. I'll keep this short and just say that the main differences are the fit, finish, and quality of the carbon fiber tubes. Frankly, the sections on the cheaper rod felt, well, cheap. The sections did not slide together or collapse smoothly, and the manufacturing tolerances were inconsistent. I could actually feel the tubes wobble through the joints just the tiniest bit. Though I caught several fish, I couldn't present the fly as nimbly. Frankly, my outing was less enjoyable.

I might add that a difference in quality is not easily seen in a picture; it's felt in the hand. I have owned a rod or two that looked premium in the photo but felt cheap on the river.

Again, I plan to keep my beginner rods. They serve a purpose and helped get me started. My suggestion for others, however, would be to aim for a nicer rod—one that's either made by, or for, Japanese companies. There's a difference that you can feel with every cast. If I were going to recommend a single rod for the beginner, it would be one of the zoom poles made by Suntech, but any of the better rods from the Japanese companies will make you proud.

That's one angler's experience and opinion.


---
"The bitterness of poor quality remains long after the sweetness of low price is forgotten" – Benjamin Franklin
"Be sure in casting, that your fly fall first into the water, for if the line fall first, it scares or frightens the fish..." Col. Robert Venables 1662
As age slows my pace, I will become more like the heron.

---
Warning:
The hooks are sharp.
The coffee's hot.
The fish are slippery when wet.
Beware of the Dogma

---