Covid-19 Announcement
INTERNATIONAL: Shipments to Europe and Canada are still slightly delayed but are getting back closer to normal. Shipments to Australia are still much slower than normal.

DOMESTIC: Many deliveries are taking about a day longer than normal. A few deliveries are taking a lot longer than normal. If you are planning a trip, please order well in advance.

---
The Trifecta
by Kris Franqui
(Billings, MT)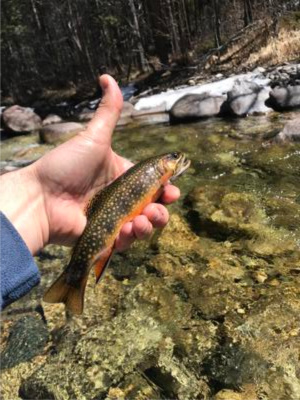 It's transition time here in Montana. The local streams are starting to turn color and will soon be rising. A few days ago I tried my hand with smallies on the Yellowstone, but today I went to the foothills of the Beartooth wilderness with my Kurenai for wild trout.

The sun was shining and the wind was calm. I had to stay away from the shady timber where the snow was too deep, but fortunately there were several options close to the road. Although I wanted to try my HM30R for the first time, I wasn't sure what to expect in this new section of creek, so I opted for the HM45R instead...also a first. The extra length was challenging in a couple spots, but also a blessing in others since I was only wearing muck boots and wasn't wading.

It only took a couple drifts in the first piece of pocket water before a little rainbow took my polish woven nymph. I couldn't help admiring the bend in the Kurenai as the little 10" trout tried to get downstream. I knew immediately that the hour drive was worth it as I was giggling like a little school girl.

I only fished about 100 yds of creek over the next hour and a half, but the fish managed to keep me busy. I ended with a version of a trifecta, catching many rainbows, a handful of brookies, and a single Yellowstone cutthroat...my first in this creek. Browns can be found in this water as well, but only after the creek triples in size and winds down through the grasslands below.

When the day started, I wasn't even sure I was going to get any fishing in, but I figured it was a good day for a drive. Being so close to the familiar trailheads makes me eager to throw on my pack and disappear for some long weekends. I'm about halfway through the 300ish fishable lakes in the Beartooths and my "to do" list is long again this year. I'm sure a few of those trips will give me more stories to tell.



---
"The bitterness of poor quality remains long after the sweetness of low price is forgotten" – Benjamin Franklin
"Be sure in casting, that your fly fall first into the water, for if the line fall first, it scares or frightens the fish..." Col. Robert Venables 1662
As age slows my pace, I will become more like the heron.

---
Warning:
The hooks are sharp.
The coffee's hot.
The fish are slippery when wet.
Beware of the Dogma

---