Covid-19 Announcement
Most international flights have been cancelled.
There is no ETA for out-of-stock items that come from Japan.
Shipments to overseas buyers will take longer than normal - possibly much longer. Patience is a virtue - especially in fishing.

---
The Tenryu Furaibo TF39 Revisited
by John Evans
(San Antonio, TX)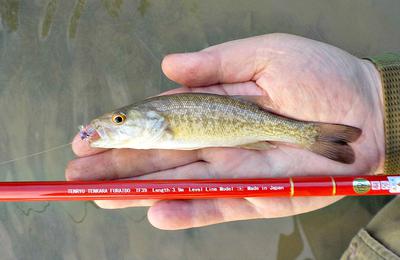 Beautiful Little Guadalupe Bass and the Tenryu Furaibo TF39
A couple of years ago I reviewed the Tenryu Furaibo TF39 (non-zooming version) and had many nice things to say about it. While it's not perfect, it's far superior to many of the tenkara rods I own. One thing I didn't count on at the time was how my perception of the rod would be shaped by experience. The longer I own it, the better I like it.

In the intervening months, I've fished the TF39 steadily and have grown to love its mid-flex profile and velvety feel. Yes, it's a pure Japanese tenkara rod, but let me say that it works great in the warm waters of South Central Texas. Also, it says right on the pole that it's designed for level lines, but I fish high-quality furled lines, which work just fine.

The TF39 cost a lot of money, and it's not a big fish rod, so what's the attraction? Well, you'll know as soon as you pick one up and cast it. The Tenryu Furaibo is beautiful with its polished orange/red finish, but its real appeal is its casting stroke. Willowy and graceful are the two words that come to mind. It's not superlight at 2.6 ounces, but it is well-balanced and exquisitely designed. The higher percentage of fiberglass in its tubes adds to its smoothness and gives it a different feel than most other tenkara rods.

I don't think that this premium rod is the one that I'd recommend for a beginner, but I do believe that it gets better as YOU get better! Frankly, when I first bought mine I don't believe I had enough experience to appreciate what I was casting. Now, many months and trips later, it would be hard to get the Tenryu Furaibo out of my hand. The precise fit and finish add to its appeal.

The other day I was able to sneak up to the Blanco River, just an hour north of my home in San Antonio. The water was up with recent rains, but that actually improved the fishing because I was able to work a shallow, flooded shoreline that was just teeming with fish. It was one of those beautiful, priceless mornings where everything went right, and every other cast brought a strike. I worked a size 12 Utah Killer Bug until it was just a small ball of fuzz on a hook. A purple Reaper Midge also brought excellent results.

Catfish, Guadalupe bass, sunfish of all types . . . the Tenryu Furaibo TF39 had the right touch for all of them. Am I glad I bought this rod? Yes . . . every month!

---
"The bitterness of poor quality remains long after the sweetness of low price is forgotten" – Benjamin Franklin
"Be sure in casting, that your fly fall first into the water, for if the line fall first, it scares or frightens the fish..." Col. Robert Venables 1662
As age slows my pace, I will become more like the heron.

---
Warning:
The hooks are sharp.
The coffee's hot.
The fish are slippery when wet.
Beware of the Dogma

---