Covid-19 Announcement
Most international flights have been cancelled.
There is no ETA for out-of-stock items that come from Japan.
Shipments to overseas buyers will take longer than normal - possibly much longer. Patience is a virtue - especially in fishing.

---
The Story So Far
by Gus Mansour
(UK)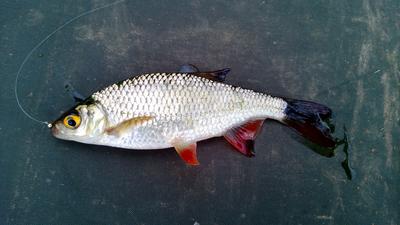 Finally, The First Roach
If at first you don't succeed…

I thought I would post this as an antidote to all the stories of people going out with their new kit and immediately catching dozens of fish.

It is dedicated to all the people (I can't be the only one) who got a tenkara outfit and then discovered that the fish don't just magically line up to be caught.

It came as a terrible shock to me.

I first heard of Tenkara at the end of 2010. I bumped into Chris' website whilst looking for a whip fishing rod with the intention of using it to present tiny jigs and flies to fish in small rivers. Sound familiar?

I bought my first rod (a TUSA Iwana) in March 2011. Had my first fishing trip with it in April and spent a week on some beautiful Scottish rivers failing to catch anything or even get a take!

I kept on trying, fishing Tenkara on and off on various rivers including my favourite, a chalk stream in Buckinghamshire called the Wye (not the famous one). I had quite literally never failed to catch trout there.

Until I tried it with Tenkara.

For two years I carried on intermittently, trying different places and flies, but without a sniff of a fish. I had since bought a Soyakaze 27 for micro fishing and really liked it. In April 2013 I fished a local carp lake. I was targeting the small roach and rudd with a float rig and decided to have a go with a tiny gold head nymph. After a few casts, holy s***t a fish! A few more casts and I had another. Wow this actually works.

I fished that lake quite often and whenever the carp fishing got slow I pulled out the Soyakaze and caught small roach and rudd on little gold head nymphs. The rod's very soft tip meant that even 3" fish gave me a fight. After a while I got pretty good at this and averaged a take or a fish every other cast.

That was pretty much the total of my success for some time. I kept trying in other places and for other fish but with no luck (or more likely skill). I regularly fished other methods to remind myself that I did still know how to catch fish. Then in autumn 2015 on our annual fishing trip to the Welsh Dee for Grayling, I found myself on a fly only stretch. I had to borrow some fly fishing gear to be able to fish at all (usually I float fish for grayling). I caught a couple on a western fly rod which got me fired up to buy a set up for myself. Come spring of 2016 I took my new fly gear to the Wye and caught a couple of trout swinging wets and nymphs downstream. I went again a few days later and caught some more. Lightbulb moment, I could use the same techniques with a tenkara rod. That resulted in a many day (or an hour and a half after work) and something resembling addiction.

The next grayling trip, on another fly only stretch, I caught my first grayling on a tenkara rod. I was sort of Czech nymphing and before landing that fish I hooked and lost at least a dozen others (I like barbless hooks and grayling like to wriggle). Sadly the photos from that trip were lost.

January of 2018 saw me visit some friends in Scotland and we fished 3 days on the Tweed. I only landed one grayling but I didn't care. It weighed 2 1/2 lb, fought for what felt like hours and is to date my biggest tenkara (well nymph) caught fish. I have been fishing since I was 8 (a long time ago) and it is the most memorable battle I have ever had with a fish. It didn't really get to run because of the fixed line. Wading on the Tweed is a little tricky (especially in January) so I couldn't really move more than my arm to give it slack. All I could do was keep the rod over to the side so the bend would cushion the tippet and pray that everything held. It was a very nervous tug of war. Incidentally, my fishing buddy tells me that I talk to fish while I play them I'd not noticed before.

The rest of the year saw more trips to the Wye before I moved back to Lincolnshire. Since then my tenkara fishing has been limited to a small stream called the River Glen. With the Soyakaze, little pink shrimp patterns have accounted for roach, dace and small chub. I finally figured out how to fish a dry fly with a tenkara rod a couple of weeks ago and caught dace and chub from around 6" of water. The takes were explosive even if I missed most of them.

That is the story so far. It took me 2 years from buying a tenkara outfit to catch my first fish with it, 5 years to catch a trout and nearly 6 for a grayling. Now that I am on the other side of things I am weirdly glad that I found it such a challenge (at the time it was hugely frustrating). Every take feels like a minor miracle and every fish is a joy. Unlike my friends, who are skilful fly anglers, I never get bored with small fish or annoyed that I can't find the big ones.

If you are struggling to make it work, keep going, keep experimenting. It will just start to happen one day. Remember if you're not going to catch anything you might as well do it using a method that is graceful and fun.

So far my tenkara fish list is: Roach, Rudd, Bleak, Dace, Chub, Trout (all wild brownies) and Grayling. Also half a perch. I left it in the shallows whilst I went to grab my camera and it spat the hook while I rummaged in the bag. Note to self - Get the buggers in the net before pratting about with photos.
---
"The bitterness of poor quality remains long after the sweetness of low price is forgotten" – Benjamin Franklin
"Be sure in casting, that your fly fall first into the water, for if the line fall first, it scares or frightens the fish..." Col. Robert Venables 1662
As age slows my pace, I will become more like the heron.

---
Warning:
The hooks are sharp.
The coffee's hot.
The fish are slippery when wet.
Beware of the Dogma

---