Covid-19 Announcement
Most international flights have been cancelled.
There is no ETA for out-of-stock items that come from Japan.
Shipments to overseas buyers will take longer than normal - possibly much longer. Patience is a virtue - especially in fishing.

---
The Nissin Air Stage Hakubai 240 Revisited
by John Evans
(San Antonio, TX)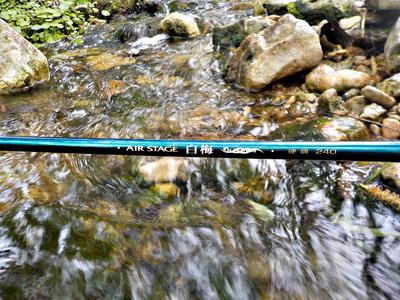 The Nissin Air Stage Hakubai 240 is a Winner for Tiny Creeks
This past year I've purchased fewer tenkara rods but used the ones I have more frequently. Along the way, I've identified some favorites. Among my preferred poles would be the Nissin Air Stage Hakubai 240, which is a pure delight for little streams and small fish.

Some months back I wrote an article about the 240 and described it as a great micro-fishing rod. I still believe that's true. Incredibly light at only .6 oz., amazingly sensitive, and beautifully-engineered, it's pure pleasure in the hand and on the water. I've fished it dozens of times now, and it's hard to lodge a complaint. It does have a fairly long collapsed length of 23 5/8", but that's nitpicking. I prefer to carry the rod in one of the TenkaraBum stretchy socks instead of the Nissin cloth pouch.

Now that I've used the rod for a while, three points stand out in my mind. First, it's my favorite rod when I want to pick my way along a small, tight creek, with lots of cover, populated by smaller fish. This isn't the first rod I'd recommend for a novice, but it's unsurpassed for gliding along the neighborhood creek or tiny stream, in super-tight casting quarters. It doesn't have the backbone to fight bigger fish, but it does have the sensitivity to enjoy even the smallest catch. It provides an unmatched fishing experience in the right circumstances. Chubs, shiners, "micro-bass," and tiny bluegills become great fun.

Second, it's more durable than I first imagined. Because the rod is so light, almost delicate, I feared that I'd quickly bust mine, even with ultra-light tippet. Used with care and sense, however, and respecting what it's designed for, the Hakubai has never let me down. I included the photo of the big Texas cichlid above to show that it's more capable than one might imagine. It won't take abuse, but it will stand proper use.

Finally, the 240 casts wonderfully well. And, because of its abbreviated length, you can fish it almost anywhere with a slingshot cast. Whoever designed the 240 got the balance and bend just right for a short, light rod.

For these reasons, and more, the Nissin Air Stage Hakubai 240 is a real keeper.



---
"The bitterness of poor quality remains long after the sweetness of low price is forgotten" – Benjamin Franklin
"Be sure in casting, that your fly fall first into the water, for if the line fall first, it scares or frightens the fish..." Col. Robert Venables 1662
As age slows my pace, I will become more like the heron.

---
Warning:
The hooks are sharp.
The coffee's hot.
The fish are slippery when wet.
Beware of the Dogma

---