Covid-19 Announcement
INTERNATIONAL: Shipments to Europe and Canada are still slightly delayed but are getting back closer to normal. Shipments to Australia are still much slower than normal.

DOMESTIC: Many deliveries are taking about a day longer than normal. A few deliveries are taking a lot longer than normal. If you are planning a trip, please order well in advance.

---
The Jig is UP! and Swooning for Spooning
by Les Albjerg
(Caldwell, Idaho)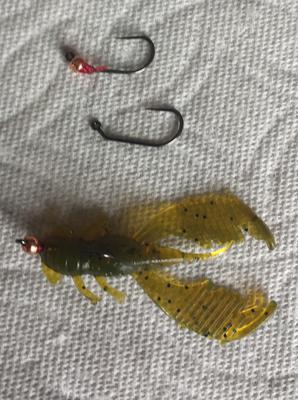 Metacraw
I'm tired of catching planters. For the last 6 weeks I have been fishing the Boise River even though the flows have been faster than normal. I was inspired to write about some of my findings from Chris' report from "The Driftless" region of Wisconsin. I lived there for 5 years. I would like to share some lessons I have learned. I have had several "many" fish days and caught several 14-16 inch rainbows and browns.

I have been doing very well fishing a new technique stolen from Finesse-Fishing.com. The normal JH85 jighead hook is much too heavy for a tenkara or keiryu rod. So, I have made my own with Czech nymphing jig hooks. A 3mm tungsten bead works very well with a size 8 hook. I have been fishing the micro finesse "Metacraw", and yesterday just hammered the trout! Chris is going to be carrying the Micro Finesse Metacraws on the Finesse-Fishing.com site, so keep an eye out for them.

What has worked well is to cast to the edge of the current, and then imitate the swimming motion of a crayfish into the calmer water. One of my most memorable battles from yesterday was watching a 15 incher nail the jig in about 4 inches of water. It was a dramatic commotion as he felt the hook and turned to head for deeper water! The first run was a real adrenaline rush!

I would also like to address the issue Chris talks about with the .4 gram spoons in his report from Wisconsin. Everyone needs a friend in England who is a roach fisherman. My friend Luke has taught me a lot about using shot for trimming your bait or lures. One of the easiest ways to get a .4 gram to fish as deep as a .8 gram spoon is to add a Dinsmores BB shot. It weighs .4 grams. Even better is to progressively use Dinsmores number 6 (.1 grams) and fine tune with Dinsmores number 10 (.06 grams).

Another advantage I have discovered using this method to get the spoon deeper is that it still allows the advantage of the action of the lighter spoon. I make sure I leave at least 6 inches between the last split shot and the spoon.

Last but not least, I have found that fishing spoons and jigs works best with a rod that has a tip diameter greater than .5mm. For those that are wondering if I have abandoned my worms, I have not. There are places that they won't let me fish my worms! These are two great alternatives.


---
"The bitterness of poor quality remains long after the sweetness of low price is forgotten" – Benjamin Franklin
"Be sure in casting, that your fly fall first into the water, for if the line fall first, it scares or frightens the fish..." Col. Robert Venables 1662
As age slows my pace, I will become more like the heron.

---
Warning:
The hooks are sharp.
The coffee's hot.
The fish are slippery when wet.
Beware of the Dogma

---