Thank God for Pinfish
by Alan Luecke
(Kansas City, MO)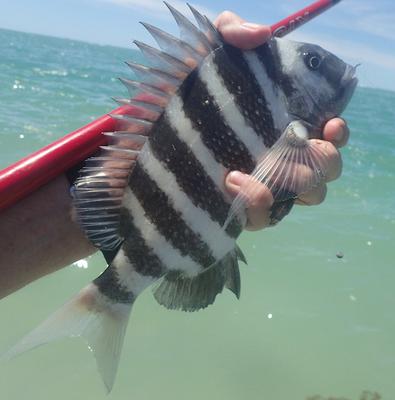 Sheepshead at John's Pass
Pinfish are the Florida inshore saltwater equivalent of Green Sunfish-- small, aggressive and plentiful. Anglers looking for lot's of species always let out a groan that it's just a Pinfish on the line. That is unless there is nothing else on the line at all.

We were in Florida last month a few days after a front came through. The weather was fantastic; blue skies, 78, light wind. The fishing was very slow. I was going to say awful but it wasn't awful, because I caught some Pinfish every time I went out. My wife would ask, "Did you catch anything?" Yes I would say, yes I did.

I did catch other species, just not like I had hoped. This was my fourth time fishing the Pass-a-Grille neighborhood of St. Pete Beach on the Tampa Bay barrier island and I had my rigs pared down to the essentials. Thanks to Southwest Airlines two free bags I had the Kyogi 18 for big water and hopefully big fish. I took my new Daiwa Keiryu X 24 for the rocks and tight places and the Tenkarabum 40 for the surfline. I rigged everything with circle hooks and split shot and used Power Isome and local live shrimp for bait. The skill with which Pinfish can strip shrimp off a hook is amazing. They are the world's fastest
nibblers.

My new spot this year was John's Pass, a big cut from the Gulf into the inner canals. There are numerous Youtube videos of incredible multi-species fishing at the Pass. I caught Pinfish, but also two more, a really nice Sheepshead and an Inshore Lizard fish whose weirdness made up for my lack of variety.

The biggest fish of the trip was a Flounder I caught off a small public dock with the TB 40 while expecting Pinfish. It was a great fight. I attracted some attention working to get the fish up with my long strange rod. It was about 17-18 inches long and the rod handled it without a problem.

I brought the TB 40 for one of my favourite Florida projects--walking the surfline and catching little Whiting (actually Gulf Kingfish, but no one calls them that). Late in the day the beach thins out, water and sky are blue and the little silver fish are incredibly aggressive. It's hard to stop.

The Keiryu X 24 quickly earned a place in my saltwater pack. It's stiffness is a good match for weight and bait casting and it handled the fish with fun and confidence. With a shortened line it worked great for micro fishing for Gulf Killifish in the Mangrove
shallows.

I ended up catching six species of fish on the trip, none of them new. But a beautiful place, beautiful weather and some beautiful fish make it hard to complain and I'm comforted to know that no matter what there'll always be Pinfish.
Return to Your Keiryu Stories.
---
"The bitterness of poor quality remains long after the sweetness of low price is forgotten" - Benjamin Franklin
"Be sure in casting, that your fly fall first into the water, for if the line fall first, it scares or frightens the fish..." -
Col. Robert Venables 1662
As age slows my pace, I will become more like the heron.

---
Warning:
The hooks are sharp.
The coffee's hot.
The fish are slippery when wet.
Beware of the Dogma

---