Tenkaraticulation
by Jeff D
(KC, MO)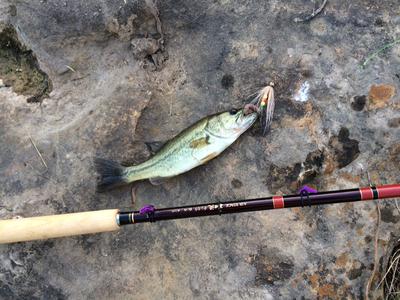 Articulated streamers are the rage these days, so I thought for the Streamer Challenge, why not cook up an articulated streamer that's castable with a tenkara rod? An actual tenkara rod, not a stiff keiryu rod or a carp rod.

This was my first attempt. I can't complain about the action of the fly. It works exactly as I wanted it to, like a suspending jerkbait. It's close to neutrally buoyant, and it darts like the venerable Sluggo soft-plastic jerkbait when "pulsed."

The fly is pretty rough looking, but the fish seemed to like it. I caught several largemouth bass and two overachieving bluegills.

The front section is simply bucktail on a size 4 Gamakatsu B10S, tied Thunder Creek Minnow style with a bit more "flair" than normal. The articulation joint is 15 lb mono with 3 plastic beads. The tail section is a very thick chenille yarn used for making baby blankets on a size 6 B10S, with a bit of soft hackle around the front.

As for casting...the only true tenkara rod I own that could cast it effectively is my Nissin Air Stage Fujiryu 410 6:4, and then only with the 4.0 m Nissin PALS SP Pro tapered twisted fluorocarbon line. When wet, it's far too heavy for easy casting with most tenkara rods. The chenille tail section acts like a sponge and soaks up a lot of water. It's way too much for either my Tenkarabum 36 or my Nissin Pro Square 360 6:4.


The latest iteration substitutes bucktail for the tail section, and is down-sized and tied more sparsely with a size 8 B10S for the tail section and a size 6 B10S for the head section. I left out the beads. I may have to fine tune with a little lead wire to get the neutral buoyancy I want. I haven't had a chance to fish or photograph it yet, so stay tuned.
Return to Your Tenkara Stories.
---
"The bitterness of poor quality remains long after the sweetness of low price is forgotten" - Benjamin Franklin
"Be sure in casting, that your fly fall first into the water, for if the line fall first, it scares or frightens the fish..." -
Col. Robert Venables 1662
As age slows my pace, I will become more like the heron.

---
Warning:
The hooks are sharp.
The coffee's hot.
The fish are slippery when wet.
Beware of the Dogma

---