Buttons that offer a choice of size, color, etc. show the stocks condition for top choice only! Make your choice to see if the item is in stock.

---
TenkaraBum Store
Lines, Line Holders, Tippet
---
---
Tenkara Lines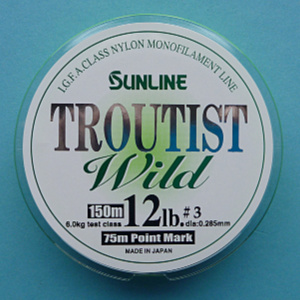 Nylon level line is harder to cast but easier to hold off the water's surface. The Sunline Troutist Wild line is a bright green and is easy to see against all backgrounds except early spring foliage. More info...

Sunline Troutist Wild, size 3 - $18.50 for 150 meters
---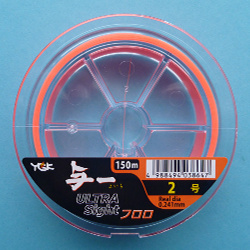 Hi-Vis fluorocarbon in sizes 2 and 1.5 is available again! The YGK line is a salt water fishing line rather than a tenkara line. It works great for tenkara and comes with 150m on a spool. That ought to be a lifetime's supply. Fluorocarbon line casts more easily than nylon, even in these sizes.

YGK Hi-Vis Fluorocarbon - $25 for 150m
---
The Sanyo Valcan line is a lo-vis "stealth" fluorocarbon line. It is a light milky green color. You can see it easily against dark water but fish cannot see it easily with the bright sky as a background.
This line is an excellent choice for fishing low, clear water or when fishing where the fish are highly pressured. More info...

Sanyo Valcan Level Line - $25 for 50 meters
---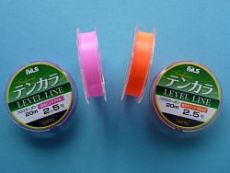 I've waited a long time to get a Hi-Vis size 2.5 line. I think Nissin's new Oni Tenkara line will prove to have been worth the wait.
The line comes in sizes 2.5, 3, 3.5, 4 and 4.5. The line also comes in an extremely bright fluorescent orange and an only slightly less vibrant pink. More info...
Nissin Oni Tenkara Line - $18 for 20 meters
---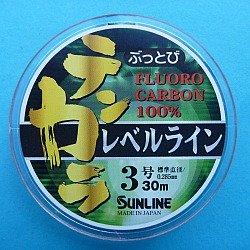 The Sunline Tenkara Buttobi (pronounced boot-toe-bee) Fluorocarbon 100% Level Line is a Hi-Vis fluorescent orange tenkara line that is extremely visible. In low light conditions it almost glows. The line is packaged on 30 meter spools that are about the size of tippet spools and come with an elastic band similar to that on the Varivas tippet. Available in sizes 3, 3.5, 4 and 4.5.
Use the lightest line you can get away with. I use size 3 for seiryu rods, 5:5 tenkara rods and for most 6:4 rods and size 3.5 for almost everything else. Size 4 is good for beginners learning to cast and for breezy days. Use 4.5 only with the stiffest rods, windy days or wind resistant flies. More info...
Sunline Tenkara Buttobi Level Line - $19.00 for 30 meters
---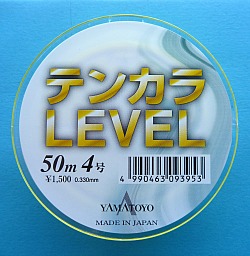 The Yamatoyo Tenkara LEVEL line is a fluorescent chartreuse fluorocarbon line. Against some backgrounds, this line is more visible than the orange line and against some, the orange line is more visible than this line.
The biggest thing this line has going for it is that it comes on 50 meter spools rather than the 30 meter spools for Sunline or 20 meter spools for the Nissin Oni line. Compared to Sunline, it is also a bit easier to stretch the line to remove the memory. Compared to the Nissin line it is a bit harder. More info...

The Yamatoyo line comes in sizes 3, 3.5 and 4.
Yamatoyo Tenkara Level line - $19 for 50 meters
---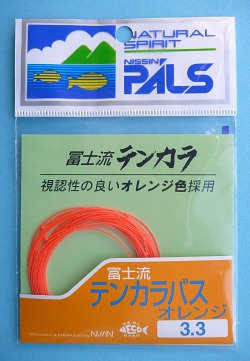 The Nissin PALS Orange tenkara line is similar to the Nissin PALS SP Pro twisted fluorocarbon line. It is a tapered, twisted multifilament line, but instead of clear fluorocarbon it is made from very hi-vis orange nylon. It doesn't have the density of fluorocarbon, but it has all the other advantages of a tapered twisted multifilament line.
And, like the SP Pro line, this is a Fujiryu (Fuji style) Tenkara line, made by tenkara master Hiromichi Fuji. More info...

Nissin PALS Fuji Style Orange Nylon - $20.50
---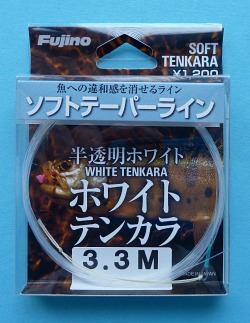 When I took the White Tenkara line out for the first time I decided I really liked it. It is visible enough to see. I didn't fish it in late evening or deep shade, when you might want to switch to the bright orange Soft Tenkara. It is also likely to be a lot more stealthy. I don't think brightly colored lines scare fish, but I know some people think they do. This line, with the sky as a background, should be almost invisible to the fish.
I was actually a bit surprised at how well the Fujino White Tenkara line casts. It may be that I have become a better caster in the last few years, but it might be the line also. More info...

Fujino White tapered nylon tenkara line - $15.00
---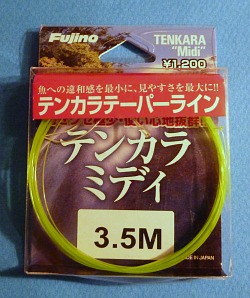 The Tenkara Midi line is a tapered tenkara line that is essentially a long,  knotless tapered leader that is extremely hi-vis. It is nylon, which means it will not cast as easily as a fluorocarbon level line in a breeze, but it settles to the water's surface very softly and will not sink as quickly as fluorocarbon. You might prefer it for fishing small dry flies. I find it works better with softer rods. More info...

3.5, 4.0, 4.5 meters

Tenkara Midi line - $15
4.0 is in stock

---
The Soft Tenkara line is similar to the Tenkara Midi above but has slightly thinner butt section and seems to be made from a softer nylon. As with the Tenkara Midi, it works better with softer rods. More info...
3.3, 3.6, 4.0, 5.0 meters
5.0 is in stock

Soft Tenkara line - $15
---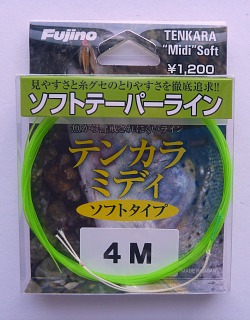 Fujino Midi Soft is a newly introduced line that has the color of the original Midi line and the taper and nylon formulation of the Soft line.
3.3, 3.6, 4.0, 4.5 meters
Tenkara Midi Soft line - $15
---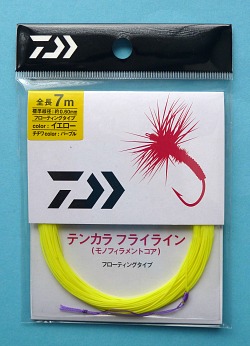 The Daiwa Tenkara Floating Line is a thin (.024") monofilament core PVC fly line. Daiwa even calls it their Tenkara Fly Line.
It is light enough that it casts well with even level line rods, yet it has enough mass to cast bass bugs. More info...

---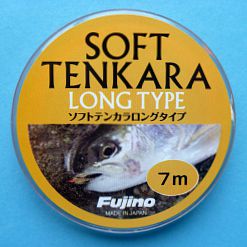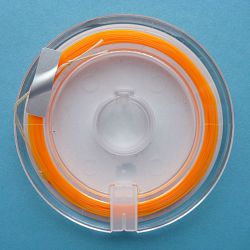 At the Oni School in Salt Lake City, Tenkara no Oni cast a 10 meter line, and then had the students casting a 10 meter line! I prefer to fish with shorter lines, but the Fujino Soft Tenkara Long Type that Oni used at the school is an excellent training device. With good form, you can cast a 7, 8, or 9 meter line. With bad form, you can't. This line will help you improve your casting by letting you know when your form is correct.
And, if you do want to fish with long lines - these are the lines that Oni recommends. More info...

10 meter line out of stock
7m, 8m - $16
9m - $19

---
---
Keiryu Line and Markers

Technically, this is a line for ayu fishing rather than keiryu fishing, but it is the right size to use as a tenjo line for most of the keiryu rods I carry. It is an extremely bright fluorescent orange, so it is much more visible than the clear or black lines that keiryu anglers use. It is thinner than 3X tippet, so it has little weight and minimal line sag.
The tenjo line (translates as "heaven" or "sky" line) is the upper portion of a three piece keiryu line. It is hi-vis so you can get a sense of where you line is during the cast. It is thicker than your main line to reduce tangles and so that you should never lose it to snags (the weaker tippet should always break first). Attach it to your lillian with a girth hitch. I use between 3' for the 4.5m keiryu rods up to 6' for the 6+m rods. Tying a tippet ring to the other end makes attaching the main line easier.

The middle portion of the keiyu line is the main line, for which you can use fluorocarbon tippet material anywhere from 4X to 8X, depending on the rod and how light you want to go. The markers are tied to this section of line. I tie a tippet ring to the end of the main line.
The third portion of the keiryu line is the "hook length" (British term) or actual "tippet," to which the split shot is clamped and to which your hook is attached.
Sunline Tenjo Line, fluorocarbon, size 1.25, 30m spool - $15
---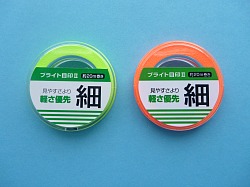 The Daiwa "Bright" markers come as 20 meter spools. Since you only use a few inches at a time, a spool should last well over a year. This is by far the most economical solution for Japanese keiryu markers.
On the back of the spool there is a slit to catch the line. One revolution of the spool provides sufficient material to make three markers if you cut the tag ends short as they do in Japan.  On the back of the package is an illustration showing how to tie the markers onto the line.
The knotted markers can be moved up or down the line so you can vary the depth that you fish (the markers should be on the line above the water's surface). More info...

Bright Markers 20m spool - $4.50
---
The Owner Pro Marker package contains pre-cut markers in fluorescent pink, fluorescent yellow, white, fluorescent orange, and  fluorescent chartreuse. Each pre-cut marker is about 3" long and is just knotted around the line.

Because the markers are pre-cut they are very convenient to use. Perhaps the biggest advantage the Pro Markers have over the Bright Markers, though, is that you can very easily use markers of different colors. All the colors are quite visible, but using more than one color at a time really makes them stand out against any background. More info...

Owner Pro Markers - $5.00
---
---
Sighter Material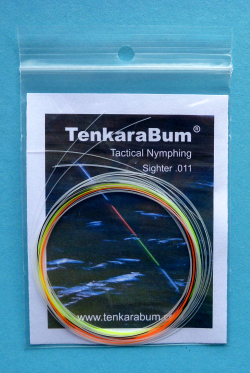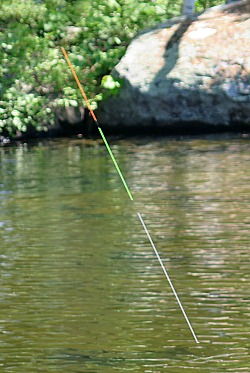 The TenkaraBum Tactical Nymphing Sighter provides unmatched flexibility to match sighter colors to the water and lighting conditions. Each line section has white, fluorescent orange and fluorescent chartreuse, with each color separated by opaque black.
White is the most stealthy. If you have trouble seeing the white because of foam or white water, you can cut a sighter that is chartreuse over white, or orange over white or even orange over chartreuse over white.
Use 0X or -2X fluorocarbon tippet material as your tenkara line, then the TenkaraBum Tactical Nymphing Sighter, then your regular tippet.
The .008" is very thin (equivalent to 3X tippet). It is the stealthiest but it is also the hardest to see against foam or glare. It is ideal for low clear water on a bright day, though.
If you want to experiment with nylon as a  tenkara line, there's no better way to do it than with the TenkaraBum Tactical Nymphing Sighter. You might decide you prefer fluorocarbon. In that case, you still have very useful sighter material. The .013 sighter is Japanese size 4 line. The .011 is Japanese size 3 line. The .008 sighter is size 1.5, which is probably too small to bother with unless you fish with the Air Stage Hakubai 190. The sighters are shorter than you would want to fish with (except with the 190), but it is easy to tie two sighters together with a surgeon's knot, blood knot or back-to-back Uni knots. 

TenkaraBum Tactical Nymphing Sighter .008"
$8

TenkaraBum Tactical Nymphing Sighter .011"
$8
TenkaraBum Tactical Nymphing Sighter .013"
$8
---
---
---
Line Holders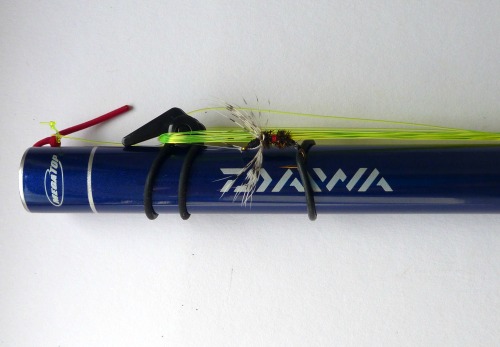 The Fuji EZ Keepers offer a convenient way to manage your line when you collapse your rod. Perhaps their biggest advantages are that you will not get line twist and your fully rigged and collapsed rod fits inside the Tenkara USA rod sock or Ebira rod quiver so you can be ready to fish in seconds. More info...
Fuji EZ Keepers Package of one - $4
For tenkara rods, you will need two EZ Keepers.

They come one per package.

You must buy two packages to get two EZ Keepers!
---
People really like the Fuji EZ Keepers as a way to manage your line when you move from spot to spot, or even to keep your rod fully rigged and ready to go at a moment's notice. However, these small tenkara line holders offer some advantages, too.
First, you can easily keep a line fully rigged - with tippet and fly or flies attached even after you have taken the line off the rod. Second, if you are fishing multiple flies it is a bit easier to secure both flies safely with the round spool than with the EZ Keepers. If you have lines of different lengths (recommended) you might want more than one line holder.  More info...
Small Tenkara Line Holders (package of two) - $10
---
---
Tippet
Varivas Nylon Tippet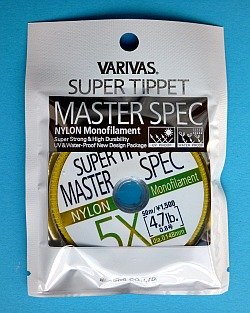 Varivas Super Tippet has a resin coating and a "non stress" coating that is supposed to make it more abrasion resistant and also resistant to kinking. At $14 for a 50-meter spool (twice as much tippet as the Maxima) it is a premium quality at a premium price. Their new Master Spec has a much higher breaking strength (and a slightly higher price). More info...
---
Varivas Fluorocarbon Tippet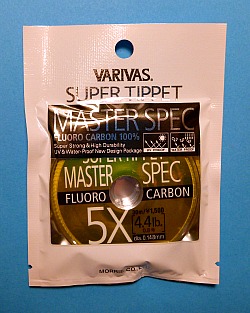 Varivas Master Spec is also available in fluorocarbon. Although I generally use nylon tippets, many anglers prefer fluorocarbon when fishing wet flies and nymphs. Fluorocarbon's greater density does make it sink better than nylon, and the refractive index is much closer to that of water so fluorocarbon is less visible. 30 meter spool.
Varivas Super Tippet Master Spec Fluorocarbon - $14
For Varivas Super Tippet Master Spec Fluorocarbon please click here.

Varivas 10X tippet is for the truly obsessed. Use it for micro fishing or Zero Fishing, where you want the thinnest line possible. It is just 1.1 pound test, so you have to be very smooth. Just tighten the line, don't jerk!

---
Fujino Tippet
Tenkara Tippet by Fujino (probably the largest producer of tippet in Japan). Sizes range from 3.6X (Japanese size 1.2), which is the maximum recommended by Nissin for most of its tenkara rods, through 6.5X (Japanese size .5) which is the maximum recommended by Suntech and Nissin for rods like the Kurenai, Air Stage and Royal Stage seiryu rods, the 450ZX soft and the Pocket Mini. 30 meter spools.
Fujino Nylon Tippet 6.5X $11.00

---

Fujino Nylon Tippet 6X $11.00

---

Fujino Nylon Tippet 5X $11.00

---

Fujino Nylon Tippet 4X $11.00

---

Fujino Nylon Tippet 3.6X $11.00

Fujino Fluoro Tippet 6.5X $13.00

---

Fujino Fluorocarbon Tippet 6X $13.00

---

Fujino Fluorocarbon Tippet 5X $13.00

---

Fujino Fluorocarbon Tippet 4X $13.00

---
---
Carp Tippet

Varivas Master Spec Fluorocarbon tippets for carp fishing . The 5X tippet you use on your tenkara rod isn't going to cut it with carp. If you have a carp rod rated for heavier tippet, use it.

When used as a tenkara line along with the TenkaraBum Tactical Nymphing Sighter, it makes an extremely stealthy rig for fishing weighed nymphs


Varivas Master Spec Fluorocarbon - $14
-2X and 0X - 25m spools
1X, 2X, 3X - 30m spools

-2X = size 4 tenkara line
0X = size 3 line
1X = size 2.5 line
2X = size 2 line


Varivas Fluorocarbon -2X
16 lb test - $14

---

Varivas Fluorocarbon 0X
13.2 lb test - $14

---

Varivas Fluorocarbon 1X
11.2 lb test - $14

---

Varivas Fluorocarbon 2X
9.6 lb test - $14

---

Varivas Fluorocarbon 3X
7.2 lb test - $14
---
---
Tippet Rings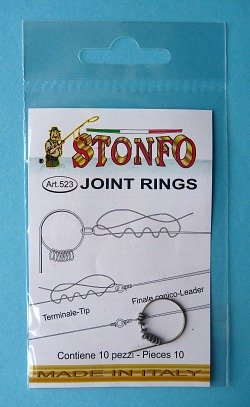 Tippet rings are a handy way to tie tippet onto your line or to tie droppers onto you tippet if you fish with multiple flies. I especially like them for constructing keiryu lines, which consist of different diameters of very light line.

These are the tippet rings sold by Stonfo in Italy. They come on a very handy split ring so you can easily tie your line or tippet to the tippet ring before removing the tippet ring from the split ring. No more lost rings!
Tippet Rings (package of 10) - $8.50
---
---
Horsehair Line Kit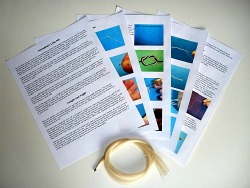 I no longer sell the Horsehair Line Kit. The full set of instructions for making a horsehair line are on the Horsehair Lines page.

---
---
Shipping
Domestic shipping is $4, via USPS First Class Mail (unless ordered with an item that must go via Priority Mail, and which has a higher shipping charge).

The charge for international shipping depends on the destination country, the weight of the package, the overall length of the package and the value of the package.
TenkaraBum Home > TenkaraBum Store > TenkaraBum Store - Lines

---
"The bitterness of poor quality remains long after the sweetness of low price is forgotten" – Benjamin Franklin
"Study to be quiet." - Izaak Walton 1653

"Be sure in casting, that your fly fall first into the water, for if the line fall first, it scares or frightens the fish..." Col. Robert Venables 1662
As age slows my pace, I will become more like the heron.

---
Warning:
The hooks are sharp.
The coffee's hot.
The fish are slippery when wet.
Beware of the Dogma

---