TenkaraBum Store
Lines, Line Holders, Tippet
---
Tenkara Lines
---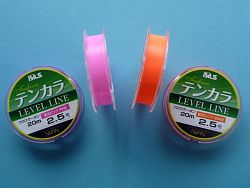 I've waited a long time to get a Hi-Vis size 2.5 line. I think Nissin's Oni Tenkara line will prove to have been worth the wait.
The line comes in sizes 2.5, 3, 3.5, 4 and 4.5. The line also comes in an extremely bright fluorescent orange and an only slightly less vibrant pink. More info...
20m - $18.00

Oni Line Orange size 2.5
---
Oni Line Orange size 3.5
---
Oni Line Orange size 4.5
---
Oni Line Orange size 3
---
Oni Line Orange size 4
---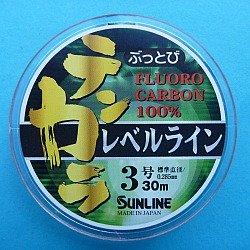 The Sunline Tenkara Buttobi (pronounced boot-toe-bee) Fluorocarbon 100% Level Line is a Hi-Vis fluorescent orange tenkara line that is extremely visible. In low light conditions it almost glows. The line is packaged on 30 meter spools that are about the size of tippet spools and come with an elastic band similar to that on the Varivas tippet. Available in sizes 3, 3.5, 4 and 4.5.
Use the lightest line you can get away with. I use size 3 for seiryu rods, 5:5 tenkara rods and for most 6:4 rods and size 3.5 for almost everything else. Size 4 is good for beginners learning to cast and for breezy days. Use 4.5 only with the stiffest rods, windy days or wind resistant flies. More info...
Sunline Tenkara Buttobi Level Line - $15.00 for 30 meters
Sunline size 3
Sunline size 3.5
---
Sunline size 4
---
Sunline size 4.5
---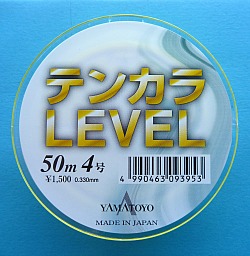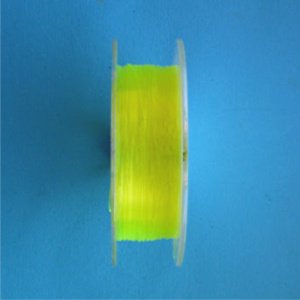 Yamatoyo level fluorocarbon line is fluorescent yellow and is extremely visible, even in very low light conditions. The spools hold 50 meters of line, compared to 20 for the Nissin Oni line and 30 for the Sunline
Yamatoyo Level Line - $17 for 50 meters

---
Keiryu Line and Markers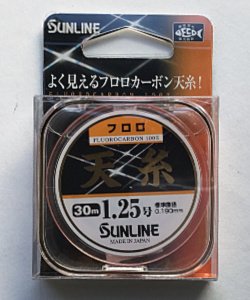 Technically, this is a line for ayu fishing rather than keiryu fishing, but it is the right size to use as a tenjo line for most of the keiryu rods I carry. It is an extremely bright fluorescent orange, so it is much more visible than the clear or black lines that keiryu anglers use. It is thinner than 3X tippet, so it has little weight and minimal line sag.
The tenjo line (translates as "heaven" or "sky" line) is the upper portion of a three piece keiryu line. It is hi-vis so you can get a sense of where you line is during the cast. It is thicker than your main line to reduce tangles and so that you should never lose it to snags (the weaker tippet should always break first). Attach it to your lillian with a girth hitch. I use between 3' for the 4.5m keiryu rods up to 6' for the 6+m rods. Tying a tippet ring to the other end makes attaching the main line easier.

The middle portion of the keiyu line is the main line, for which you can use fluorocarbon tippet material anywhere from 4X to 8X, depending on the rod and how light you want to go. The markers are tied to this section of line. I tie a tippet ring to the end of the main line.
The third portion of the keiryu line is the "hook length" (British term) or actual "tippet," to which the split shot is clamped and to which your hook is attached.
Sunline Tenjo Line, Fluoro, size 1.25 - $12
---
---
Line Holders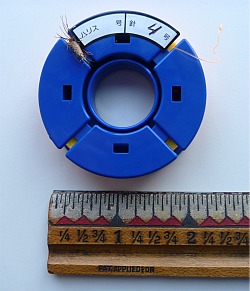 The Meiho Chibi Maru tenkara line holders allow you to keep a line fully rigged - with tippet and fly or flies attached even after you have taken the line off the rod. Also they do not cause the kinks in fluorocarbon line that you get with EZ Keepers. If you have lines of different lengths and weights (recommended) you might want more than one package of line holders.  More info...
Chibi Maru - Small Tenkara Line Holders (package of two) - $10
---
---
Tippet
Varivas Nylon Tippet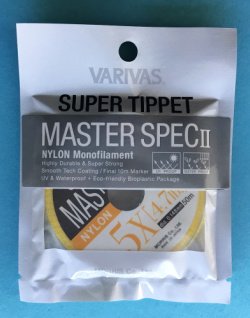 Varivas Super Tippet Master Spec  has a resin coating and a "non stress" coating that is supposed to make it more abrasion resistant and also resistant to kinking.
50-meter spool - $16  More info...
Varivas Nylon
Master Spec II 5X
---
Varivas Nylon
Master Spec II 7X
---
Varivas Nylon
Master Spec II 6X
---
Varivas Nylon
Master Spec II 8X
---
Varivas Fluorocarbon Tippet

Varivas Master Spec is also available in fluorocarbon. Although I generally use nylon tippets, many anglers prefer fluorocarbon when fishing wet flies and nymphs. Fluorocarbon's greater density does make it sink better than nylon, and the refractive index is much closer to that of water so fluorocarbon is less visible.
30 meter spool - $16
Varivas Fluorocarbon
Master Spec II 5X
---
Varivas Fluorocarbon
Master Spec II 6X
---
Varivas Fluorocarbon
Master Spec II 7X
---
Varivas Fluorocarbon
Master Spec II 8X
---
---
Horsehair Line Kit

I no longer sell the Horsehair Line Kit. The full set of instructions for making a horsehair line are on the Horsehair Lines page.

---
---
Shipping
Domestic shipping is via USPS First Class Mail (unless ordered with an item that must go via Priority Mail, and which has a higher shipping charge). Rates are $4.00 for packages that weigh under 8 ounces and $6.50 for packages that weigh over 8 ounces. The charge is added to your order automatically.
Please note: All packages are shipped via USPS. If you have a PO Box, please list ONLY the PO Box in your address, not the PO Box and your street address.
The charge for international shipping depends on the destination country, the weight of the package, the overall length of the package and the value of the package.
International shipments

International purchases may be subject to import duties and taxes. I cannot keep track of all import regulations in all countries written in all languages. Understanding and paying import duties and taxes is the responsibility of the buyer.
Russia
TenkaraBum.com no longer ships to Russia.

UK

TenkaraBum.com no longer ships to the UK. The new VAT regulations are too onerous for a one-man shop that rarely ships anything to the UK anyway. I apologize.

Priority Mail Upgrade
In many cases, my standard shipping (USPS First Class) is just as fast as Priority Mail - but not always. If you want your line or other small items to be mailed via Priority Mail (normally 2-3 day delivery anywhere in the US) there is an extra fee of $4. If you order a rod at the same time as the line, do not add the $4 because rods are already shipped via Priority Mail.
Priority Mail Upgrade - Additional $4
TenkaraBum Home > TenkaraBum Store > TenkaraBum Store - Lines

---
"The bitterness of poor quality remains long after the sweetness of low price is forgotten" - Benjamin Franklin
"Be sure in casting, that your fly fall first into the water, for if the line fall first, it scares or frightens the fish..." -
Col. Robert Venables 1662
As age slows my pace, I will become more like the heron.

---
Warning:
The hooks are sharp.
The coffee's hot.
The fish are slippery when wet.
Beware of the Dogma

---