TenkaraBum Store
EZ Keepers, Rod Cases, Nets

---
Fuji EZ Keepers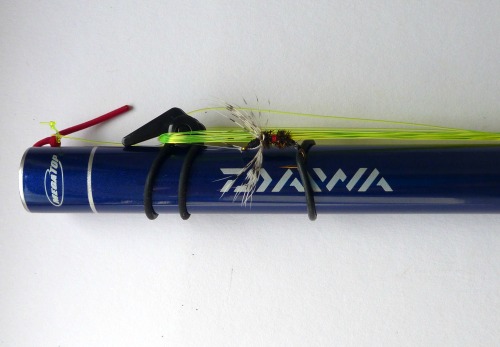 Fuji EZ Keepers and any of the Ebiras make a great pair. You can keep a rod fully rigged and have it ready to go in seconds. More info...
IMPORTANT! - The button below is for ONE single EZ Keeper, NOT a PAIR! You will need TWO for a tenkara rod. Please be sure to adjust the quantity to TWO.
Fuji EZ Keepers (EACH) - $4
---
Rod Cases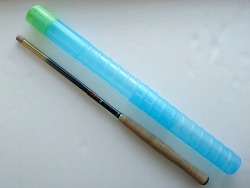 These aren't fancy, but they are light weight, adjustable and inexpensive. Four sizes fit different rods and different numbers of rods. Small fits the Suntech Genryuko, Shimotsuke Kiyotaki, Keiryu-X, Pocket Mini and the Nissin tanago rods. It is 1 1/8" in diameter and is adjustable from 12 to 18". The medium fits just about all tenkara rods other than the Shimano 34-38 ZL, Daiwa Expert L rods and the Ito, and will hold two rods. It is 1 1/2" in diameter and adjustable from 16 to 24". The large holds six tenkara rods. It is 2 3/8" in diameter and is adjustable from 16 to 24". The long is 1 1/2" in diameter and adjusts from 32 to 40 inches.
Please note: THE SMALL CASE IS ONLY FOR THE GENRYUKO, TANAGO KORO, KIYOTAKI, KEIRYU-X, POCKET MINI AND SASUKE RODS. IT WILL NOT FIT ANY OTHER ROD.
Small Rod Case - $10
---
Large Rod Case - $16

Medium Rod Case - $10
---
Long Rod Case - $16
---
Daiwa Keiryu Damo
Some tenkara anglers fish without a net, but having a net allows you to control the fish more quickly and more easily. The Daiwa Keiryu Damo V is a very nice, rigid net that is well suited for tenkara or keiryu fishing. For quite some time I have carried folding nets but I have to say I have come to prefer a rigid net.
---
Shipping
Domestic shipping is via USPS Ground Advantage. Rates are $4.00 for packages that weigh up to 4 ounces and $6.00 for packages that weigh over 4 ounces. The charge is added to your order automatically.
Please note: All packages are shipped via USPS. If you have a PO Box, please list ONLY the PO Box in your address, not the PO Box and your street address.
The charge for international shipping depends on the destination country, the weight of the package, the overall length of the package and the value of the package.
International shipments

International purchases may be subject to import duties and taxes. I cannot keep track of all import regulations in all countries written in all languages. Understanding and paying import duties and taxes is the responsibility of the buyer.
TenkaraBum.com no longer ships to the EU, the UK or Russia.

---
TenkaraBum Home > TenkaraBum Store > TenkaraBum Store - Ebiras and Nets
---
"The bitterness of poor quality remains long after the sweetness of low price is forgotten" - Benjamin Franklin
"Be sure in casting, that your fly fall first into the water, for if the line fall first, it scares or frightens the fish..." -
Col. Robert Venables 1662
As age slows my pace, I will become more like the heron.

---
Warning:
The hooks are sharp.
The coffee's hot.
The fish are slippery when wet.
Beware of the Dogma

---