Tenkara Rod Sleeve
by Rob R
(N. Texas)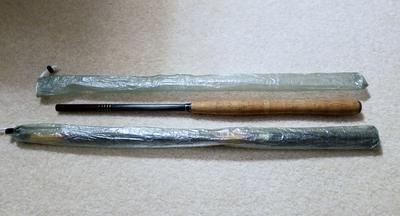 Dyneema Composite Fabric rod sleeves
I have some time to kill because I'm recovering from elective foot surgery for my left foot. So in the meantime, I'm killing time by tying flies, reading, tying flies, watching Netflix, tying flies, making plans for a September trip to Colorado, driving my wife crazy and making some items for my backpacking trips, you get the picture.

I bought a square yard of dyneema composite fabric to make stuff sacks using a non-sewing method and they turned out quite well. I had some leftover DCF and yesterday, I threw together two tenkara rod sleeves which turned out quite nice.

I have a Zimmerbuilt Tailwater pack which has a great option to transport two rods via rod sleeves on the outside of the pack. The sleeves only cover the majority of the handles which leaves some of the rod exposed. Not really a big deal but I tend to obsess over things like that. The pack sleeves are just big enough for the rods themselves so if I try to leave the rod in its supplied rod sleeve, it's difficult if not impossible to put it into the pack's sleeves.

The DCF is .51 oz weight per sq yard and it's very thin but durable. Now, I can put the rod into the DCF sleeve and it easily fits into the pack's sleeves. The DCF sleeves themselves weigh about 0.3 grams each making them extremely lightweight.
Return to Your Tenkara Stories.
---
"The bitterness of poor quality remains long after the sweetness of low price is forgotten" - Benjamin Franklin
"Be sure in casting, that your fly fall first into the water, for if the line fall first, it scares or frightens the fish..." -
Col. Robert Venables 1662
As age slows my pace, I will become more like the heron.

---
Warning:
The hooks are sharp.
The coffee's hot.
The fish are slippery when wet.
Beware of the Dogma

---