Tenkara panfish first timer
by Jeff C
(North Texas)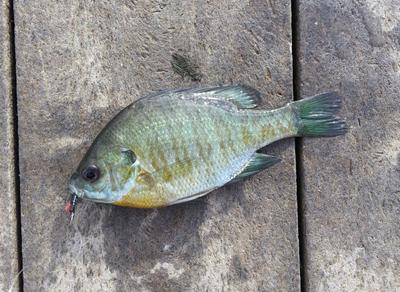 I wanted to get back into fly fishing after a long hiatus. My daughter and I walk past several ponds on her way to school, but I would probably get some funny looks in her school with my 2 piece rod and other gear. In my search for a simpler and smaller solution I found Tenkara and this site. A collapsible rod sounded perfect for carrying with a mint tin holding a couple of spare flies.

I picked the Small Stream Tenkara starter kit since the Nissin Fine Mode Kosansui 270 sounded like it had the backbone to stand up to the occasional largemouth bass or dinner plate sized crappie and a length that would not get tangled in the willows I have to work around. It makes the little guys fun and the couple of hand sized 'gills I hooked a bit more challenging.

Realization #1: 20 year old flies can be a bit brittle. Realization #2: Panfish like bright colors, they chewed my only 2 fluorescent orange ants to pieces and did not like the black as much. Realization #3: If you take your daughter fishing with one, she will want one of her own instead of her pink Barbie pole from the grandparents. Realization #4: Any fish is better than no fish, especially with a kid along.

Next up is fishing a heavily wooded river trail and replacing all the fly tying bits I have misplaced over the years.
Return to Your Tenkara Stories.
---
"The bitterness of poor quality remains long after the sweetness of low price is forgotten" - Benjamin Franklin
"Be sure in casting, that your fly fall first into the water, for if the line fall first, it scares or frightens the fish..." -
Col. Robert Venables 1662
As age slows my pace, I will become more like the heron.

---
Warning:
The hooks are sharp.
The coffee's hot.
The fish are slippery when wet.
Beware of the Dogma

---