Tenkara Day Trippin'
by Jeff D
(KC metro)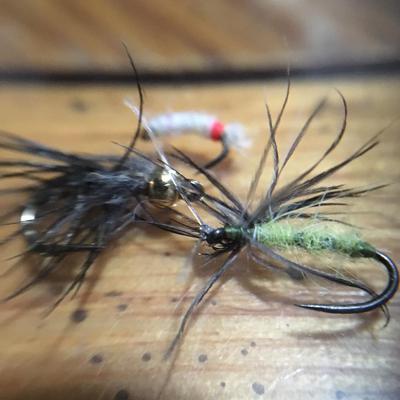 the flies du jour
What to do with a day off? Housework? Meh. Tenkara? YES. Most local lakes still had lots of ice from the recent cold snap, so I decided to make a quick day trip down to Bennett Springs State Park, aka combat fishing central. Luckily it's the winter catch and release season, which means that instead of thousands of anglers, there are only dozens in the park.

When I first arrived, there was some sort of hatch of very small bugs (after a little research I think they were very small black caddis) up at the very head of the stream in the slow water of the spring pool. I used my Kurenai Long 61 and a size 20 olive and starling kebari, which accounted for all 3 trout landed on the trip, all about 10-12". After the hatch died down, I hooked and lost several more trout on a size 26 Utah Killer Bug under one of the new ball floats. I still haven't figured out how to keep them hooked on such small flies.

I started with 5x tippet, but in the slow clear water kebari the fish would swim up to and eyeball the kebari, then refuse it. I went down to 8x and then the eyeballing ended. I kept the 8x for the UKB. As before, I never lost a fly on the 8x to a fish with the Kurenai Long. Twenty feet of rod has a lot of room to flex!

Most of the Bennett Springs outflow stream has been "engineered" to be very slow water, which frankly bores me. So, I went down to a section of the stream that was much more like a natural stream, with riffles, runs, and pocket water. My Tenkarabum 36 and a bead head size 14 Stewart Black Spider caught a lot of creek chubs, a colorful minnow (black nose dace?), and a short hook up to a big sucker of some kind, which broke off by swimming under a rock. If I could consistently catch those, the heck with puny trout! That fish bent the rod almost to the butt section! I honestly had more fun catching chubs where I could fish in a more natural setting than in the "pond in a parking lot" environment of the spring pool.

During the "regular season" this section is reserved for bait only. In fact, the regulations state quite adamantly that NO FLIES ARE PERMITTED EVEN IF YOU SOAK THEM IN WORM/EGG/POWERBAIT JUICE! This looks like a great place for some keiryu and ultralight worm fishing in the regular season, although I might have to do some explaining to park rangers that I am in fact bait fishing despite the fly like casting!
---
"The bitterness of poor quality remains long after the sweetness of low price is forgotten" - Benjamin Franklin
"Be sure in casting, that your fly fall first into the water, for if the line fall first, it scares or frightens the fish..." -
Col. Robert Venables 1662
As age slows my pace, I will become more like the heron.

---
Warning:
The hooks are sharp.
The coffee's hot.
The fish are slippery when wet.
Beware of the Dogma

---