Tenkara and Hydrotherapy
by John Evans
(San Antonio, TX)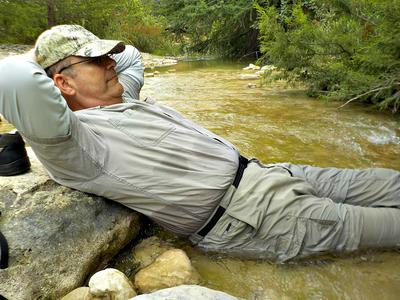 Undisclosed Location on the Sabinal River
If you think this blog entry is written tongue-in-cheek, you're right. As I've noted before, recreational fishing is for fun. If you don't believe me, just watch a kid with a cane pole in a creek. When I go fishing, but I don't want to tell someone exactly where I'm going or what I'm doing, I just say, "I'm taking hydrotherapy."

Hey, who hasn't been caught in a sudden downpour while standing in a river? Yes, I know that a carbon fiber tenkara rod conducts electricity and that you need to put the rod away when lightning is around. You don't want to be in the river in an electric storm. But, is there any experience more exhilarating than standing in the water, when water is also falling from the sky in a gentle spring shower? Sometimes it happens that you get wet from the top and bottom.

Small waterfalls and tenkara are something special. I don't know of any experience more relaxing than wading in a free-flowing stream, next to a waterfall, with a fine tenkara rod in your hand. Angling just gives you a good excuse to be there.

And who hasn't had a once-in-a-lifetime fish just about in the net, the camera all ready, and then he shakes the fly with one final lunge? All you can say is, "You got me!" It helps if you smile while you're saying it. The water and the tenkara rod make it okay.

Sometimes you just have to take off your waders and boots and plop down in the water, as photo number one suggests. I learned a long time ago not to take my fishing too seriously. As I get older, flowing water around arthritic knees feels truly wonderful.

Hydrotherapy makes you feel 10 years younger and subtracts 10 pounds. Guaranteed. Dipping your toes in the water is the top excuse I know to grab your tenkara rod, a box of flies, and head to the local creek. Hydrotherapy is one of the best medicines known to man.

Feeling stressed? Go fishing. Better yet, go fishing with a tenkara rod.

---
"The bitterness of poor quality remains long after the sweetness of low price is forgotten" - Benjamin Franklin
"Be sure in casting, that your fly fall first into the water, for if the line fall first, it scares or frightens the fish..." -
Col. Robert Venables 1662
As age slows my pace, I will become more like the heron.

---
Warning:
The hooks are sharp.
The coffee's hot.
The fish are slippery when wet.
Beware of the Dogma

---