Take a Boy (or Girl) Tenkara Fishing
by Les Albjerg
(Caldwell, ID)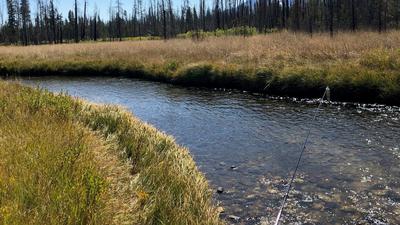 Valley Creek - Lure Fishing
One of the most enjoyable times fishing this year was taking a nine year old out fishing. James' Dad texted me today, "James had fun and really likes your long pole."

My hunting partner's middle son really likes to fish. I told him I would take him fishing this weekend when they came up. I was willing to sacrifice some hunting time to encourage a young fisherman. That said, I didn't have to sacrifice any hunting time since I got my elk the morning the family was coming up to join us in our camp.

We headed down to Valley Creek on Saturday morning to fish. The water was crystal clear. James brought his spinning outfit. I had no clue how well he could fish. I also decided that this was about him, not me. I wasn't going to fish. I purposely forgot his tackle box because he only had large hooks and a large bobber. I set him up for Ultra-light Worm fishing! We went to the first pool. I showed him how to rig the Red Wiggler and gave instructions on how to fish with a barbless hook. I then stood back and watched him fish. I was amazed at how well he could read the water. He worked the pool from the bottom inside to the top outside. He worked to pockets to perfection. He caught three fish. We went to the next pool, and he did the same. There were some areas he missed, and to my delight he caught two fish out of the areas I pointed out to him. We only had two hours to fish before his mother was taking him up to Redfish Lodge for family activities. So, I asked him if he would like to try a different kind of fishing. He was eager to learn.

I got out the TenkaraBum Traveler 44 and set it at the 3.6 meter length and put on a level 3 line the length of the rod. I wish I had a video of his eyes as he saw the rod get longer and longer! He listened very well as I took him through the basics. I tied on a size 12 Royal Coachman Kebari. We went to the next pool. It was a perfect place for a beginner, only grass behind us. He caught on to casting fairly quickly. Playing fish was a different story. It is a good thing I had a dozen flies! The poor young man was used to the drag or heavy line to horse the fish in. He broke the first 4 fish off. I was able to do some coaching. He caught 2 before we had to go. He was excited. I had to head home with my elk. He wants me to take him fishing again with "the long rod." What a joy and satisfaction to see a young man enjoy and learn a new way to fish. This would have been totally missed if I had been wetting a line. It is better to give than receive.

On the way home, I did fish one of the Japanese Plugs I bought on the Finesse Fishing site with the Tenyru Rayz Spectra. I didn't catch anything, but really enjoyed learning a new lure. If I had used a Tenkara rod, I am sure I would have caught fish. That is a different story.

Oh, yes I did get my elk, a yearling bull with my bow at 30 yards. Small but tasty. That is a whole different story, and this is fishing forum, not a hunting forum.

Take a young person fishing and help grow our sport! You will be surprised at how much fun you have!

Return to Your Tenkara Stories.
---
"The bitterness of poor quality remains long after the sweetness of low price is forgotten" - Benjamin Franklin
"Be sure in casting, that your fly fall first into the water, for if the line fall first, it scares or frightens the fish..." -
Col. Robert Venables 1662
As age slows my pace, I will become more like the heron.

---
Warning:
The hooks are sharp.
The coffee's hot.
The fish are slippery when wet.
Beware of the Dogma

---