Success
by Phillip Dobson
(Butte, MT)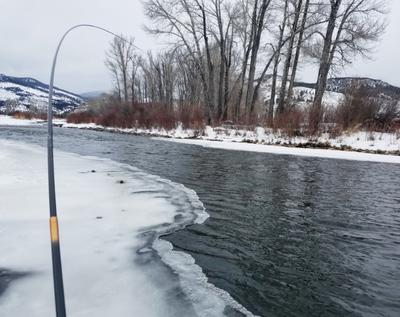 It was our last relatively "warm" day for a while so I headed out to a thawed-out part of the river. Thanks to the encouragement from people here, I finally caught my first winter trout.

I learned quite a bit today that should help me in the future. Firstly, the Ice Off paste does work. A bit of ice formed, but it didn't interfere with casting. The most important lesson was to not slack-off on the rigging. Getting the flies exactly to the trout is critical given their slow metabolism, but it's tempting to take shortcuts when tying knots with frozen fingers. I wasted a lot of time with leaders that were the wrong length and flies of the wrong density for the run. When I finally took the time to get everything right, the fish cooperated nicely.

I fished dual-nymph rigs with the Sagiri 54 and a short line. I cycled through fly patterns, but every take was on a Rainbow Dexter (a fly tied with my brother's dog). I had some excitement on the last fish when, during the fight, the dropper hooked his anal fin and he ran me down the river. That's what I get for lazily tying the flies too close to one another!

With next week's weather holding in the negative temps, I think I'll have to be happy reminiscing and tying flies. Thanks for all the help!
Return to Your Tenkara Stories.
---
"The bitterness of poor quality remains long after the sweetness of low price is forgotten" - Benjamin Franklin
"Be sure in casting, that your fly fall first into the water, for if the line fall first, it scares or frightens the fish..." -
Col. Robert Venables 1662
As age slows my pace, I will become more like the heron.

---
Warning:
The hooks are sharp.
The coffee's hot.
The fish are slippery when wet.
Beware of the Dogma

---