Southern Ontario Tenkara Brookies
by Liam
(Ontario, Canada)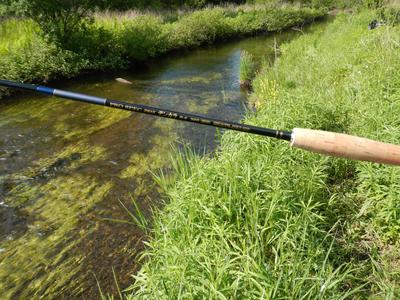 Nissin Pro Spec on stream
Today was my first outing with my new Nissin Pro Spec 320 6:4. I had only taken the rod out to test cast and was already very impressed by the lightness, sensitivity and casting performance. I biked 25 kilometers through the rolling hills of the Oak Ridges Moraine. I had previously fished upstream and downstream of this spot but never this section of stream.

I arrived and immediately set down my other stuff and got out my tenkara gear, eager to fish. There were fish sporadically splashing and breaking the surface, some of which turned out to be creek chub.

I began fishing a foot deep riffle with a few current seams. I was instantly met with several hits on my dry fly but had difficulty hooking the fish. In this area, a dead drift with either a size 16 adult caddis or a size 12 stimulator produced fish. Eventually I hooked and landed my first trout of many to come that day.

I continued to pull several more 4-5 inch fish out of that riffle, even these small fish put a considerable bend in the rod in a moderate current. Finally I moved upstream to the other side of the bridge. Initially I fished the opposite side and caught a 5 inch brookie on a size 12 caddis.

I switched sides and continued to fish, here I skittered my dry through the main current and was met with many strikes. Time and time again I had decent sized trout come up and attempt to smash my fly. I hooked into a 6ish inch sized brook trout and fought it for a little while before losing it at my feet due to my undeveloped netting skills.

I kept at it, periodically switching flies due to them becoming completely waterlogged. My persistence was rewarded as a 10 inch brook trout aggressively grabbed my fly and the fight was on. The rod felt amazing with this fish, it was quite bent due to the substantial current yet was able to land the fish and still feel like it was a battle between the angler and fish.

The day turned out to be a many day, with too many fish landed to bother to count and many more which were lost due to long distance releases. I caught a second large brook trout on a black sakasa kebari which also put up a decent fight.

Overall it was an amazing first day of tenkara. The fish were wild, plentiful and beautiful. I didn't expect a trout the size that I got to catch, let alone two.

The rod performed amazingly, it cast the level line smoothly and held it off the water. It made even the tiny fish fun to play out and a moderate sized trout even more of a battle. I would highly recommend this rod for anglers looking for a tenkara rod to fish small streams for wild trout.

Tight lines!
Return to Your Tenkara Stories.
---
"The bitterness of poor quality remains long after the sweetness of low price is forgotten" - Benjamin Franklin
"Be sure in casting, that your fly fall first into the water, for if the line fall first, it scares or frightens the fish..." -
Col. Robert Venables 1662
As age slows my pace, I will become more like the heron.

---
Warning:
The hooks are sharp.
The coffee's hot.
The fish are slippery when wet.
Beware of the Dogma

---