South Llano River
by John Evans
(San Antonio, TX)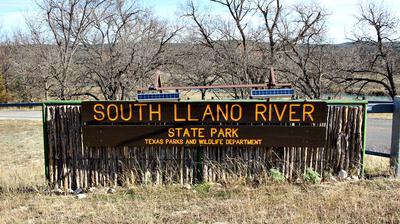 Entrance to South Llano River State Park
Right where the Texas Hill Country spills into West Texas, near the little town of Junction, is the unspoiled South Llano River. The South Llano is primarily a spring-fed river in the Edwards Plateau, and it's situated far enough from major cities that it keeps its pristine beauty. It's a wonderful, challenging river for tenkara angling.

The easiest access to the South Llano River is South Llano River State Park just outside of Junction. The park comprises 2,600 acres, 58 campsites, 6 walk-in tent sites, and 5 hike-in primitive campsites. It offers a unique combination of stargazing, bird watching, hiking, kayaking, wildlife viewing, and fishing. The entrance to the park runs along a scenic stretch of the South Llano River, which is one of best, spring-fed, free-flowing rivers in the state.

If you plan a trip to South Llano River State Park, or the immediate area, it's important to check the main Texas Parks & Wildlife website for updates, information, and reservations. The park is sometimes closed for public hunts, plus there are restricted hours and access during certain times of the year because of a large turkey population that roosts in the pecan bottomland. The physical address of the park is 1927 Park Rd. 73, Junction, TX 76849; and the main phone number is 325-446-3994. For reservations, however, call the Texas Parks & Wildlife main office at 512-389-8900. Sometimes the campsites are filled, so it's vital to make those reservations if you plan an overnight stay.

I find the South Llano River to be a challenging but rewarding place to fish. The game department stocks rainbow trout right at the entrance to the park, but you'll want to check the stocking schedule on the Texas Parks & Wildlife website. The river features deep eddies, wide riffles, steep banks in some areas, plus moderate whitewater stretches. It's an absolutely gorgeous kayaking river, with plenty of angling spots along the way. For kayaking shuttle services, Robin and I have used Sheila Brossette of Paddler's Porch (713-397-5049, 126 Flatrock Ln., Junction) with excellent results. It's not unusual to see dozens of whitetails and exotic deer during a float trip, plus lots of turkey and other game.

If you're fishing with live bait, nightcrawlers and butterworms are hard to beat. Mummy worms also work well. For artificial flies, I'd stick with Utah Killer Bugs or any kind of beadhead nymph. Robin and I have had excellent luck catching large panfish, Guadalupe bass, channel catfish, and stocker 'bows near the entry bridge, right in the dead of winter.

I will sound one gentle word of warning, however. The game wardens regularly patrol the area, and they will check to make sure you're in the boundaries of the law. It's true that your entrance pass at this time is all the permit you need for bank fishing within the strict limits of the park. Once you get into the South Llano River in your kayak, however, or stray past the park lines, you need a Texas State Fishing License. To prevent any doubt or confusion, I would purchase a fishing license before visiting the area, and I'd make sure to keep it with me. Stay safe and stay legal!

You will not believe the number of deer in and around Junction. (We're talking in excess of 45 deer per square mile in Kimble County.) Be extra careful while driving, especially at night. A collision with a whitetail will ruin your trip.

If you're searching for other amenities or outfitters, call the Junction Chamber of Commerce at 325-446-3190. Prices in the area are reasonable. A really nice day trip is to visit Fort McKavett, which is less than an hour away. Fort McKavett is the best preserved frontier fort in all of Texas, and it's located in the middle of some of the most beautiful country in the state.

The South Llano River offers excellent tenkara angling opportunities for largemouth bass, panfish, Guadalupe bass, channel catfish, and stocked rainbows during the winter. There are also needlenose gar and carp in the slower stretches. It's a unique vacation spot in one of the more unspoiled regions of Texas. Junction is one of those places where you'll still see genuine Texas cowboys riding horses down Main Street. The town has a real Old West flavor to it, but it's not a tourist trap.

If you happen to meet some other tenkara anglers on the water, that will be my wife, Robin, and me. Unlimber your tenkara rod, and we'll make room for you!

---
"The bitterness of poor quality remains long after the sweetness of low price is forgotten" - Benjamin Franklin
"Be sure in casting, that your fly fall first into the water, for if the line fall first, it scares or frightens the fish..." -
Col. Robert Venables 1662
As age slows my pace, I will become more like the heron.

---
Warning:
The hooks are sharp.
The coffee's hot.
The fish are slippery when wet.
Beware of the Dogma

---