Showing What it's Made of!
by Mitch
(Kentucky)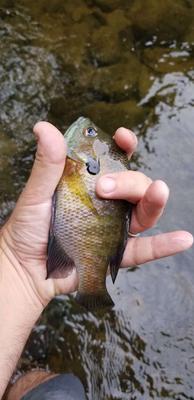 Feisty Bream
I had a great day of fishing yesterday in my new hometown with a couple of fly fishermen in the area. We live in an interesting place in Eastern Kentucky where the trout fishing is downright amazing, but I can count the number of active fly fishermen on one hand (literally, I made number 5 when I picked up the fly rod).

I met up with a couple guys yesterday who have been western fly fishing for as long as a year or less. When I pulled the Tenkarabum Traveler 44 out of the back of my truck and secured some level line to the lillian, let's just say they were intrigued. Then, after we trekked through the brush to the water and that collapsed rod (which was must easier to maneuver through the woods) suddenly became over 14ft long, they were interested.

I'm new to fly fishing in general and to tenkara in particular. Nymphing with a hare's ear, I knew I was missing some bites and got shut-out at our first spot. They didn't have much luck either.

At our second spot up the creek, I hooked up with a fiesty little bream, and was consistently detecting bites from 2 inch creek chubs. As the guys creeped upstream, I connected with a rainbow in this little deep channel. It was about 12 inches long and man was it exciting landing that in the net! Unfortunately, the guys who were so interested in seeing the rod in action were well out of range.

We ended the morning at a third location under an abandoned railroad bridge. We took turns tossing nymphs under this bridge into a deep hole that we absolutely knew was holding fish. We each hooked up with some nice specimen. I had one large 'bow break off my tippet, but then I set the hook on a 14 1/2 inch wild trout! I have never heard a rod sing like the tip of that Traveler! I fought hard for several minutes. As the rod practically doubled over the guys hooped and hollered. They may not be converted yet, but they are certainly convinced; that tenkara rod showed what it's made of!

Also, a huge thanks to Chris for this site, amazing & prompt service, and the one-on-one recommendation. I bought the Tenkarabum Traveler 44 at your advice and it is the perfect fit.
Return to Your Tenkara Stories.
---
"The bitterness of poor quality remains long after the sweetness of low price is forgotten" - Benjamin Franklin
"Be sure in casting, that your fly fall first into the water, for if the line fall first, it scares or frightens the fish..." -
Col. Robert Venables 1662
As age slows my pace, I will become more like the heron.

---
Warning:
The hooks are sharp.
The coffee's hot.
The fish are slippery when wet.
Beware of the Dogma

---