Shimotsuke Kiyotaki II

---
The Shimotsuke Kiyotaki rods work where others won't.
From the very beginning, I have recommended fishing with the longest rod you can get away with. On some rivers, you can get away with very long rods (and you can find rods as long as 7 meters on TenkaraBum.com). However, on some streams even a 7 foot rod is too long.

For years, people in the Southeast and Northeast US would scoff at the very idea that tenkara was meant for small streams. They would point to streams where you couldn't even extend an 11 or 12 foot tenkara rod, let alone fish with it. For years, I carried the Shimotsuke Kiyotaki rods for just those streams. And for years, no other US company had rods shorter than 11'.

The Kiyotaki rods come in a wide range of lengths, but the one that works where others won't is the shortest one, the Kiyotaki 18. The Kiyotaki 18 is right at 6'.

Initially, I sold the Kiyotaki 18 as a micro fishing rod, and truthfully, it's not a bad choice for micro fishing.

For micro fishing, sometimes you do want a pretty short rod. Much of your fishing will be sight fishing for fish that are not particularly skittish or at least will soon get used to your presence. Precise placement of the bait becomes more important than stealth. The six foot rod is very well suited for that.
What I found, though, was that people were using it for trout fishing in spots that were so tight that a longer rod just wouldn't work. That was made painfully apparent a few years ago at the Marlborough, MA Fly Fishing Show. Lots of people stopped by the TenkaraBum booth to talk about tenkara, but it seemed they all wanted rods for tiny, tiny streams. What they wanted was the Shimotsuke Kiyotaki 18.
As I wrote in the "Picking Pockets" essay, I was really surprised at the number of spots I could effectively fish with a short rod that before I'd always had to pass up - spots that I'd never even realized I couldn't cast to. I don't mean whole sections of stream, but a lie here and there where there just wasn't room to cast the 11' rod I also had with me. Not surprisingly, many of those hard-to-fish spots held fish!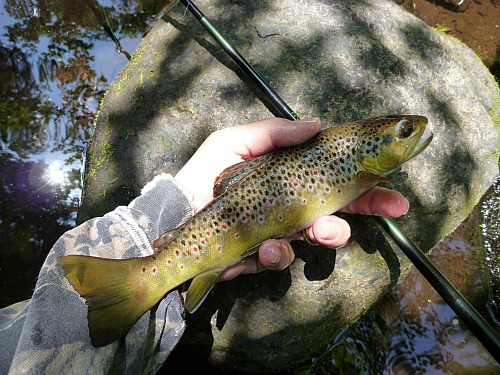 It turned out to be a very respectable day - with almost all the fish coming on the Kiyotaki rod. The most heart-in-the-throat exciting was a 10 incher in a pool not much bigger than a bathtub with low branches protecting the pool and little room for a backcast. There is no way I could have made that cast or that catch with an 11' rod.
Some tenkara advocates suggest that on narrow, brushy, overgrown streams you can collapse a section and choke up on the rod. With a section collapsed the rod rattles when you cast and the sensitivity that allows you to feel the slightest tick on the line is gone. If you frequently fish tight overgrown streams, you would appreciate a shorter rod. I still maintain you should use the longest rod you can get away with, but face it, for some streams the longest rod you can get away with is shorter than any tenkara rod.
With a 6' rod, though, you can fish the parts of  Big Cottonwood Canyon (shown below), just outside Salt Lake City, that no one else can fish.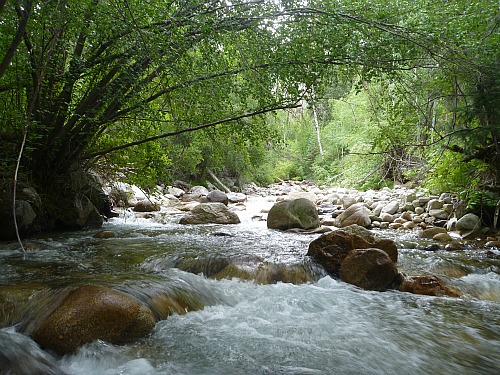 A well respected blogger admits to just walking past all those spots that are too tight for his tenkara rods. The thing is, though, surprisingly often, those spots that no one can fish hold really nice fish. If you did want to fish where no one else can fish, and catch fish that no one else can catch, these are the rods you need.
I think Dave Hughes got it exactly right when he wrote in the second edition of Trout from Small Streams "In the future my traditional tenkara fishing, with longer rods, will be done on streams that are either open or on the border between small and medium in size, and my tenkara fishing on truly small waters will be done with these truly small rods."
Shimotsuke Kiyotaki Features

One thing that may take a bit of getting used to is the extreme narrowness of the grip. There isn't much flare from the diameter of the blank itself. Keep in mind, though, that the Shimotsuke Kiyotaki is almost unbelievably light. The 6' rod weighs just .6 ounce.  You grip the rod with your finger tips rather than with your fist.
In addition to their light weight, the rod collapses to only 15 1/8", so it will easily fit completely within a modest daypack. A fishing rod doesn't get much more convenient than that.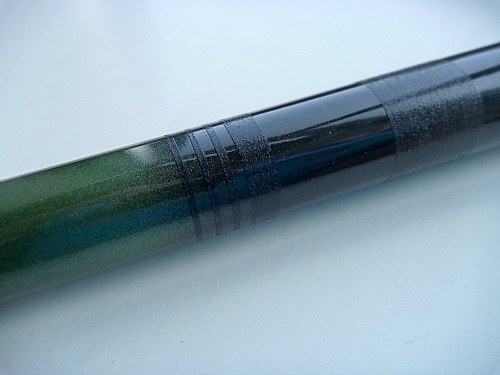 The nonskid on the grip is also quite a bit different than on other rods. For the Kiyotaki it is applied in bands that give the impression of the thread wraps used to provide a nonskid finish on traditional bamboo tanago rods.

The lillian is attached by the same type of swivel mechanism found on the high end Daiwa tenkara rods. The rods are small, but they are not lacking in features.

The rod is very light weight and very compact, and should be very well suited for micro fishing and for exploring the little tributaries that hold trout no one fishes for. Part of the lure of fishing for micros is that they are everywhere and anywhere. For a go-anywhere rod, the Kiyotaki rods are hard to beat.
For a while, I stopped carrying the Shimotsuke Kiyotaki rods because I had a problem with replacement parts that didn't fit. However, I was always able to find a part that did fit so no Kiyotaki fisherman got left with a rod that couldn't be used. Also, the number of people at both the Marlborough MA and the Somerset NJ Fly Fishing shows who wanted short rods convinced me I had to bring them back.
For a while I had been unable to get them. My orders weren't ever delivered. I have since learned that Shimotsuke has replaced the Kiyotaki 18 with a Kiyotaki II 180, which seems to be a bit softer (making it more fun in my book).

---
TenkaraBum Home > Micro Fishing Rods > Shimotsuke Kiyotaki
---
"The bitterness of poor quality remains long after the sweetness of low price is forgotten" - Benjamin Franklin
"Be sure in casting, that your fly fall first into the water, for if the line fall first, it scares or frightens the fish..." -
Col. Robert Venables 1662
As age slows my pace, I will become more like the heron.

---
Warning:
The hooks are sharp.
The coffee's hot.
The fish are slippery when wet.
Beware of the Dogma

---