SF Holston River
by Vern H.
(Marion, VA)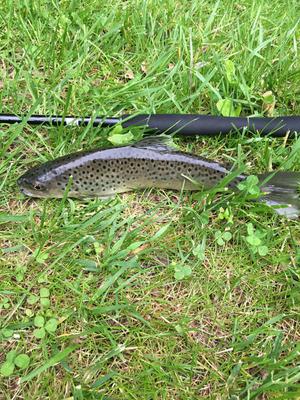 There was a family pounding the hole upstream from me with lead head jigs and curly tail grubs to no avail. After about 20 minutes of flogging and tossing rocks, they left.

I then used my new TenkaraBum 36 and a size 12 Takayama fly to work the hole, as I had struck out fishing upstream and downstream of the family. This was the first trout outing with Chris' new T-Bum 36 rod.

I hooked a fantastic fish and was fighting him with the 36. I was holding my own, when he launched out of the water and did two somersaults in the air. Like any good novice, I vapor locked and froze at the sight! He re-entered the water and the hook came out. I then shook the lumps out of my shorts and regained by breath. Now I knew there were fish in that hole!

I made about a dozen more drifts through the hole and hooked another fish. This time, I put a serious bend in the rod and beached the fish in about 15 seconds. I was not going to take any chances this time. After photographing him, I released him back into the stream. It was the largest trout I have ever caught! I then continued to fish the hole and caught a smaller trout, but still a good one. Not bad for 45 minutes of fishing.

The TenkaraBum 36 performed admirably. It is easy to cast, handling small and large fish equally well. It is by far the best rod I have fished. Thank you Chris, for a great rod design and a fun rod to fish. BTW, the tail of the fish is even with the butt cap on the rod.

Return to Your Tenkara Stories.
---
"The bitterness of poor quality remains long after the sweetness of low price is forgotten" - Benjamin Franklin
"Be sure in casting, that your fly fall first into the water, for if the line fall first, it scares or frightens the fish..." -
Col. Robert Venables 1662
As age slows my pace, I will become more like the heron.

---
Warning:
The hooks are sharp.
The coffee's hot.
The fish are slippery when wet.
Beware of the Dogma

---