I have gotten emails from several customers concerned that their packages have been lost because they are late and/or tracking data shows them to have been in the Jersey City sorting facility for days.
Those packages are now moving. Most have been delivered already.

Please understand that shopping online this year has been unprecedented, and the USPS, UPS and FedEx are trying to run beyond their capacity. In the 10 years I have been shipping packages, (thousands and thousands of packages), the USPS has NEVER lost a Priority Mail package, and has lost only two or three First Class packages. Please be patient. Your packages will arrive.
---
Roaring River State Park
by Jeff D
(Overland Park, KS)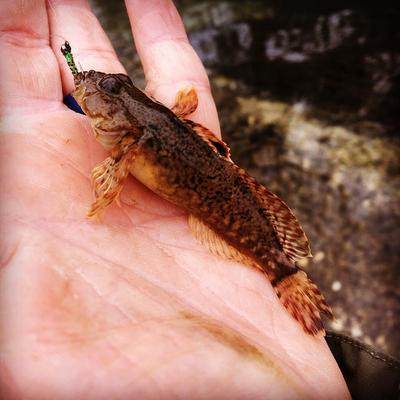 Mottled Sculpin
While I originally had planned to attend the Sowbug Roundup, as it approached I found my budget didn't have enough flexibility to afford a stay in a decent hotel. I did have enough money to camp at Roaring River State Park, though, as long as I lived on a diet of oatmeal, power bars, and ramen noodles. Just like college, including cheap beer for the end of the day!

On Friday, I encountered the same winds that Chris et al experienced down in Arkansas. Like Chris, I had to use multiple BB shot to keep the line from blowing all over the place while using the Seiryu-X 64. I did catch some fish on my trusty micro egg fly.

In the very late evening on Friday, the wind died down a little and I broke out the Seiryu-X 45 with a size 3.5 line and did a bit a tenkara fishing and caught a few fish on size 20 Stewart Black Spiders. I was looking for a barbless replacement for the Daiichi 1640 size 14 2XS hooks, and I found it in the Firehole Sticks 413 in size 20. It's almost exactly the same shank length but with a much wider gape.

On Saturday morning I drove to a lower access point in the bait zone to try out the Seiryu-X 45 and 64 and red wigglers. What I didn't expect was the sheer number of micros in the area! As soon as the worm hit the water, the worm was swarmed by various cyprinids and the worm was stolen! I should have switched to micro fishing gear, but again the wind kicked up a bit so I went back to my campsite for lunch.

As I sat in my camp chair looking at the river directly behind my campsite, I noticed a whole pod of rainbows lined up and rising in an area where a shallow run dropped quickly off into deeper water. I jumped back into my waders and went down to the river with the X-45 and 3.5 line and the Stewart Spider. I had to contend with the wind, but luckily it was blowing quartering downstream, so I was able to get some decent drifts and caught enough fish with that combo that I decided to just try another line and fly combo.

I ran back up to my campsite and switched out the orange 3.5 level line for the 4m Fujino Ice Blue line and a size 20 kebari tied with a starling hackle and an olive hare's ear dubbed body. This actually worked very well, as I used the very end of the Fujino line in the water to keep the line from blowing around. I stopped counting the fish I caught from this one hole. Then whatever was hatching (I suspect midge pupae) stopped and I took a break.

I went back for the evening fishing the X-64 and using one of the Nakazima ball floats to anchor the line and caught a few more fish on the micro egg. Right at the very end of the day, I tried using the Flying Dragon carp rod and a gnarly sculpin bugger just for kicks but no takers.

Sunday I got to fish with Chris and Alan, which is a real treat. I caught a few trout on both the X-64 keiryu style and the TBum 36 tenkara style. Then I decided to join in on the micro fishing. It's just too fun! I caught a southern redbelly dace on a size 30 killer bug, and several sculpins on a size 16 Frenchie jig. People might think you're nuts for fishing for micros in a trout park, but they're the ones missing out on the fun!
Return to Your Tenkara Stories.
---
"The bitterness of poor quality remains long after the sweetness of low price is forgotten" - Benjamin Franklin
"Be sure in casting, that your fly fall first into the water, for if the line fall first, it scares or frightens the fish..." -
Col. Robert Venables 1662
As age slows my pace, I will become more like the heron.

---
Warning:
The hooks are sharp.
The coffee's hot.
The fish are slippery when wet.
Beware of the Dogma

---