This has been a very difficult year to manage inventory. Stocks of many items are lower than I would like at this time of year. If you are shopping for a Christmas gift, please do not wait until the last minute. There is a good chance your items will be out of stock if you wait.

---
Roaring River State Park: Suntech 27, micro eggs and more
by Jeff D
(KC, MO)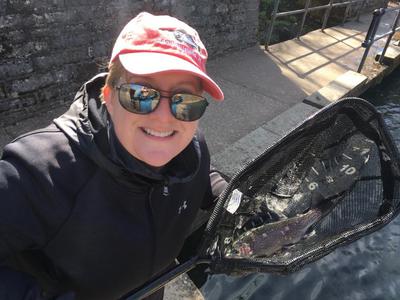 Chris has another hit on his hands with the Suntech 27. This morning I fished it at Roaring River State Park for the last weekend of the winter catch and release season. It's a great place to test gear because there are lots of trout that have survived the relentless onslaught of the regular catch and keep season, so they're as close to the mythical "educated" fish as you will find in these parts.

I rigged up with about 7 ft of Oni 3.5 tenkara line to a tippet ring, 3 ft of 7x tippet, a size 26 micro egg (Senyo laser dub in various colors on a Gamakatsu C12-BM) with a single small clam shot about 8" above the fly. This combo proved absolutely deadly.

Suffice to say, the Suntech 27 is capable of handling rainbows to 15-16" IF you can get them out of the fast water quickly enough. 10-12" fish are easily handled even in fast water. I did have several cases of instant break off when large trout took the fly at the very end of the drift. Interestingly, I found that blue was a hot color for the micro egg. I had only tied 2 in that color, guess I'm tying more!

Yesterday I started with the Kurenai Long 61 rigged full keiryu style, but due to strong wind I soon gave up on that plan. I switched to my Nissin Fujiryu 410 6:4 and the Fuji furled fluorocarbon line, casting a size 12 purple haze kebari into the banks, basically bass fishing for trout. This tactic got me several fish, much to the amazement of the folks busily tossing their flies into the middle of the stream. I also used the TBum 36 and a size 16 jig style PTN to catch quite a few fish.

After she lost several fish yesterday, this morning I really wanted my fiancée to catch some trout so I gave her the TBum 36 and a size 18 UKB. She landed two nice trout, and "long distance C&Red" 4 more. She's still learning how to play a hot fish, but with some coaching I think she's got it now.

I always enjoy this last hurrah before the crowds descend on Opening Day in early March and turn the place into combat fishing central. From then until fall, if you want relaxing fishing it has to happen during the week. I'm now looking forward to using the Suntech 27 when we go to the Black Hills in June. Lots of small streams off the beaten path to explore! Jeff
Return to Your Tenkara Stories.
---
"The bitterness of poor quality remains long after the sweetness of low price is forgotten" - Benjamin Franklin
"Be sure in casting, that your fly fall first into the water, for if the line fall first, it scares or frightens the fish..." -
Col. Robert Venables 1662
As age slows my pace, I will become more like the heron.

---
Warning:
The hooks are sharp.
The coffee's hot.
The fish are slippery when wet.
Beware of the Dogma

---