Outgunned and Having Fun
by Phillip Dobson
(Butte, MT)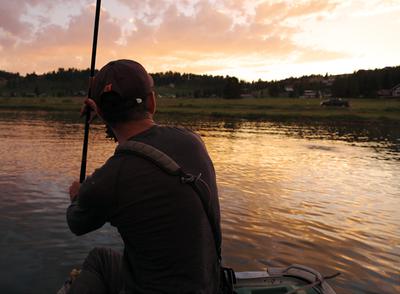 I'm not near as calm as I look. Talk about an adrenaline rush!
I went to a local lake with my girlfriend and her father for a little floating and fishing. I brought my tenkara gear, while they used their 6 and 7-weight rods.

We lucked out and hit a rare hatch of giant travelling sedge that the trout were feasting on. Skating these big (size six!) caddis patterns across the water was super fun with my 5.4m Sagiri, and it wasn't too long until I had a few missed strikes.

I wasn't ready at all for the force of the first hookup. A large rainbow swirled my fly and dragged it to the depths. I resisted at first, but in a second he had straightened out my rod and broke the 6x tippet. I wasn't too surprised at the outcome, as Joe's 7wt had quite the bend and he was getting breakoffs even on his 4x leader.

I was more prepared for the next fish. A quick cast to a ripple, and a subtle twitch is all it took. Rather than try to stop the runs, I laid the rod over and redirected the fish. A tense and enjoyable struggle. The fish eventually tossed the fly during a jump, but my tippet remained intact. It's incredible how much pressure a long, thin rod can put on a fish without shock-loading the system and losing the fly.

A good-old 6wt is definitely the more effective tool than my tenkara rod for this type of fishing. Quick versatility in casting range, and stronger tippet mean more fish in the boat. That said, fun presentation and very memorable fights make for a good consolation.

No matter what tool you're using, there's nothing like spending an evening among friends and beautiful scenery.
Return to Your Tenkara Stories.
---
"The bitterness of poor quality remains long after the sweetness of low price is forgotten" - Benjamin Franklin
"Be sure in casting, that your fly fall first into the water, for if the line fall first, it scares or frightens the fish..." -
Col. Robert Venables 1662
As age slows my pace, I will become more like the heron.

---
Warning:
The hooks are sharp.
The coffee's hot.
The fish are slippery when wet.
Beware of the Dogma

---