One Fly? A Few Flies? Many Flies?
by John Evans
(San Antonio, TX)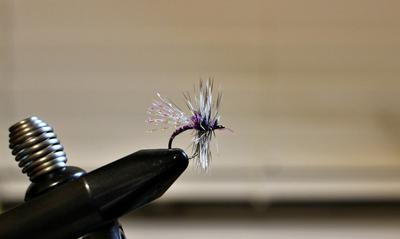 Purple Reaper Midge
When I first started fishing tenkara a few years ago, I was introduced to the concept of one fly. Some anglers preferred to use only a single type of fly in their fishing, stressing that stealth and presentation were far more important than the pattern one used. As long as a fly was generally the right size, with the correct overall appearance, and was fished in the right way, switching colors and patterns was an unnecessary distraction.

I respect those who practice this philosophy and appreciate the emphasis they espouse.

Other anglers are "fly junkies," with fly boxes filled with dry flies, nymphs, and streamers, in a kaleidoscope of colors and sizes. They "match the hatch" continually and love to experiment with different patterns according to their understanding of the fish, water, and seasons.

Most of us, I suspect, are in-between, with, perhaps, a half-dozen favorite patterns that we rely on and fish with confidence. That's the way I fish tenkara, anyway. I enjoy tying flies, and I think I would become bored if I tied only a single pattern. On the other hand, constantly switching flies leads to too much time NOT fishing! So, I stick with a few flies, and find that on some days one pattern works better than another.

Which patterns are my favorites? Well, that continues to evolve. I don't think I could do without a gold-ribbed Hare's Ear Nymph. I also love my Utah Killer Bugs and Reaper Midges. Another dry fly favorite is the tried-and-true Elk Hair Caddis. Sometimes, when I'm feeling more traditional, I'll tie on a reverse-hackled Kebari fly.

How about you? Are you a one fly, few flies, or many flies tenkara angler? And how would you rank your favorite patterns?

---
"The bitterness of poor quality remains long after the sweetness of low price is forgotten" - Benjamin Franklin
"Be sure in casting, that your fly fall first into the water, for if the line fall first, it scares or frightens the fish..." -
Col. Robert Venables 1662
As age slows my pace, I will become more like the heron.

---
Warning:
The hooks are sharp.
The coffee's hot.
The fish are slippery when wet.
Beware of the Dogma

---