Nylon Level Line
Nylon Level Line is a valid option for tenkara when you want a very delicate presentation (and when you do not have to cast into a breeze). My first level line was nylon. I had asked my wife to buy a level tenkara line on one of her trips to Japan. She brought back a size 4 nylon line. I had wanted fluorocarbon, but I may not have told her because that was 2008 and back then I just assumed that all level tenkara line was fluorocarbon. The shop salesman sold her a nylon line.
Perhaps he wasn't a tenkara angler. On the other hand, perhaps he was a tenkara expert and wanted her to achieve the most delicate presentation possible. I'll never know.
Even though it wasn't what I had wanted, I used that line for months, (until I eventually found hi-vis fluorocarbon). The nylon line worked just fine - as long as I didn't have to cast into a breeze.
Unfortunately, it seems as though there was usually at least a little breeze, and unfortunately it always seemed to be blowing downstream. Had I known then what I know now, I would have concentrated on downstream presentations and used the breeze to my advantage. Back then, though, I thought it was always better to cast upstream.
Fast forward a few years to the second TenkaraUSA Summit, held in Salt Lake City. TenkaraUSA had invited a number of Japanese tenkara anglers to come to the Summit. One of the Japanese anglers was Eiji Yamakawa, and at one point many of the Summit participants gathered around and tried to cast one of Eiji's nylon level lines. Almost no one could.

Fast forward a few more years. In 2017, the guys at Discover Tenkara started talking about a size 3 nylon level line. In a nutshell, it was described as a line for when you want a delicate, stealthy presentation. Because nylon is less dense than fluorocarbon, a size 3 nylon line weighs less than a size 3 fluorocarbon line (Japanese line sizes are based on diameter, not weight). A lighter line sags less, and less line sag means it is easier to hold the line off the surface.
Fluorocarbon is easier to cast than nylon, but if your casting form is good, you can certainly cast a nylon line (as long as you are not casting into the wind). A size 3 nylon line has less mass than size 3 fluorocarbon, so when cast it has less kinetic energy. Thus, it is less able to overcome wind resistance. On a still day, though, it casts nicely and it is easier to keep it from ever even touching the water when you cast. That's not just fly first, that's almost fly only.

It's been a few years now, and I suspect most tenkara anglers have forgotten about nylon lines. Most but not all. There are a few die hards.

The nylon line that my wife brought back from Japan in 2008 was a milky white color. It was actually a pretty good color for a line - plenty visible enough against dark water, but pretty stealthy too. Against the bright sky, or even a cloudy sky, white is less visible than just about any other color - certainly less visible than bright orange or pink.
I have been looking for a white line for as long as I have been carrying lines. The Fujino tapered White Line is nice, but I really wanted a level line. I am happy that Sunline has started making a white level line.
I decided to get the line in a size 4 rather than size 3 for two reasons: first, the line is nylon, and size 4 really is easier to cast, and second, the thicker line is easier to see.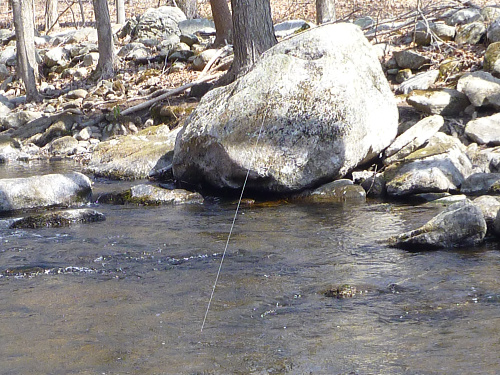 Although the line looks blindingly white on the spool, it is not always that blinding on the stream. Against dark water it is really pretty visible but against glare it is harder to see than a bright orange or chartreuse line. However, I am convinced that it is also harder for the fish to see.
Rob Worthing of the Tenkara Guides LLC has determined that for his "tactical nymphing," and his guiding business, a white sighter offers the best combination of visibility and stealth. One problem with a nylon sighter tied to a fluorocarbon line is that it is almost impossible to match the two lines with respect to stiffness. It always tends to hinge where they are tied together. With a line that is entirely white nylon, though, you get the benefit of the stealthy sighter without the hinging.
You can cast the line with a TenkaraBum 40 or 36, but it absolutely shines with the seiryu rods! The Suntech Kurenai HM30R, Nissin Fine Mode Nagare 330 or the Nissin Air Stage Hakubai rods will cast it as if they were made for it. And actually, it was the seiryu rods that tipped the balance and prompted me to carry a nylon level line.
Sunline Visible Free
size 4 - $22.00
---
---
Shipping
Domestic shipping is via USPS Ground Advantage. Rates are $4.00 for packages that weigh up to 4 ounces and $6.00 for packages that weigh over 4 ounces. The charge is added to your order automatically.
Please note: All packages are shipped via USPS. If you have a PO Box, please list ONLY the PO Box in your address, not the PO Box and your street address.
The charge for international shipping depends on the destination country, the weight of the package, the overall length of the package and the value of the package.
International shipments

International purchases may be subject to import duties and taxes. I cannot keep track of all import regulations in all countries written in all languages. Understanding and paying import duties and taxes is the responsibility of the buyer.
TenkaraBum.com no longer ships to the EU, the UK or Russia.

---
TenkaraBum Home > Tenkara Line > Nylon Level Line

---
"The bitterness of poor quality remains long after the sweetness of low price is forgotten" - Benjamin Franklin
"Be sure in casting, that your fly fall first into the water, for if the line fall first, it scares or frightens the fish..." -
Col. Robert Venables 1662
As age slows my pace, I will become more like the heron.

---
Warning:
The hooks are sharp.
The coffee's hot.
The fish are slippery when wet.
Beware of the Dogma

---