Nissin SP 390
by RJ C
(St Louis, MO)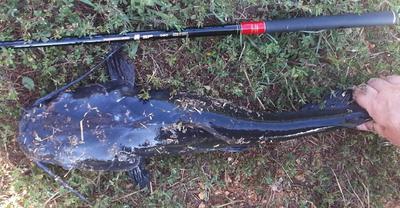 Channel Catfish
I took out the long pole to catch a few bluegill from the family pond. My first outing, over the Fourth of July weekend was great, fishing bead head nymphs in the pockets of weeds yielded a "many" day. The scariest moment of the trip was when a 3" bluegill was inhaled by a 2 1/2# largemouth at my feet. Very intense for several seconds before the tippet was stretched to its limit, the bass was free and I was free to breath.

My latest outing to the pond was not a many day. I had decided to change tactics and try some live bait suspended under a fly style float. My choice was a small nip of night crawler on a #10 off set circle hook. I have always wanted to try this on the local trout stream and wanted to test the system before heading to the stream.

On the first cast, the strike indicator went down slowly and the hook set, perhaps a little too enthusiastic, ended in a busted tippet. I rerigged and walked to the next pocket on the bank line. I cast out and the float again began its slow descent. A more delicate sweep of the rod and I found out the catfish were up and feeding. Thank goodness for all of the hours of watching Youtube videos on Tenkara/big fish. I was able to land the fish after about 4 minutes. I did not get a weight or length, but I will assure you it was a much bigger fish than I ever expected to land on such equipment.

Thanks for the great website and please continue to keep our fires stoked when schedules do not allow us to get on the water.
Return to Your Keiryu Stories.
---
"The bitterness of poor quality remains long after the sweetness of low price is forgotten" - Benjamin Franklin
"Be sure in casting, that your fly fall first into the water, for if the line fall first, it scares or frightens the fish..." -
Col. Robert Venables 1662
As age slows my pace, I will become more like the heron.

---
Warning:
The hooks are sharp.
The coffee's hot.
The fish are slippery when wet.
Beware of the Dogma

---