Nissin Seikon Yamabiko
The Nissin Seikon Yamabiko is rated for 16 lb tippet, which is the strongest tippet rating I have seen for a carp rod. It is stronger than the tippet rating for the Nissin Kyogi, which has been discontinued and is no longer available.


Compared to the Kyogi, The Nissin Seikon Yamabiko has one significant advantage and one significant disadvantage.
The advantage is the 16 lb tippet rating, which is the strongest I have seen other than on salmon rods that cost more than twice as much. The disadvantage is that the rod is seriously stiff. I don't think I can do a penny measurement on the rod, but it feels stiffer than the stiffest rod I have ever measured. Seriously, if the fish isn't strong enough to break 16 lb tippet, you will definitely be in control right from the hook up.
Given how stiff it is, I suspect you would need to use either a size 4.5 level line or a Nissin PALS SP Pro 4.5m or 6m line or a Daiwa Floating line if you intend to cast the rod like a tenkara or keiryu rod. (Warning: I do not know if the breaking strength of the Nissin PALS SP Pro or the Daiwa floating line is greater than 16 lb. It would be safer to use level fluorocarbon line with a known breaking strength.)  If you fish with bait, weight and float, an underhand pendulum cast will work just fine (but might still take two hands).

Nissin Seikon Yamabiko Features
The grip is covered with a woven fibrous material that is then coated with a rubberized material. The result is an extremely effective non-skid grip. If you hook a fish strong enough that you need a 16 lb test tippet, you definitely do not want the rod to slide out of your hands!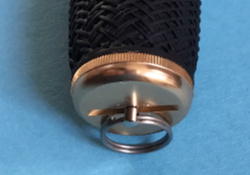 In case it does, though, or if you fish with the rod in a rod holder (or even propped up with a forked stick), you can tie a cord to the ring in the grip screw cap so that you won't lose your rod. If you've ever seen underwater footage of a carp picking up a boilie and then taking off like a shot when it feels the hook, you know why fixed line carp rods are tied down!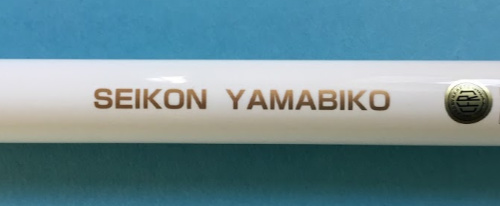 The blank itself is painted white.

There is a black accent, with a thin gold ring, at the end of each section. The lillian is attached with a micro swivel, which easily passes through the second section. Actually, with only 6 long sections, the opening in the second section is large enough that you could tie a knot in the lillian and it would go through the second section. Given that fish large enough to require a 16 lb test tippet will pull very hard, putting a knot in the lillian would not be a bad idea.
The round blue Tenkara Line Holders will fit over the end of the rod. I do not think Fuji EZ Keepers would fit without getting larger O rings.

There are stronger rods, but all the ones I know of are longer, heavier and more than twice as expensive.

Length extended
Length collapsed
Weight (with cap)
Weight (without cap)
Sections
Tip Diameter
Grip Diameter
Recommended Tippet
17' 7" (5.4m)
40 5/8"
8.4 oz
8.2 oz
6
1.1 mm
19.8
6-16 lb (1.5 - 4 号)

Nissin Seikon Yamabiko 540 - $305
---
TenkaraBum Home > Carp Rods > Nissin Seikon Yamabiko

---
"The bitterness of poor quality remains long after the sweetness of low price is forgotten" - Benjamin Franklin
"Be sure in casting, that your fly fall first into the water, for if the line fall first, it scares or frightens the fish..." -
Col. Robert Venables 1662
As age slows my pace, I will become more like the heron.

---
Warning:
The hooks are sharp.
The coffee's hot.
The fish are slippery when wet.
Beware of the Dogma

---