Please note: All the "Add to Cart" buttons have been switched to Shopify from PayPal (although you can still pay with a PayPal account). If you experience problems during checkout please use the contact form.

I know some of the buttons need to be modified.
Buttons that offer a choice of size, color, etc. show the stocks condition for top choice only! Make your choice to see if the item is in stock.

To be notified when an Out of Stock item is back in stock,
please use the contact form and indicate the desired item.
---
Nissin Kyogi Carp Rod
The Nissin Kyogi Carp Rod is the nicest fixed line carp rod I've seen. It is lighter than the other carp rods I've had in stock, it is more flexible (making it easier to cast) yet it has more than enough backbone to subdue large fish, and can handle heavier tippet than any of the other fixed line carp rods I've carried.
To get a stronger tippet rating than the Kyogi, you would have to go all the way up to the salmon rods, which are significantly longer, heavier and more expensive.
I recently received an email from an angler who absolutely loves the Kyogi, and uses it for multiple species of fish. He wrote " I hate that they are labeled as carp rods." That tends to keep people who don't actually fish for carp from realizing how great these rods are. They are sensitive enough to feel the take of a 4" fish, yet they'll land fish that weigh hundreds of times as much.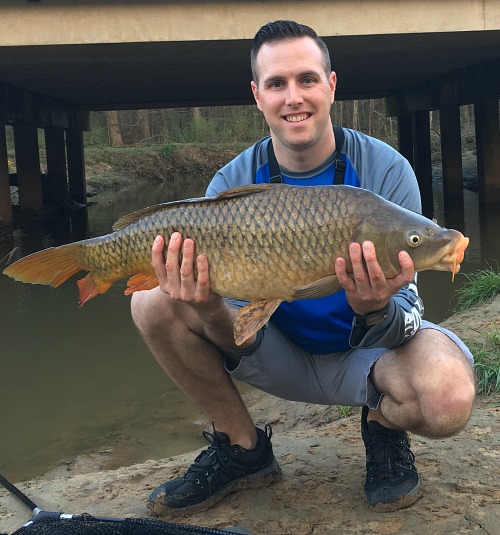 16.4 pounds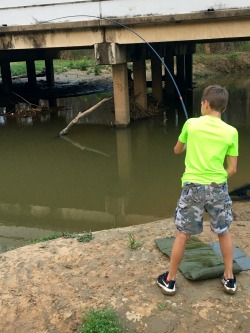 How big is it?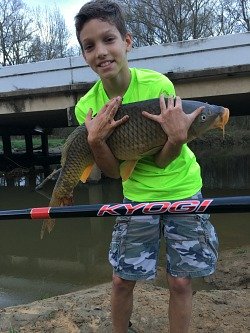 15.2 pounds
photos courtesy of jrob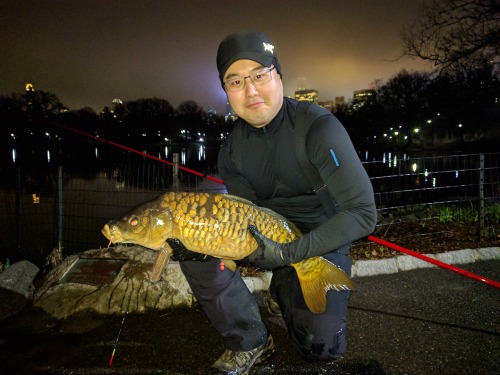 I've been fishing Central Park any chance I get with the Kyogi, and it is SO FUN!

Dennis K, New York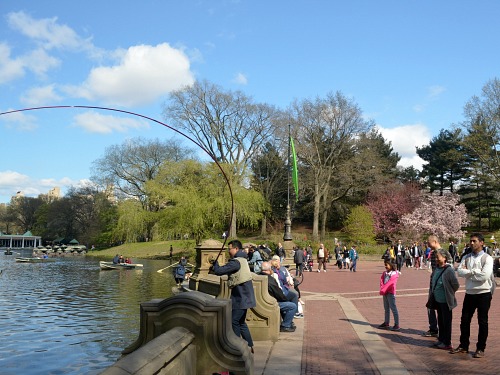 Looks like Dennis is there night and day!
Warning! Carp fishing is addictive.
If there are carp in New York's Central Park (and there are) they're probably in a body of water near you. And just as John Vetterli says of catching carp under the interstate on the outskirts of Salt Lake City, and Dennis K says of catching carp in the center of New York City, it is fun!

I need to say right off the bat, though, that the Kyogi s not just a carp rod. It is a great trout rod - particularly for euronymphing with heavy nymphs in deep water!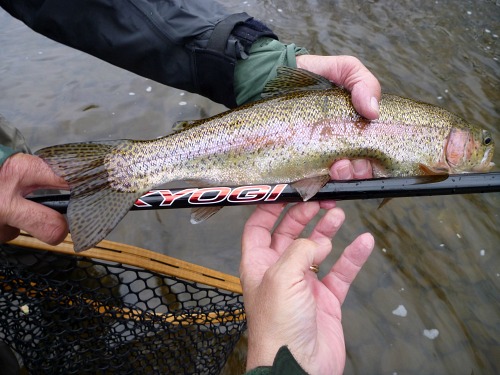 It's also a great catfish rod.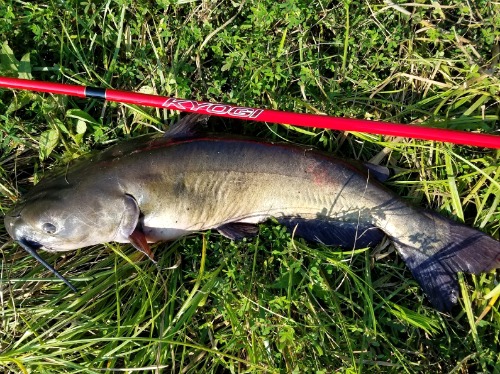 Photo courtesy of Less C.
---
The following photos are all courtesy of Tony S, who has caught more species with the Kyogi than any other angler in the US.
It's fun with nice sized smallmouth bass.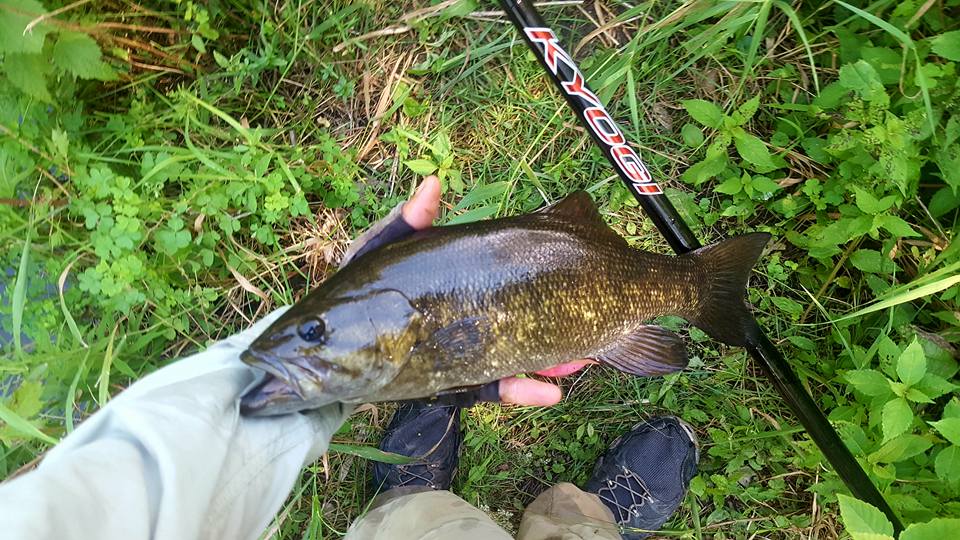 Most anglers probably aren't familiar with a black buffalo, but the Kyogi is a great rod if you want to catch one!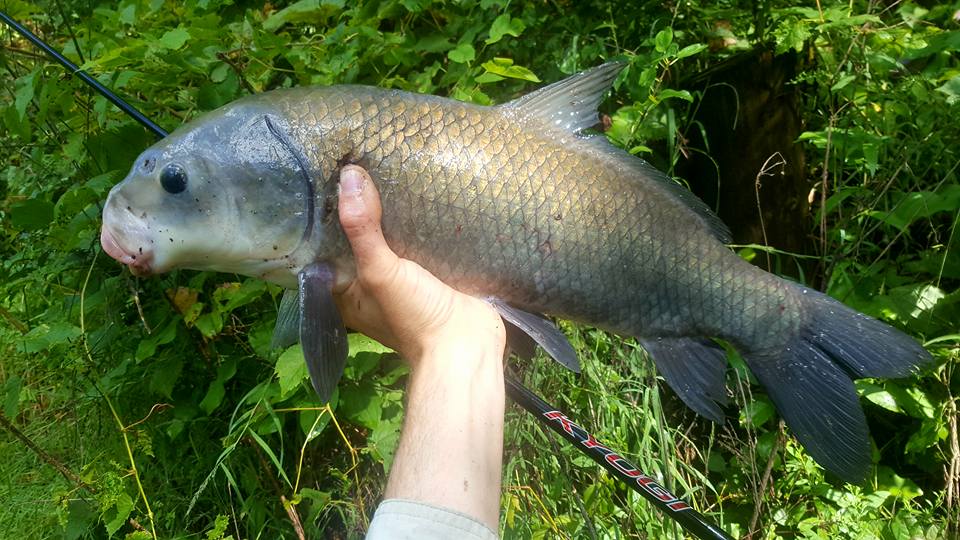 It's a great rod for greater redhorse.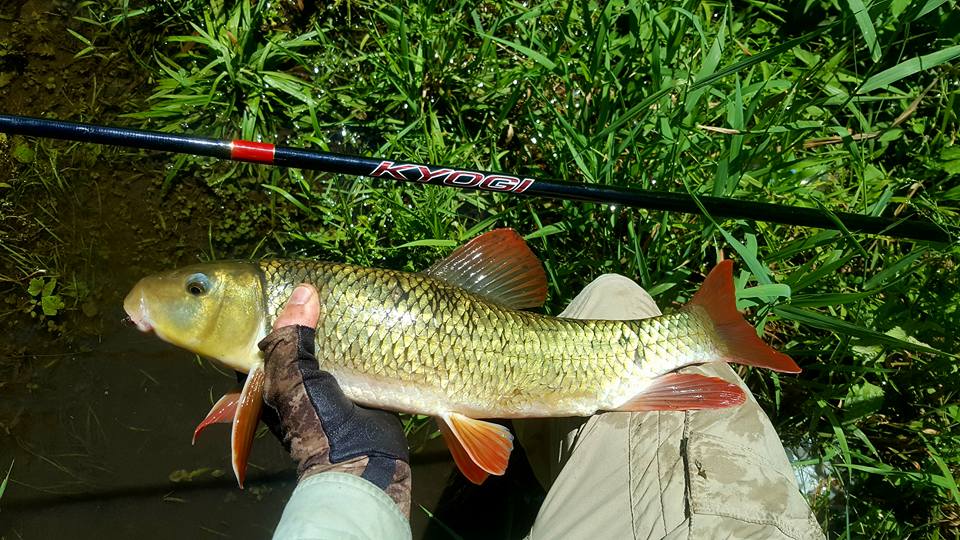 It's the gold standard for golden redhorse.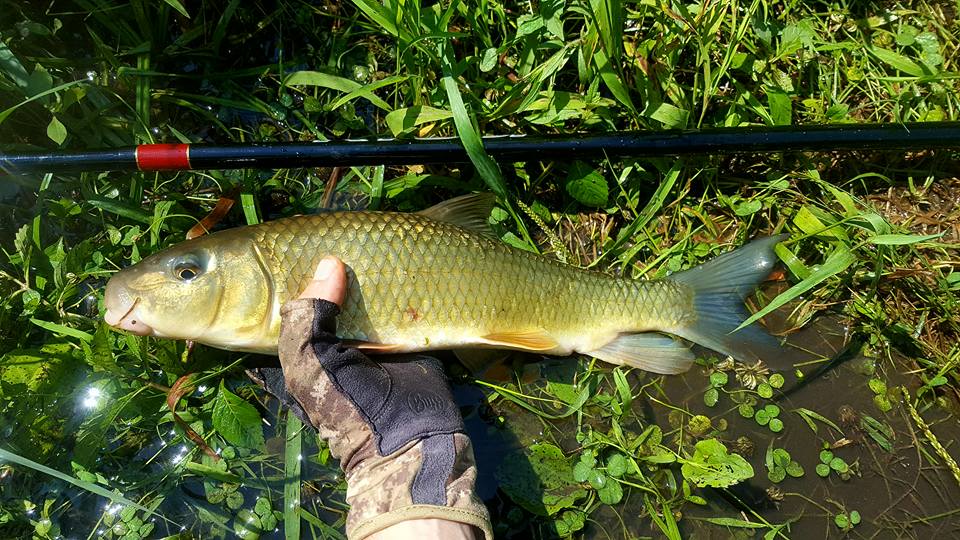 Hook a bowfin? The rod will be bowed, but unbroken, from that tempestuous act!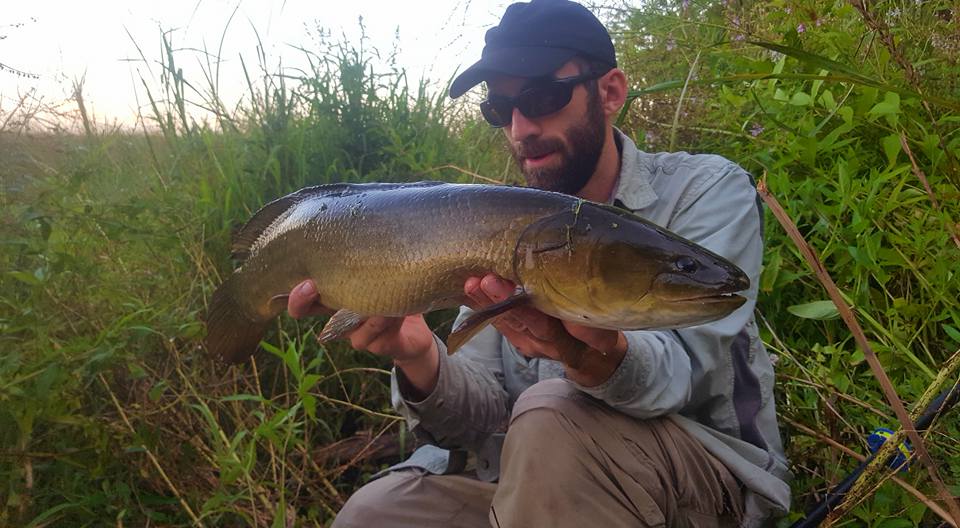 Pike on a fixed line rod? Why not? Just make sure you have a rod that can handle one!

If you want a rod that will handle whatever you hook, consider the Nissin Kyogi!
The Kyogi comes in three colors: Black (BX), Red (RX) and Yellow (YX).

The rods also come in four lengths, 12, 15, 18 and 21. The lengths are in "shaku" which is a Japanese unit of measure that is just barely under a foot in length.
Model
Extended
Collapsed
Weight
Tippet*
Pennies

Kyogi 12
12'0"
47.25"
3.3 oz
4X-0X
Kyogi 15
14'11"
47.25"
4.7 oz
4X-0X
Kyogi 18
17'9"
47"
5.1 oz
4X-0X
57

Kyogi 21
20'8"
47"
7.1 oz
4X-0X
?

*Please note: The tippet recommendation is up to Japanese line size 3, which is 12 lb test. If your 0X tippet is substantially stronger than 12 lb, it is too strong for the rod. DO NOT us 12 lb spinning line, which in almost all cases is quite a bit stronger than 12 lb. As with tenkara rods, the tippet has to be the weak link. Don't shop around for the strongest 0X tippet. Shop for an honest 12 lb breaking strength.

---
---
Please note: My automatic shipping calculation is not working properly for international purchases. Any package over $400 OR over 24" long must go via Priority Mail International. The calculation is working properly for value, but not for length. Some long packages that must go via the higher Priority Mail rate are being charged the lower First Class rate. If that happens for your purchase, I will send an invoice for the balance. I am not trying to make a profit on shipping, but I do need to cover the cost that the USPS actually charges. If you receive an invoice for additional shipping, the invoice must be paid before the package will be shipped.
I apologize for the inconvenience.

---
---
Nissin Kyogi 12 BX (black)- $220
---
Nissin Kyogi 15 BX (black)- $245
---
Nissin Kyogi 18 BX (black)- $270
---
Nissin Kyogi 18 RX (red)- $270
---
Nissin Kyogi 18 YX (Yellow)- $270
---
Nissin Kyogi 21 BX (black)- $295
---
Shipping
Domestic shipping is $20 via USPS Priority Mail (2-3 day delivery).
International shipping is via USPS Priority Mail International. The rate is based on destination country and package weight.

---
TenkaraBum Home > Rods > Nissin Kyogi Carp Rod

---
"The bitterness of poor quality remains long after the sweetness of low price is forgotten" – Benjamin Franklin
"Study to be quiet." - Izaak Walton 1653

"Be sure in casting, that your fly fall first into the water, for if the line fall first, it scares or frightens the fish..." Col. Robert Venables 1662
As age slows my pace, I will become more like the heron.

---
Warning:
The hooks are sharp.
The coffee's hot.
The fish are slippery when wet.
Beware of the Dogma

---