Nissin 450ZX medium
by Rob Y
(San Jose, CA)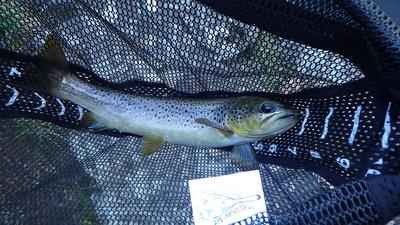 Salmo trutta
I caught a few trout over the Presidents' Day holiday with my keiryu rod. Fish were holding near the bottom of a pool where the river transitioned from shallow riffles to deep slow water. I was in shadow against a granite wall, while the fish were in sunlight; it was a unique place to observe them without being seen, apparently.

I used a size 16 beadhead nymph and some tungsten putty about a foot above to get it down into the pool. The 4.5m reach came in handy. A rainbow hit first, and then a brown. These were the biggest fish I'd ever caught on tenkara or keiryu gear, maybe 14-15 inches, and the Nissin handled them well, not surprisingly.

Next day I caught another rainbow, and then hooked one of the larger fish, which made a run for it and broke my tippet. Wow ! I don't have much experience with big fish, and that monster probably wouldn't even have fit in my net :) Definitely exciting. I guess I need to read up about landing bigger fish ...
Return to Your Keiryu Stories.
---
"The bitterness of poor quality remains long after the sweetness of low price is forgotten" - Benjamin Franklin
"Be sure in casting, that your fly fall first into the water, for if the line fall first, it scares or frightens the fish..." -
Col. Robert Venables 1662
As age slows my pace, I will become more like the heron.

---
Warning:
The hooks are sharp.
The coffee's hot.
The fish are slippery when wet.
Beware of the Dogma

---