This has been a very difficult year to manage inventory. Stocks of many items are lower than I would like at this time of year. If you are shopping for a Christmas gift, please do not wait until the last minute. There is a good chance your items will be out of stock if you wait.

---
New Mexico and Oklahoma
by Rob Ruff
(Wichita Falls, TX )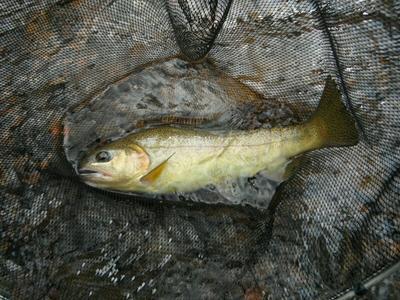 Gila Trout
During October I was fortunate to be able to explore New Mexico and southeast Oklahoma. In NM I fished the Ruidoso/Cloudcroft region, the Gila National Forest and the Pecos Wilderness. I went to the Gila because the opportunity to fish for Gila trout existed. I used my Kurenai HM33R in the Gila and it proved to be the best at fishing those small creeks. In the Pecos I used two rods, a Dragontail Shadowfire and my Royal Stage 400. Both were 6:4 rated. The water was low and very clear. I used the 400 with the "long rod short line" approach and it worked out well. Caught browns and one rainbow. I tried not to overfish the deeper areas. I would catch one or two from a plunge pool and move on. The browns in the Pecos are stunted due to a short growing season and marginal food supply. Most of them had skinny bodies and large heads. In Oklahoma I went to a tail water fishery below Beavers Bend Reservoir known as the Lower Mountain Fork River. Rainbows are the dominant fish and there are pictures of fish in the 10lb plus range that have been caught. I didn't catch any that large but most of the ones I landed ranged from 12 to 17 inches. Fun times!
Return to Your Tenkara Stories.
---
"The bitterness of poor quality remains long after the sweetness of low price is forgotten" - Benjamin Franklin
"Be sure in casting, that your fly fall first into the water, for if the line fall first, it scares or frightens the fish..." -
Col. Robert Venables 1662
As age slows my pace, I will become more like the heron.

---
Warning:
The hooks are sharp.
The coffee's hot.
The fish are slippery when wet.
Beware of the Dogma

---